Whites
Secret Label Margaret River Chardonnay 2020 – $10 at Kemenys. I'm always on the lookout for a decent $10 Chardonnay. It's mission impossible most of the time, but we're in luck here. This wine is made by a Margaret River winery that's nowhere near anywhere, and it hits all the right notes: ripe peaches and nectarines, a whiff of oak on the nose but the oak knows its place, the palate is soft, round and mouth-filling. Perfect drinking over the next 12 months.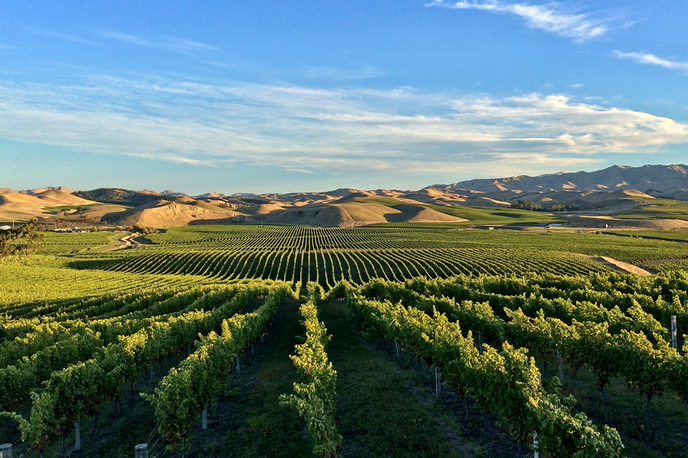 Rapaura Springs Sauvignon Blanc 2020 – $11 at Liquorland. Strong on the aromatics, not all that tangy but crunchy enough, with a clean line of acid to keep it all neat and tidy. Very morish.
Hidden Label Adelaide Hills Sauvignon Blanc 2020 – $12 at Kemenys. The wine is made by Darryl Catlin who used to make the savvies for Shaw & Smith; now he makes wine for Sidewood, also in the Adelaide Hills. Similar quality at half the price.
Hidden Label Adelaide Hills Pinot Gris 2020 – $12 at Kemenys, this is the sibling of the previous wine, just as well made and just as much of a bargain.
Hidden Label Adelaide Hills Chardonnay 2020 – $13 at Kemenys. It's either Tomich or Sidewood, both good wineries, and the wine is a winner and a serious bargain. Check Tony Love's review at the link. 94 points.
Tar & Roses Pinot Grigio 2020 – $17 at Summer Hill Wine. Full-bodied style that delivers a lot of luscious flavour for the money. Rich and round, ginger and Turkish delight, hard to resist, serious value. 93 points.
Kumeu River Village Chardonnay 2019 – $19 at Kemenys. A soft and seductive chardy from this great winery north-west of Auckland, as seamless as Mozart's Clarinet Concerto. It's just a gorgeous mouthful of fruit and nuts that keeps you coming back for more. Bob Campbell calls it a 'pour me another glass texture'. I bought a dozen of it, and have only 3 bottles left. Kemenys is about the last source of the 2019. 94 points.
K1 by Geoff Hardy Gruner Veltliner 2019 – $22 at MyCellars, where the freight is free for subscribers on any quantity. This is a deceptive variety with a very light footprint. Ethereal almost. It mixes floral and savoury characters with hints of green apples and fennel. It opened up over a couple of days, revealing pears and minerals. 93 points. It's different, and interesting.
Tahbilk Grenache Mourvedre Rose 2020 – $17 at Kemenys. Cherries and raspberries with a squeeze of pomegranate. Close to perfect pitch, sharp price. 94 points.
Cullen Dancing in the Moonlight Rose 2020 – $22 at Kemenys. Gorgeous wine, as you would expect from Vanya Cullen who is one of Australia's best winemakers, at a modest price. The vineyard is certified organic, and the wine is a blend of all the red varieties grown at Cullen. 94 points.

Reds
Secret Label Margaret River Cabernet Merlot 2018 – $10 at Kemenys. Another giant-killer from that winery that's nowhere near anywhere. A real smooth talker. Won the Trophy for Best Red Blend at the National Wine Show of Australia 2019. 92 points.
Colinas De Lisboa Red Blend 2018 – $12 at DM's. A Portuguese red made from Castelao; Camarate; Tinta Minda; Touriga Nacional. It's different, it's gentle and elegant, couldn't be more different from our Barossa fruit bombs. At barely 13% alcohol, it's easy on the gums and on the head the next morning. 91 points.
Shingleback Red Knot Shiraz 2019 – $12 at DM's. These guys make good reds in McLaren Vale; this is an impressive red for the money that serves up ripe, juicy fruit on a vibrant palate, a lick of oak and a fresh acid backbone. 92 points. Will please crowds.
Secret Label Clare Valley Shiraz 2019 – $14 at Kemenys. Seductive red at a give-away price. Check my review at the link. Bargain Buy.
Luccarelli Negroamaro – $15 at Wine Sellers Direct. Another soft, seductive rustic red variety, this time from its home in Puglis at the heel of the boot that is Italy. A lockdown is an opportunity to explore new varieties and flavours. 92 points.
Calabria Private Bin Montepulciano 2019 – $15 at the winery. This family winery has gone from strength to strength, and recently bought the McWilliams operation in Griffiths. The wines under the private bin label are full-of-flavour and Italian charm. Real bargains, grab some of their Nero d'Avola while you're there. 92 points.
Majella the Musician Cabernet Shiraz 2018 – $17 at Kemenys. They hit the bull's eye this vintage, with a rich, full-flavoured classic blend of Cabernet and Shiraz. Dark fruits do the talking, with oak in the backseat. Medium-bodied, smooth with fine tannins on the finish.. Perfect pitch. Will improve for years. 94 points, serious value. 5 golds and 2 tropies, plus wine of the year from Winestate with 97 points.
Naked Run The Aldo Grenache 2019 – $19 at MyCellars. A new ones for me, made by Steve Baraglia of Pyikes from ancient vines. 95 points and a rave review from Jane Faulkner at the link. Grenache and some of its blends are comfort wines, aren't they? So soft and slurpable.
Turkey Flat Butcher's Block Red Blend 2017 – $20 at Summer Hill Wine. This is an old favourite, a Grenache Shiraz Mataro (Mourvedre) that still delivers in spades at a bargain price. So much flavour crammed into a bottle – dark cherries and blackberries, pepper, spices and charcuterie, licorice and earth, not too big and heavy, great line and length. 95 Points. Serious bargain.
Vasse Felix Filius Cabernet Sauvignon 2017 – $20 at Winestar. Every now and then, you come across a wine that far exceeds your expectations. This is one of those, a perfect Cabernet: cool and classy, dark fruits polished with fine oak, medium weight, silky texture, real finesse, great line and length, perfect pitch. Already good drinking but the balance will see it live for years. Made from Margaret River Cabernet Sauvignon, a bucket of Malbec and a drop of Petit Verdot. 96 points. BUY.
Sons of Eden Kennedy Grenache Shiraz Mourvedre – $22 at Nicks. Power and Polish. Perfect pitch. I don't know how these guys do it at this price level. Nicks' review is on the money. 95+ points.
Geddes Seldom Inn Grenache 2018 – $23 at MyCellars, where the freight is free for subscribers on any quantity (promo code BWU20). The fruit for this red comes from old bush vines near Blewitt Springs, not far from Yangarra. The area has the highest altitude, highest rainfall and coolest winters in McLaren Vale.
Bush vines they might be but Tim Geddes has turned out a polished performer here, smooth as silk and not one hair out of place. Under the glossy surface, we find plums and red cherries in a medium-bodied frame, good length and balance, drinking well already but will keep for a year or two. Perfect pitch. 95 points. Underpriced!
That's my review from months ago. Meanwhile The Young Gun of Wine has published the results of a Grenache tasting, where this wine came third among a lot of fancy labels costing 3 and 4 times as much. It was Steve Webber's (de Bortoli) top wine of the tasting. His take: 'Spice, grace, perfume, gentle tannin, pinot-like.'

Bubbles
Seppelt The Great Entertainer Sparkling Shiraz NV – $10 at DM's. New label, haven't tried it but it's hard to see how you could go wrong with this wine from the oldest maker of this style at this price.
Black Chook Sparkling Shiraz Nv – $20 at Windirect. The EOFY sale makes this rich and ripe red bubbly irresistible. Alexia Roberts at Penny's Hill is turns out stunning McLaren Vale reds every year, but keeps a low profile. She's pitched this crowd-pleasing bubbly just right – it's opulent and wholly seductive but has enough discipline to get away with it. 93 points.
Dessert Wines
Buller Premium Fine Muscat 375ml – $9.50 at Dan M's. A great example of the Rutherglen  Muscat style. It's fairly light on its feet but hits all the right notes of raisins, toffee and honey. 93 points. Serious bargain.
Campbells Rutherglen Topaque 375mL – $18 at Dan M's. My favourite Tokay anywhere near $20, just pips the Morris model at the post with a tad more flavour. These are just gorgeous dessert wines at give-away prices. 95 points.
SPECIAL WINES
Pirie Sparkling NV – $25 at Kemenys. One of our best sparkling wines made down under, from the apple isle. Masterful, and a bargain at this price. Check Halliday's review at the link. 95 points.
Oakridge Local Vineyard Series Henk Chardonnay 2018 – $34 at Jimurphy. I prefer the 2018 to the 2019 at the moment since it's richer, rounder and more full-flavoured. As good as it gets for me – be quick though, this is the last source I can find. 96 points.
Turkey Flat Grenache 2019 – $32 at Wine Experience. I haven't tried this vintage but Gary at the Wine Front has: 'It has a lovely perfume that's kind of warm and comforting. It smells of brown spices, dried flowers and herbs, golden fruitcake, raspberries and poached strawberries. It's juicy and ripe in fruit, but earthy and shot through with sweet spices and orange peel. Tannin is a little gritty and grippy, and the finish is long, saline and stony. It's a really good wine. It will be better with a few more years under its belt.'
Wynns Black Label Coonawarra Cabernet Sauvignon 2013 – $33 at Winestar. I've opened a few older black labels in recent months, and confirmed what bargains they are. We enjoyed a stunning 2006, and a 2009 that surprised us since it's not seen as one of the better vintages. The 2013 is the most youthful and full-flavoured, rich, dense and concentrated but not heavy. The seductive cassis fruit is backed by subtle pencil shavings oak, good line and length, and fine tannins on the finish. Classic Black Label with years in front of it. 96 points. Bargain.

The famous black label and the winemaker behind it: Sue Hodder