There are lots of Winners, but wine lovers aren't among them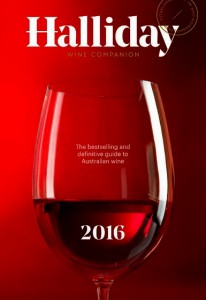 The exaggerated wine scores and winery ratings are misleading. I'm indebted to one of my subscribers for these numbers, which show clearly what I mean:
1998 Wine Companion
1717 wines reviewed
90-93 points – 422 wines – 24.6%
94-100 points – 234 wines – 13.6%
2012 Wine Companion
5813 wines reviewed
90-93 points – 2160 wines – 37.2%
94-100 – 1972 wines – 33.9%
It's known as 'bracket creep' in the trade, and it really screws up the system. We're talking about a point system consumers rely on, and one that retailers exploit to sell their wines.
James Halliday towers over the Australian wine landscape like a colossus, and I'd be the last wine lover to deny his enormous achievements and contributions. However, with his exulted position comes additional responsibility: wineries, liquor stores and wine merchants all quote Halliday's point scores to sell more wine. In the post Another Week, another 96 pt Halliday Bargain from Winestar, we show how this merchant exploits Halliday's scores to shift lots of wine – and who would blame him?
Our subscriber adds: 'I have two serious concerns here. Firstly, the consumer is being mis-educated as to what constitutes an excellent wine. Secondly, there is a serious disconnect between the scores JH is giving Australian wines and what the rest of the world's serious critics are and this is at a time when we need to be lifting our game to compete with global competitors who are eroding our market share.'
I've posted a current example below, and many more in our Review of last year's Wine Companion. Now to the review.
The Good
No one would argue that the HWC 2016 isn't an indispensible resource for serious wine lovers, nor would anyone suggest that the content isn't comprehensive. As a wine reviewer, I find the brief intro sections on each winery especially helpful for getting vital info at a glance: history, location, production, philosophy, ownership and winemaker(s).
The awards given to wineries and winemakers each year are a great way for hard-working wine makers to get some of the recognition they deserve. The same goes for the list of best new wineries, best value wineries and dark horses.
The Painful
The guide only lists one third of the wineries in Australia. For the rest, you have to sign up for the online version of the HWC. For professionals that's fair enough, but for the average wine punter it becomes $100 a year ask.
The Best of the Best by variety section is a good idea badly executed. The bigger sections – Chardonnay, Shiraz, Cabernet etc. – have 2 or 3 dozen 97 point or better wines individually listed, followed by a headache-inducing block half a page long that jams another 50 or more wines together which only  scored 95-96 points. Presenting information in this way is just dumb, and the publishers should know that.
The Bad
The number of wines in the Best of the Best by variety lists must be pushing 1,000. The rating system James uses describes wines that score 97-99 points as exceptional, and wines that score 95-96 points as outstanding. I don't think I'm the only one who finds it hard to believe that we make so many outstanding to exceptional wines in this country.
It's even harder to believe that we have some 700 wineries in Australia that deserve a 5-star rating. In other words, every second winery in the HWC gets 5 stars. Worse, almost 1 in 3 wineries in this book get 5 RED stars.
It comes back to what many in the industry know and shake their heads about, but few are game to say out loud: James Halliday's scores for wines are consistently 3 – 5 points higher than those of other reviewers, Huon Hooke and the guys at the Winefront for example.
The Ugly
The first section of the book before the alphabetical listing of the wineries is printed on glossy paper. In the last few editions, these pages fell out after a few weeks of use. I see nothing in this edition that will prevent a repeat performance.
The HWC 2016 has a truly ugly cover in Bordello Red.
The HWC 2016 was offered at deep discounts before it was even released, $10 off at Dymocks and $12 at A&R. That suggests it's either overpriced or punters don't see the value in it, or the publisher just wants to sell heaps of copies at any price.
Point Scoring, a current example
As it happens, Gourmet Traveller Wine published a Pinot Noir tasting this week, at about the same time the HWC 2016 came out. The tasting focused on single site Pinot Noirs, the best wines from the best producers in Australia. I've posted both results pages side by side below for easier comparison.
What stands out here is that the GTW team rates no wines at 98, just 1 at 97 and 3 at 95. By contrast, the HWC team rates 2 wines at 98 points, 30 at 97 and another 50 at 96. The second thing that stands out is that the GTW scores are so much lower, and the third is that the top wine in GTW tasting – Dexter Pinot Noir 2013 – is nowhere to be found in the HWC.
They're not exactly the same wines but are from similar makers and areas, and of similar quality and price. Here are half a dozen direct comparisons
Tolpuddle 2103 – 97 HWC, 96 GTW
Stefano Lubiana Sasso 2012 – 97 HWC, 95 GTW
Hoddles Creek Premier 2013 – 97 HCW, 92 GTW
Oakridge 864 Guerin 2013 – 97 HWC, 90 GTW
Kooyong Ferrous 2013 – 96 HWC, 94 GTW
Brown Magpie Parapap Reserve 2013 – 96 HCW, 90 GTW
Admittedly, the GTW list is much shorter than the HWC list but the trend is pretty clear: HCW scores are consistently higher by several points, and in this case a few points make a big difference. Here's why: the effective band of points is 86 – 98 according the HCW definition (and most of us would agree). In the HWC, scores of 90 – 93 indicate a rating of highly commended or a silver medal in wine show terms. So a difference of just 3 points – 96 vs 93 – is the difference between an outstanding wine and a decent wine. So if your 95 point Halliday $20 Shiraz is really a 91 or 92 point wine, it's no longer that much of a bargain, is it?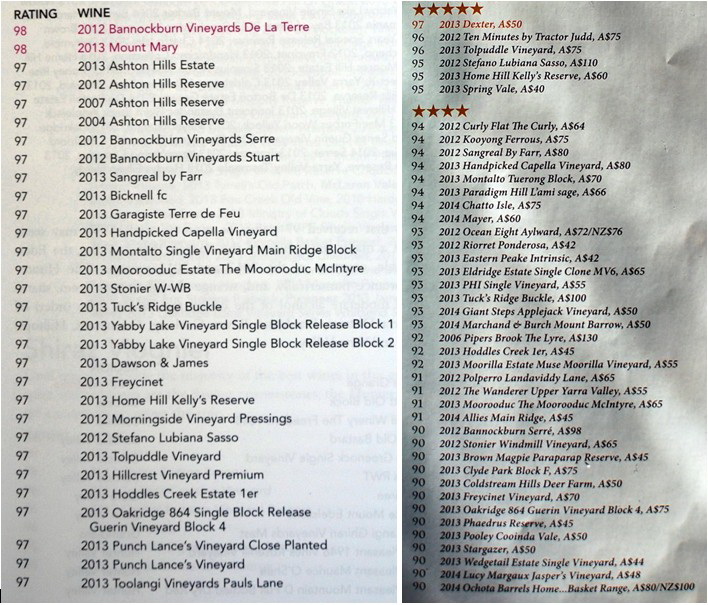 Kim