'At the end of the day, we're selling poetry.' Geoff Kruth, Master Sommelier
'When the wine critic James Suckling described a [1989] Château Haut-Brion in the pages of Wine Spectator in 1992,' Bianca Bosker writes in the New Yorker, 'he needed just a single phrase to sum up the taste: "Big and meaty, with lots of fruit and full tannins, but featuring a sweetness and silkiness on the finish."
When Suckling reviewed the same Haut-Brion again in 2009, he needed 7 sentences to describe the 'perfumed aromas of subtle milk chocolate, cedar, and sweet tobacco.' Bosker adds that 'extravagant tasting notes have become de rigeur in the marketing world,' and that they've lost their value as practical guides for consumers.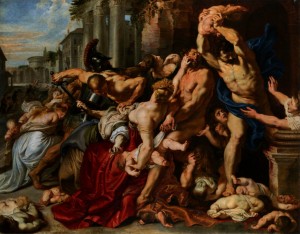 The Baroque Painter
I've seen the same trend over the years, and I've seen tasting notes evolve from useful descriptions of wines to baroque works of art that can resemble a Rubens Masterpiece.
Some reviewers clearly consult Dr Anne Noble's aroma wheel to come up with all the aromas and flavours they do: Orange Blossom, Kaffir Lime leaf, cloves and sandalwood. And lots of oil paint.
Here's an example from Tyson Stelzer:
The colour is phenomenal, pitch black, with a vibrant purple rim. The bouquet is the epitome of cabernet definition, with cassis, blackcurrant, mint and lifted violets of profound purity, yet concentration I have only seen in the great vintages of Bordeaux. The palate is wound up tight, yet still displays crunchy fruit character, cabernet florals, personality and power at unfathomable levels, within a style that retains airspace and elegant refinement. The ability of this wine to encapsulate sheer concentration yet utterly poised and pristine structure is a paradox of the highest order.
The Crime Writer
Some wine writers must dive into a giant thesaurus to come up with the riveting descriptors they do, while others launch into bombastic rhetoric to prove their grandiloquence. Others again use the language of crime writers to add drama to their reviews. Matthew Jukes who writes for the UK Daily Telegraph is one of those:
This is a wine plucked from the magma of a smoking volcano. It is hugely powerful with intense cassis fruit and muscles upon muscles. The flavour harpoons your palate and you are unable to escape. What follows is positively daunting – the formidable tannins and lashings of tribal fruit get to work rearranging your olfactory system. This open mouth surgery is the ultimate masochistic treat.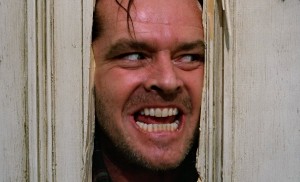 Here's another example from Jukes: 'This steely, chilly, pointy Riesling with raspy, crunchy acidity and raw, zesty fruit hits your cranium with a reassuring 'thwock'. At that moment you know the ice pick has been aimed accurately and the flavour then electrifies your senses. It is thrilling and unnerving in equal measure and you will allow yourself a break in the action to remind yourself that this is a small price to pay for this level of drama.'
The Master of the Wine Universe
They say that Robert Parker's wine reviews were a big part of his rise to prominence, and the popularity of his Wine Advocate mailer. Once his reviews were said to be more colourful and more descriptive than those of others, but these days they look pretty tame by comparison.
' … the Pine Ridge 2010 Cabernet Sauvignon is loaded with notes of dark chocolate, spring flowers, black cherries and black currants. This medium to full-bodied, flavorful, pure wine possesses lots of nobility, intensity and richness, but there is not a hard edge to be found in this beauty. For sheer complexity, it is hard to beat. Moreover, it should drink well for 10-15 years.'
The Art Critic
The next review from Mike Bennie at the Winefront is colourful but useful as well, in the sense that it gives us some details about the wine's texture, weight and depth, concentration and richness, even down to the 'cool' acidity.
'Lovely fragrance – red fruits, cinnamon, anise, green herbs, touch of briar. It's supple, succulent, shows some flesh of sweet fruit but begins a tightening mid palate that finishes in a light pucker and some more sweet fruit. Fine silky texture, cool acidity, medium weight and with good concentration. Wow. It just sucks you in from the start. Slides and glides in the palate, feels rich but fresh, spicy but approachable. Super shiraz.'
The Comedian
Magpies: Not sure I like them very much. I know Neil Pike (of Pikes) has a family of them around his house in the Clare Valley. He feeds them, knows them individually, and essentially treats them like pets. When a new baby comes along, once it's big enough, it has to clear off and find its own neighbourhood. Who knew?  While I'm talking of birds, those bloody Common Koels drive me cuckoo with their 'woooop wooop wooop' every morning in Spring, just before daybreak.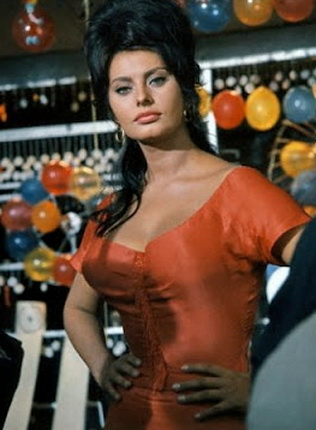 Cooler style with herbs and tomato paste, violet and vanilla perfume, mulchy red and black fruits. It's a bit tangy and tomato-ey, but does have fairly attractive fine grained tannin, tobacco and a fair amount of poached strawberry flavour. Not a bad drink. Gary Walsh, Winefront
Steamy Sex, anyone?
'In 2012 this is a wine that has thrown away its corset in favour of a more natural feel. The fruit is pliable, curvy, tender and heaving with yearning. It seems like its starlet days are long gone and this eager wine has blossomed into a full blown A-list heroine. You will never forget this flavour – it is a fulcrum moment for Vasse Felix.' Matthew Jukes again.
How to write a good wine review
Wine reviews have to describe several things for the reader:
The style, variety and origin of the wine reviewed
Colour and smell
Size and weight and structure  – long, short, deep, slender, broad
The texture and mouth feel – rough, smooth, silky velvety, grainy, tannic, acidic
Flavour profile – fruity, savoury, earthy oaky
Quality rating or point score, and a value rating
Here's more detail:
Go easy on the aroma wheel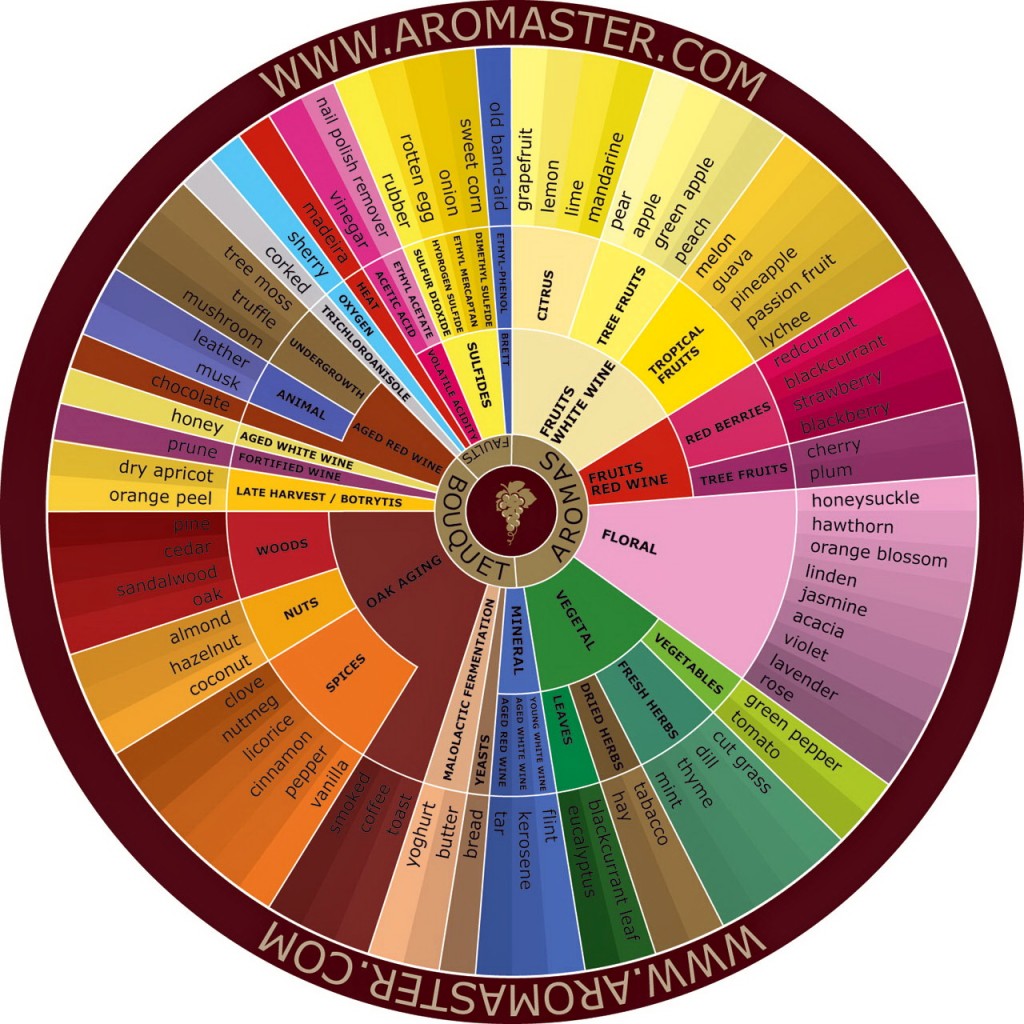 It's easy enough to grab a bunch of descriptors from it, but I'd use them in moderation. If I'm reviewing a Cabernet, I assume you have some idea of the style – cool dark fruits, cassis / blackberries / pencil shavings / good line and length / fine acid and so on. So it makes more sense to talk about what's different or unusual in this example. Is the fruit ripe, overdone or underdone? Is the wine juicy or restrained? Is it fruit-driven or savoury with herbal and earthy characters.
The structure of a wine is crucial
We're talking about shape, length and breadth and texture, and mouth feel. Wines can be rich and round, or mean, lean and long, lightweight, medium-bodied and huge. Wines can by raw and harsh, foursquare and chunky, big and brash, elegant and refined, short or long, smooth, silky or velvety.
Balance is key
Great wines show a fine balance once they've had time to settle down, time for all the elements to get comfortable with each other. Balance of various flavours, of fruit and oak and earth and tannin and acid. We look for the seamless harmony we find in polished A Capella singing. Balance is independent of size.
Say it as it is
It's your review, so tell us what you think and why. A wine can make all the right noises but fail to excite you. A wine can have perfect balance and structure but lack charm, character, interest. Petaluma wines were like that to me for many years: perfectly made, clean as a whistle, devoid of character.
Give us context
If the wine is not well-known, tell us something about the winery or winemaker, or the place it comes from. Compare it with similar wines that are better known, as I did with the Petaluma above. Maybe say a word about the vintage: was it average, hot, cool, early or late? If the label is well-known, tell us if this wine is true to style or different?
Would I Buy It?
'Go on, surprise us. That's what poetry does.' So says Andrew Jefford in his piece How to write wine tasting notes. I agree with the element of surprise, if not the poetry. Working at the value end of the market, I have to make a value judgement and the key question I ask myself about a wine is: would I buy it? Unlike most reviewers, I buy a lot of wine including samples so it's a defining question.
More Reading
Is there a better way to talk about Wine? by Bianca Bosker at the New Yorker
Tasting notes – the shame of the wine world? By Andrew Jefford at Decanter
A Pragmatic Approach to Using Wine Ratings. Great insights from Madeline at the Wine Folly
Buy your own  Aroma Wheel