I work hard to get rich flavours in my chicken casseroles, and I admit that this is a work in progress. Casseroles are a bit of work but it's not too finicky as you can taste and adjust various elements while the dish cooks slowly. I tend to fall back on a few ingredients that make the job easier, and this snapshot shows the main ones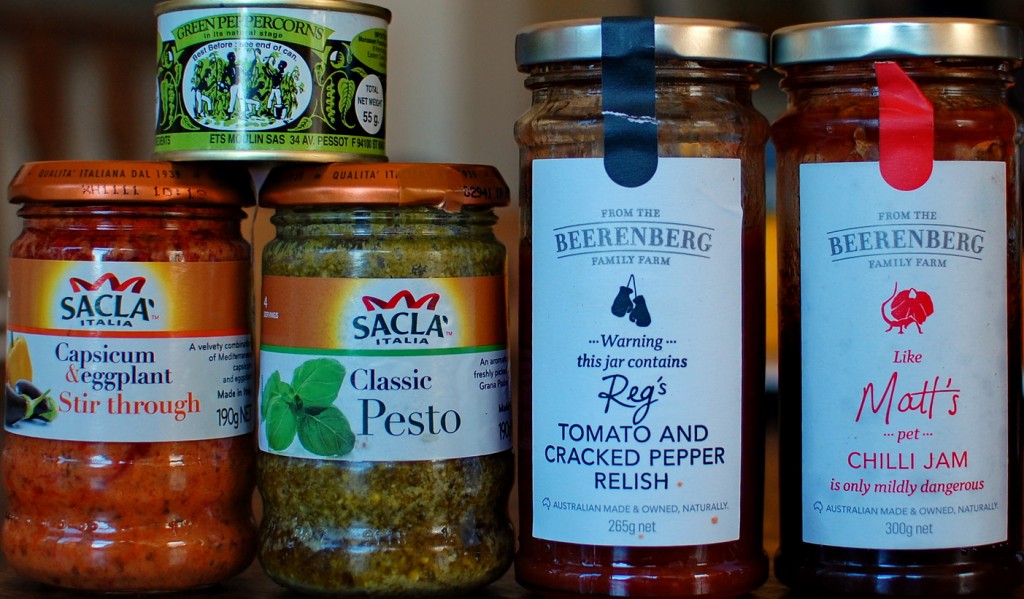 Ingredients
Good quality Maryland pieces and wings (3-4 of each / 1.5 kgs)
400 g of Speck or thick bacon
Two heaped tablespoons of flour
Teaspoon of sweet paprika
Olive Oil
5 spring onions
1 leek
2 fennel roots
2 small red capsicums or 4 red peppers, one green capsicum or green pepper
1 zucchini chopped into thick slices
1 can of crushed or chopped tomatoes
Big handful of Swiss Brown or field mushrooms
Can of green peppercorns (pour off the liquid)
6 tablespoons of Beerenberg Tomato and Cracked Pepper Relish
Half a bottle of dry white wine
1- 2 cups of chicken stock (adjust as needed)
Seasoning
Thyme, Italian Herbs, Oregano, pinch of chili flakes
3 bay leaves
A jar of SACLA capsicum & eggplant stir-through
Tablespoon of balsamic reduction
Teaspoon of grated lemon rind
Putting it Together
First 20 minutes:
Dust the chicken with flour and paprika, pan-fry five minutes on each side
Add the spring onions, keep the tails aside
Add the crushed tomato and some wine to the pan, stir; let it simmer for a bit
Add a generous amount of seasoning
Chop the veggies into biggish chunks, set the mushrooms and zucchinis aside
Put everything except the bits you set aside into the oven in a casserole dish, add more wine if needed
Now you can have a break, pour yourself a glass of wine, clean up after phase I …
40 minutes from the start:
Panfry the mushrooms in butter, pesto and wine but don't drown them. Just for a few minutes; they'll cook some more in the casserole
Add the mushrooms to casserole, along with the zucchini slices and spring onion tails
Add the speck or bacon cut in chunks
A Note on Technique:
At this stage, I put the (metal) casserole dish across two flames on on the stove on low heat, to keep it all bubbling away while I add herbs, taste the dish and make various adjustments:
Add the green peppercorns (our off the liquid), the Beerenberg Tomato and Cracked Pepper Relish, the chicken stock, Seasoning, herbs, chili flakes, bay leaves, balsamic reduction, grated lemon rind …
Add the SACLA capsicum & eggplant stir-through, the Tomato and Cracked Pepper Relish and the green peppercorns judging the quantity after taste test.
We want spice and flavour rather than lots of heat. We don't want a thin sauce or a thick one – aim for somewhere in between.
1 hour from the start:
Put the casserole back in the over, after giving everything a good stir
It should be ready in half an hour. Serve with a big old Riesling or a big, buttery Chardonnay.