Traditionally these dishes are made as 'tajines,' earthenware dishes with dome-shaped tops. They're popular in North Africa, and are ideal for cooking tough cuts of meat slowly until they're tender. The cone-shaped lid of the tajine pot traps steam and returns the condensed liquid to the pot. A little steam escapes through a small hole in the top, gradually concentrating the stew which typically cooks for hours on a stove at low heat. The tajine goes straight to the table when the meal is ready.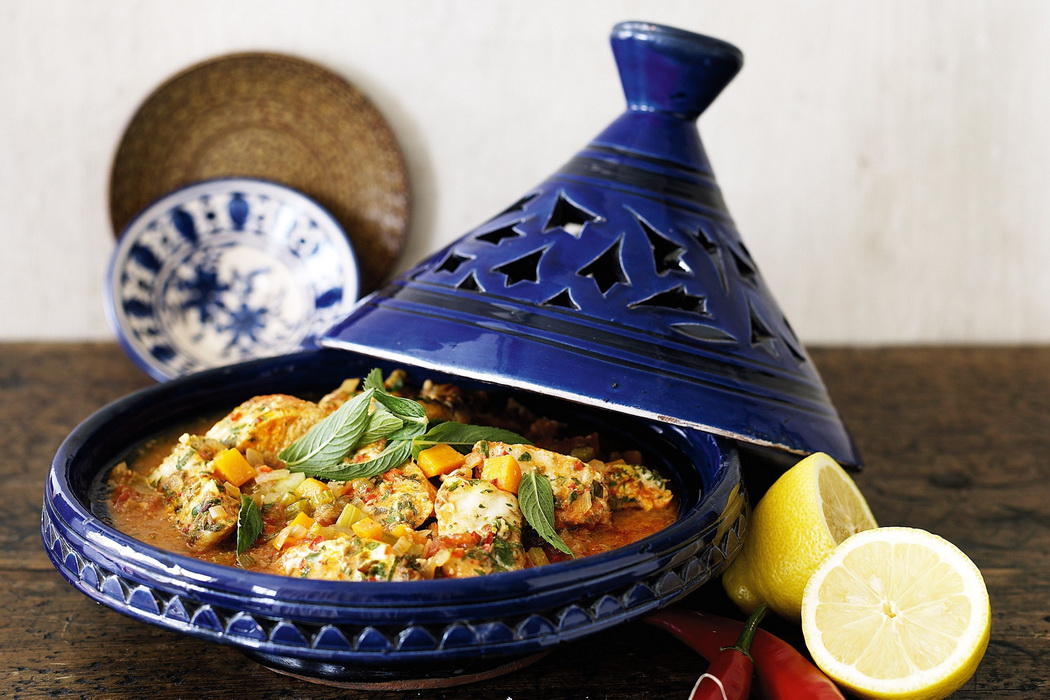 If you want to use an earthenware tajine on a modern stove, keep the temperature under 150. Or you can use a diffuser, a flat metal / ceramic paddle that sits between the burner and the tagine. Moroccan tajines tend to use veggies and / or fruit (apricots, dates, raisins, olives), nuts and chickpeas. The result is often sweet and sour, which works well with lamb for example. The Dead Simple Way I don't have a tagine, but I have a great big skillet that can go straight from stove to oven to table, so I used that. The ingredients are pretty straightforward:
Chicken thighs
Speck or thick bacon
Eschalots or pickling onions
Garlic
Green and red peppers or capsicum
Leek
Mushrooms, Swiss brown or field
Crushed tomatoes (half a can or less)
Can of chickpeas
White wine
Chicken stock
Lemon zest
Sweet paprika – 1 tbsp
Ground cumin – 1 tsp
Ground turmeric – 1 tsp
Oregano – 1tsp
It's the usual drill: brown the chicken (sprinkled with sweet paprika), add the onions (whole or halved), chopped garlic, crushed toms, some white wine, chicken stock and seasoning, put the frypan in the oven at 170.
After half an hour, add the speck / bacon, chickpeas, lemon zest and the spices, mix it all up and turn the drumsticks over. In a frypan, fry the chopped-up leek adding the mushrooms after 5 minutes with a knob of butter and a dash of wine. Fry for another 5 mins. Transfer the skillet from the oven to the stove top, add the leek and mushrooms, adjust seasoning and spices as you see fit, adjust liquid (reduce if too much or add more stock if too little). The whole process should take about 75 minutes or more if the drumsticks are big and tough. Serve with your favourite rice or couscous.
Notes: