This is not an authentic Laksa, and perhaps it's better for it.
The way I develop my recipes is by finding one that looks interesting in a cookbook or on the web, and then tweaking it until I'm happy with the result. That usually takes 2 or 3 attempts. Sometimes more.
This one started life as piece of fish in a spicy Asian sauce. It wasn't spicy enough, the coconut milk dominated the flavour, and it was awkward to eat. The second attempt was better, except for the fish sauce pushing to the front. By the third attempt, everything came together.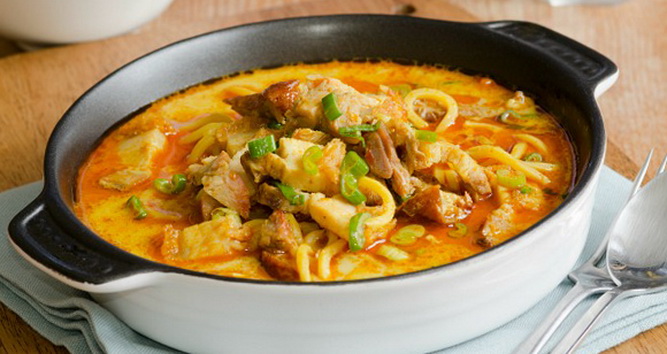 Method
First, a confession: Asian dishes are not my forte. Because everything usually happens in a short amount of time (in a wok), you can't make adjustments at your leisure as you can with a casserole. That means it's best to have all the ingredients laid out and ready to go before you start. It's also a good idea to cook in small batches.
Ingredients
Seafood – choose prawns, calamari and firm fish like blue-eyed cod or ling
A couple of big chilies, one green, one red. Take out the seeds
2-3 Spring onions
Strips of red and green capsicum
A couple of cloves of garlic, chopped up or minced
A table spoon of fresh ginger, grated (to your taste)
A small amount of fresh turmeric, grated
A tea spoon of ground turmeric (from a herb jar)
One stalk of lemongrass, chopped into 2 inch lengths
A can of coconut cream
Sour cream (for final adjustment)
A small coup of vegetable stock
A small cup of white wine
A table spoon of fish sauce
A knob of butter
Small Lemon (for some grated rind and some juice)
Bagette
Noodles
Sesame oil for frying
Process
I cook the seafood and the noodles separately and add them to the dish later
Stir-fry the other ingredients, and add the spices, the wine, stock and coconut cream
Add fish sauce carefully, tasting before you add more.
Add chopped spring onion tails (or shallots and/or some parsley – we want the green)
Add seafood and noodles, take off heat and serve as soon as they're warmed through.
Some Extra Hints
Always adjust the recipe to your preferences; my recipes aren't designed to be followed slavishly or religiously. They're not blueprints, they're just ideas to stimulate your creative juices. I say that because most of us have strong preferences, likes and dislikes. Years ago, I used to loathe garlic, chili, curry and oysters. I still loathe brains and offal.
If you leave the garlic out of one of my recipes, it won't destroy the dish. Same goes for chili, ginger and other strong spices. Suit your taste: use a little less or a little more. The only thing I'm stubborn about is the ingredients you use. Always get the best and freshest you can get hold of, whether it's seafood or meat or chicken or vegetables.
I'm not so stubborn about stock, mind you. My friend and I both learned to make stock the Cordon Bleu way many years ago. He still goes to the fish market early on a Saturday morning to buy lots of fish heads and stuff, then races home and boils it all down to a delicious extract. I cheat and use ready-made commercial stock. If I can't tell the difference, why worry?
In a recent blog post, I gave away my secret ingredients. There are 2 more I should've added: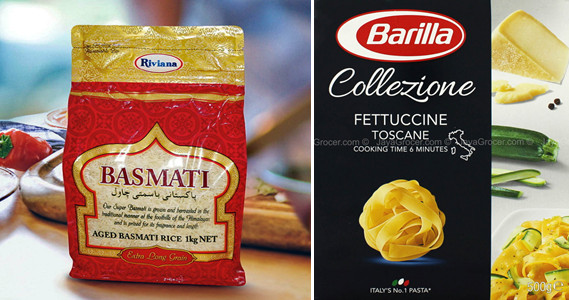 Rice and pasta tend to be afterthoughts. Cooks pay attention to the main actors, but neglect the supporting cast. This brand of rice, cooked for 17 -18 minutes, is the most fluffy Basmati rice I know. The Barilla Fettucine Collezione Toscane is my favourite pasta. I've tried all kinds of artisan / home-made pasta, and none comes close to this $3 product – don't ask me why not. The mouthfeel and taste of this pasta are just right to my taste, after 10 minutes of cooking. I like my pasta between al dente and soggy.
Kim