The Germans love their pork, and I'm no different since I'm one of them. This cut of smoked pork takes its name from the city of Kassel in Hessen, and it's conquered the world – oops, I meant it's become very popular all over. It comes without the bone in most delis these days, but either version is fine. A close cousin is Speck, which tends to have a higher fat content.
For this recipe, you can use either. It's important to have some fat content to provide that luxurious mouth feel we're after, so you should avoid Kassler that's too lean. Cut it into chops or chunks, about 15mm thick. One thing to keep in mind is that these meats are fairly salty so check before adding more salt during cooking or eating.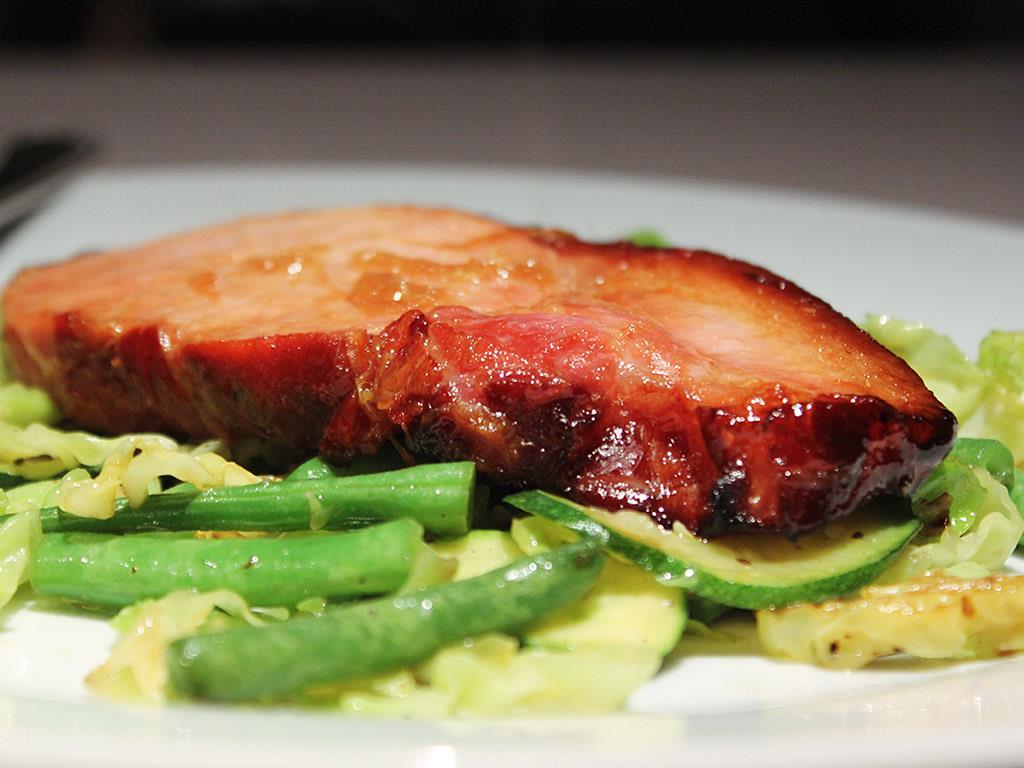 Germans would serve this kind of meat with mashed potatoes and Sauerkraut. You can buy the red or white cabbage in tins or jars or make it yourself. This version has an oriental twist so I tend to choose veggies in season (or a salad on a hot summer day); right now asparagus and English spinach are terrific and cheap. I steam a bunch of asparagus for 5 minutes, and fry the spinach in a little butter for about the same time (you can steam it too if you prefer).
Ingredients
Kassler, Speck or smoked pork loin
Fennel root, chunks
Spring onions, whole if small or halved
1 tbsp balsamic reduction
2 tbsp Soy sauce
1 tbsp Honey
Small knob of fresh ginger, grated
Grated lemon rind (just a touch)
Teaspoon of lemon juice
Butter and sesame or olive oil
Seasoning
White wine (half a glass or more as needed)
Asparagus
You can fry or bake the pork, but be careful not to dry it out.
Frying: Quickly brown the pork pieces in the pan in a little butter (both sides, a minute or two on each, then removed. Fry some spring onions, fennel and leaks in some butter and add a dash of dry white wine a few minutes later. When the veggies start to soften, add the soy sauce, honey, lemon and pepper. Stir to blend and put the pork pieces on top. Cook on low heat, adding white wine (or chicken stock if you prefer) to keep it all from drying out (but not too much). Turn the pork over and cover in the sauce.
Baking: Bake the spring onions, fennel and leaks in a little oil for 30 minutes at 160 degrees (they take longer than the meat). Add the pork and the remaining ingredients (honey, soy sauce etc.) Add wine or stock if needed. Mix everything well and spoon over pork. Let it bake for about 30 minutes on 160 while you steam the veggies. Add some chopped spring onion tails or shallots 10 mins before serving (for colour). Check the baking dish every five minutes or so and add wine or stock or both, blend and spoon over the pork pieces.
This dish is very forgiving, so you can adjust as you go, and even add things you're fond of such as sweet peas. One thing is important: Whether frying or baking, we want to end up with more of a glaze than a sauce, so don't add too much liquid. Serve with Pinot Gris or a generous Riesling.