We check out the wine writers who make our pulses beat faster
Some wine writers get up our noses, others make us smile, others again bore the pressings out of us. The last lot are in the majority but it's the same with politicians, CEOs of banks and prize-winning novelists. You won't see many Mark Twains or Oscar Wildes writing about wine but Tom Wolfs are easier to find.
Here's an example from Philip White, who can turn aroma wheels into Catherine Wheels (and yes, he's talking about a wine): It smells more like it came from the staff entrance of the Mustang Ranch.  It's rude and rich and voluptuous in the fruit department, with a great mush of ripe red berries and plums wallowing about.  Maybe even baby beetroot.  Then it blasts off a top note of musk and confectioner's sugar, and yes, the faintest whiff of the Kanmantoo pit after a blast.
Parker Power – it's not in the words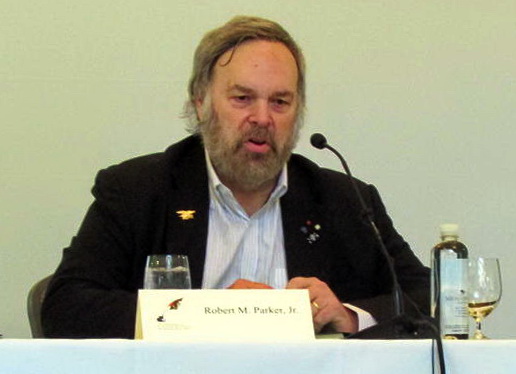 We'll come back to Philip – we can't just leap over Robert Parker Junior, the man credited with a million dollar nose. Over the last couple of decades, Parker has put millions of dollars into the pockets of Bordeaux proprietors with his glowing reviews and perfect scores. The problem is that he's handed out too many of these lately. Wine Searcher features a list of the 511 commercially available wines that have been awarded 100 "Parker points".'
Parker is credited by many for the change we've seen in Bordeaux from elegant reds to a much bigger, richer, riper style. As a wine writer, he is polished but conventional. Here's an example: ' … the Pine Ridge 2010 Cabernet Sauvignon is loaded with notes of dark chocolate, spring flowers, black cherries and black currants. This medium to full-bodied, flavorful, pure wine possesses lots of nobility, intensity and richness, but there is not a hard edge to be found in this beauty. For sheer complexity, it is hard to beat. Moreover, it should drink well for 10-15 years.'
Doesn't get the pulse racing, does it? So let's get back to the man who has been called the Rimbaud of McLaren Vale, the Charles Bukowski of wine writers and Australian wine's Kerouac, Hemingway and Montagne rolled into one.
Philip White – What's he on?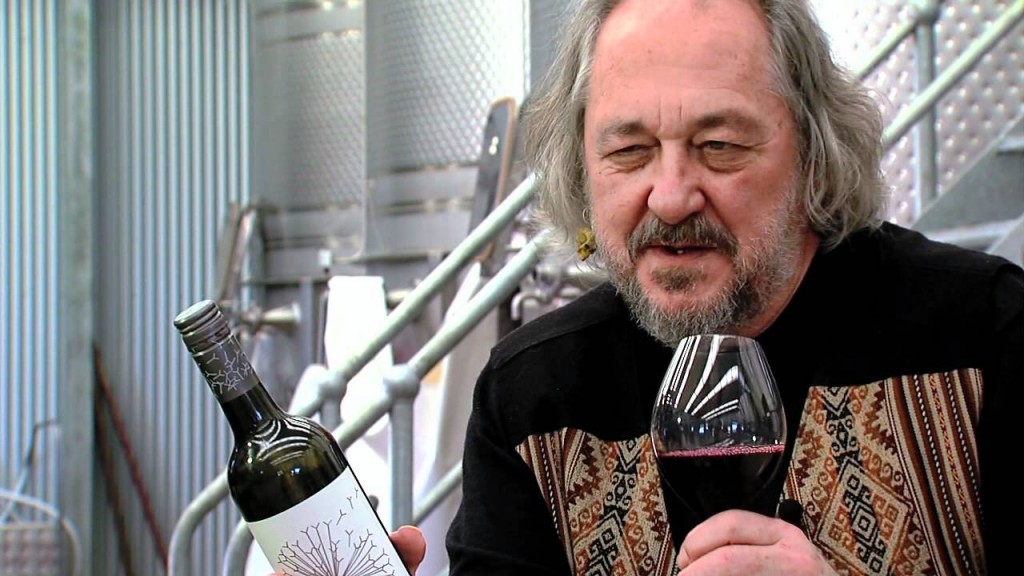 In years past, Philip has been the editor of both Winestate and the Wine & Spirit Buying Guide. These days he writes colourful and provocative pieces for his blog http://drinkster.blogspot.com/ and for Adelaide's InDaily. Last year he published a landmark $1000 coffee table book called A Year in the Life of Grange, together with photographer Milton Worldley. Here are some of Philip's reviews:
This is the sort of wine whose aroma just floods up out of the glass and spills all over the table. It's baby-fleshy and peachy as much as limy. Maybe even rosy, like turkish delight. And it reminds me of very fresh soft nougat. It smells real good. Wholesome, smooth and healthy. It has a little dusty prickle, like its vineyard in summer. But otherwise, it's all oozy comfort in the fragrance division.
You'd never guess he's describing a Riesling. Same goes for this strange creature, except for the mention of the variety in the text:
A little seaweed, a little sweat, a dab of sun oil (probably too late), and only then the citrus that betrays Riesling. Maybe more lemon than lime. I can smell the hearty giggles. I can smell pigface, too, that dunal succulent more politely known as Carpobrotus edulis. Maybe we rolled in some. That'll cool you down, I promise. And you can eat it. The first sensation upon the swallow is one of very dry, sandy acid and tannin. It's astringent, and draws all the juice out of your inner cheek squirters while drawing your blood dangerously close to the surface of that thin skin behind your lips. 
When ordinary words aren't up to the task, Hollywood heroines can come in handy:
This wine's more open in the shirt division than the O'Leary-Walker – it's more a creamed-and-powdered Liz Taylor teasing Jimmy Dean in Giant than the bossy, lean and mean Kathryn Hepburn/Barbara Stanwyck style O'Leary-Walker gets from the original vineyard.
Wine often sees wine writers reach out to the fairer sex, and Philip is no exception:
Sure, it has a nose-itching powdering of summer dust, but beneath that I smell the clean soft flesh of ly-chee and rambutan, cucumber and star fruit. While Watervale's macho, blustery and seasidey, like a fisherman, this is a long-legged lass in a polished straw hat and linen suit, soused in Issey Miyake. Freckles. 
He soon reaches a bit further, perhaps later in the evening after more wine and some dope:
 … seems a touch shy and withdrawing right now, as if it needs a good quarter of a century to get a civil tongue in its head.  But let it sit in the glass awhile, and it o-so-gradually begins to drop the surly "So whatteryou lookin at?" routine to more of a sassy "Okay I'll show you my tits if you promise not to touch 'em."
Then he takes us to the swamps of the deep American South:
It's more soulful and muddy, a bit like the best Shiraz of Langhorne Creek. It reminds me of Ry Cooder's sinister, snaky slide soundtracks in Southern Comfort and Paris, Texas. But this one's not the usual shiny blackness of swamp vipers – it's more matte in its finish, like a dry alligator.
And back to McLaren Vale:
It is indeed a simmering, glowering, provocative brute. With unusual finesse for such machismo. It stares you down. It is overtly masculine. It is the blacksmith pushing the wife aside and making the bloody blackberry tart his way. He puts mint leaves on the top, and then great gloops of cream, and way beneath, his awkward pastry is not particularly fine as far as its sieving and rolling went. Then, like old Burgundians eat their tiny forest strawberries, he's ground white pepper over it.
Matthew Jukes – 'yards of flapping exaggeration'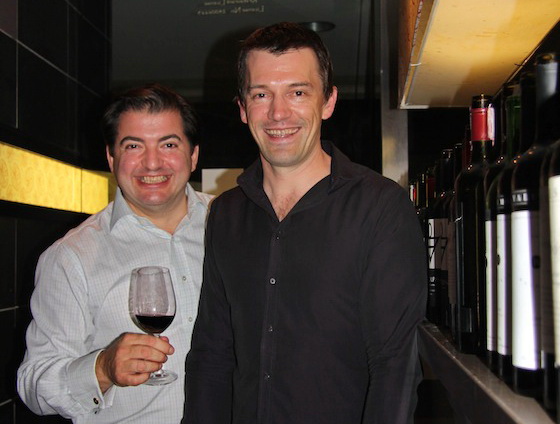 Matthew Jukes is a much awarded British wine writer, and he he's trying to show Tom Wolf up as a lightweight. In case you're not familiar with Tom Wolf, he had a big hit with The Bonfires of the Vanities. 'Wolf writes Big and Tall Prose,' says James Wood in the New Yorker, 'big subjects, big people, and yards of flapping exaggeration. No one of average size emerges from his shop; in fact, no real human variety can be found in his fiction, because everyone has the same enormous excitability.'
The photo shows Jukes and Stelzer (left and right) who run the Great Aussie Red Competition every year.
Here's what Jukes wrote about the 2010 Penfolds St Henri (and this is a small excerpt):
'… the whole experience is almost transcendental. Epic and thrilling. I couldn't spit it out.  I couldn't whiplash it out of my mouth even if I was crashed into at speed while waiting for a red light to change.  Weirdly it wasn't swallowed either – it was subsumed into my soul.  20++ (100++).'
Here we have another wine writer for whom 100 points aren't enough. It's not just big reds but fine Rieslings too. This Tasmanian number makes him dig deep, literally.
… chilly, pointy Riesling with raspy, crunchy acidity and raw, zesty fruit hits your cranium with a reassuring 'thwock'. At that moment you know the ice pick has been aimed accurately and the flavour then electrifies your senses. It is thrilling and unnerving in equal measure and you will allow yourself a break in the action to remind yourself that this is a small price to pay for this level of drama.' 
It doesn't take long before Matthew reaches out to fairer sex:
'In 2012 this is a wine that has thrown away its corset in favour of a more natural feel. The fruit is pliable, curvy, tender and heaving with yearning. It seems like its starlet days are long gone and this eager wine has blossomed into a full blown A-list heroine. You will never forget this flavour – it is a fulcrum moment for Vasse Felix.'
As if to apologise for this transgression, he switches to intellectual pursuits:
'The 2010 is sexy as hell but this 2011 is intellectually demanding and thoroughly fascinating and as much as it sounds thrilling to drink sexy wine every day I need to switch on and engage my brain every so often!
Next comes the brain as an operating system:
ROV Finisterre Porongurup Riesling forces me to move faster than my old operating system can handle, and I must admit I struggle to keep up. The Mojito freshness and lime overload are both glorious. The coolness and slimness of this beast is bewildering … I speed ramp without asking permission from my brain in order to try to come to terms with what on earth is going on. Perhaps I should just sit down and drink it, after all that's what the winemaker intended, but I can't. Even configuring that command while this wine is in my system would cause my whole being to crash.'
Then Matthew has a lash at molecular biology:
In Black Label every molecule has been tutored before it is sent to work in this wine.
Next comes a dash of faith:
This celestial body is one of Charlie's most evocative and sensitive wines to date. I feel that it will become a star wine in due course. Hallelujah.
Then it's The Hunger Games
The texture is shot silk, like the gown Katniss Everdeen wore on the chariot when it burst into flames. The fruit comes in waves, rolling rhythmically across the palate in perpetual harmony. 
And finally: Violence
This is a wine plucked from the magma of a smoking volcano. It is hugely powerful  with intense cassis fruit and muscles upon muscles. The flavour harpoons your palate and you are unable to escape. What follows is positively daunting – the formidable tannins and lashings of tribal fruit get to work rearranging your olfactory system. This open mouth surgery is the ultimate masochistic treat.
Tyson Stelzer – Poetry or PR?
Tyson Stelzer is a former science teacher turned wine writer. He's the much awarded author of the Champagne Guide, which is updated every couple of years. These quotes are taken from his review of Penfolds 2013 Bin Reds and Icons release .
Penfolds' 2010 reds are wines of astonishing depth and potent concentration, rippling with voluptuous, succulent black fruits … The second factor at play in the 2010 vintage … lies in the fortune of this vintage in falling at such a high point in the arc of Penfolds' winemaking history. A diligent regime of attention to detail in both vineyards and winery in recent decades has elevated virtually every cuvée in the line …'
This is Tyson's review of the ever popular Bin 28 Kalimna Shiraz:
Its colour is monumentally deep, jet black with a narrow, vibrant purple rim. The palate slowly uncoils to reveal tremendous depth of succulent black plum, blackberry and liquorice, with a crunchy vibrancy and an air of violet perfume that hovers from start to finish, framed in delightfully poised tannins of commanding structure yet ultra-fine restraint "This wine would do any Bin 28 back to 1959 proud," Gago declared. It certainly did that day.
The $35 Bin 28 Kalimna Shiraz 2010 rates 96 points with Tyson, so what does he make of the $350 Bin 169 Coonawarra Cabernet Sauvignon 2010? It gets 98 points, and a review that suggests he's used every implement in the toolbox of his verbal cutlery:
The colour is phenomenal, pitch black, with a vibrant purple rim. The bouquet is the epitome of cabernet definition, with cassis, blackcurrant, mint and lifted violets of profound purity, yet concentration I have only seen in the great vintages of Bordeaux. The palate is wound up tight, yet still displays crunchy fruit character, cabernet florals, personality and power at unfathomable levels, within a style that retains airspace and elegant refinement. The ability of this wine to encapsulate sheer concentration yet utterly poised and pristine structure is a paradox of the highest order.
Reality Check
We're left with that famous line from Peter Falk's detective Columbo character: 'There's just one thing that bothers me here.' Is all this hyperbole justified? In a word: NO. I've tasted many of these wines, and I'm left with the suspicion that the 3 main dudes here see wine as a great platform for showcasing their brilliance with words.
For example, I was underwhelmed by the 2014 O'Leary Walker Rieslings Philip White goes gaga over, and the same goes for the Penfolds St Henri Matthew Dukes wouldn't spit out in a car crash. They don't agree with other either so we find Philip White's take on the Bin 28 far more down to earth than Tyson Stelzer's.
First of all he makes a crucial point: 'Kalimna is a very important vineyard in the north Barossa … Using this sacred name on a blend of grapes from McLaren Vale, Langhorne Creek, Wrattonbully and Robe, as well as the Barossa in general, is surely equal to Pernod Ricard's blending of almost anything in the Steingarten brand, just as it stretched Jacob's Creek to include most of South-eastern Australia, from Rockhampton to Ceduna, and perhaps now to its vineyards in China.'
So what does Philip think of the latest Bin 28? He calls it a 'jolly wine, oozing somewhere between fresh conserve, with its intact macerated berries, and jam, which is more sugary, cooked, homogenized and gloopy … 'It's pleasant, inoffensive, and industrial.'
Campbell Mattinson at the Winefront is more polite than Philip yet gives the wine a modest score of 90+ points. That's pretty ordinary for a famous Penfolds Bin red from a great year, from a vintage that falls at such a high point in the arc of Penfolds' winemaking history.
My apologies to Huon Hooke and the three amigos at the Winefront – Campbell Mattinson, Gary Walsh and Mike Bennie. Their reviews are more measured, more accurate and well-written. I rely on them for guidance but they don't make my pulse beat faster. Come to think of it, I'd better have another look at my own reviews.
Kim
Wine Poetry, Aroma Wheels and Perfect Scores – Part 1
Penfolds Bin Reds and Icon release 2013 – breathtaking stuff