Once Cabernet Sauvignon was as scarce as hen's teeth
In the 1950s, there was Shiraz and little else in terms of red wine. From the Hunter to the Barossa and the Swan Valley, Shiraz was king for red table wines and port. We had some Grenache and Mataro in the Barossa, but they were regarded as inferior varieties. Funny that, given the demand for them these days.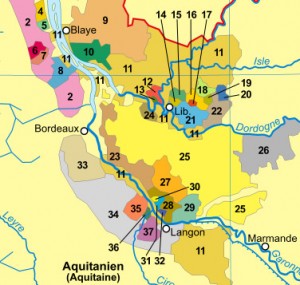 There was very little Cabernet, and that's why Max Schubert used Shiraz for his Grange. Max visited Bordeaux, where Christian Cruse took a liking to him and showed him everything Max could possibly have wanted to know about making the grands vins. The cépage or varietal mix of these wines must've read like a foreign dictionary to Max: Apart from Cabernet Sauvignon (called Carbinet by some winemakers down under), there was Merlot, Cabernet Franc, Petit Verdot and Malbec. The last one would've rung a bell because there were a few vines in the Clare Valley.
When Max decided to make his grand vin back home, there was little Cabernet, let alone Merlot or Cabernet Franc, and Malbec was already on the way out in Bordeaux so Max used the ubiquitous Shiraz. He used American oak instead of French barrels for similar reasons: availability, and cost. More on Max and his battle to realise his vision in Max Schubert, Ray Beckwith and the Making of Penfolds.
The Role Models
As the table wine market grew, so did demand for more interesting wines. Cabernet became the noble grape every wine lover wanted to drink more of. By the mid-sixties, there was enough of it for Penfolds to release its Bin 707. There was even enough of it for another Max to plant some: Hunter vigneron Max Lake, who set up Lake's Folly in the early sixties. Merlot was still a way off, and plantings didn't really get going until the Chardonnay boom was on the wane in the late eighties.
Since we're talking about Bordeaux blends, let's have a quick look at the original before we move on. Bordeaux is home to some of the most famous reds in the world, and the top wines cost small fortunes – $500 to $5000 a bottle. The Haut-Medoc, Graves, St Emilion and Pomerol are the key areas.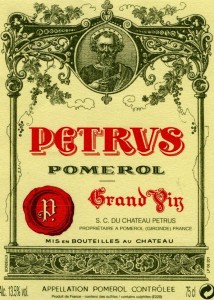 In the Haut Medoc, the dominant Cabernet Sauvignon relies on Merlot to make it more approachable. Most of the big name chateaux – Chateau Lafite, Latour, Margaux and the rest – use about 30% Merlot in their reds, and small amounts of Cabernet Franc and Petit Verdot. Chateau  Haut Brion in Graves in the western suburbs of Bordeaux uses almost 50% Merlot.
St Emilion and Pomerol are two smaller areas on the right bank of the Gironde (near Libourne). Chateaux Ausone and Cheval Blanc are leading lights in St Emilion, where the typical make-up is Cabernet Franc and Merlot, 50/50.
In Pomerol, the script is similar but Merlot plays the starring role. Chateau Petrus is one of the most expensive reds you can buy at $4000 a bottle, and it's made entirely of Merlot. Other Merlot-dominant wines include Trotanoy, Le Pin, Vieux Château Certan.
Margaret River, Greenfield Site
Merlot on its own has mostly found a home at the low end of our market, offering soft and easy reds for people who don't like serious reds. A bottle of Oyster Bay Merlot we tasted last year was a lot like alcoholic Ribena. More serious Cabernet blends were made in the Yarra Valley and Tasmania, but in recent years Pinot Noir has emerged as top red dog in these areas.
Even at the more serious end of the wine business, Merlot was all over the shop until Margaret River taught it to behave. Margaret River is a brand new wine region in a country where most regions are revived old ones – the Yarra Valley, Geelong and Bendigo come to mind. Before the mid-1960, Margaret River was a sleepy place with great surfing beaches. Most wine in Western Australia was made in the hot Swan Valley near Perth.
In the early sixties, horticulturalist Dr John Gladstones saw the potential of Margaret River, as both climate and soil showed similarities with the Bordeaux vignoble. Vasse Felix and Cullens were the first to plant vines here, and were soon followed by many others. They planted lots of Cabernet Sauvignon and later on Merlot, and early results proved Gladstones right: the quality of the reds was good, and the Cabernets showed some of the gravelly elegance of Bordeaux reds.
There are Cabernet blends, and there are Cabernet blends
Today Margaret River is a pretty mature wine area, and the pecking order of its best wineries is fairly well established. There are some serious Cabernet blends made by the likes of Cullens and Woodlands that sell for $100 or more. At the $10 – $20 end of the scale, we have large numbers of easy drinking Cabernet Merlot blends – the $11 Amberley Secret Lane is just one example.
It's tough finding serious Cabernet blends anywhere near $20 though. We've done our best on the list below but had to stretch the price ceiling a bit to squeeze in the Blue Poles Allouran, a wine that's cheap because no one has heard of this vineyard. Owner Mark Gifford tells Max Allen that Merlot in new world countries has become a caricature, reds that were fat and overripe, nothing like the elegant merlot-based wines from Pomerol that he'd fallen in love with.
Mark adds that the real Pomerols are no longer the elegant creatures he'd fallen in love with either. In my post 100 point scores – Parker still seduced by overripe Reds, I expressed my horror at 14.5 – 15% Bordeaux – not because of global warming but because the chateaux are picking later to get better scores from Parker.
Max describes the 2010 Blue Poles Allouran is 'a fragrant, perfectly balanced blend of two-thirds merlot and one-third cabernet franc. Many Margaret River reds taste over-oaked and overwrought; the Allouran is poised and elegant.' He adds that '$28 a bottle is crazy for a wine of this quality.'
I agree with Max on both counts but have to add that the wine might be a tad too elegant for most red drinkers these days. The just released 2011 is a richer, riper wine that retains enough elegance for perfect balance. I've long held the view that 2011 was the best recent vintage in Margaret River for balance, and here's more support for that idea. Blue Poles also makes a really interesting red from Teroldego.
The list below is arranged by state or vineyard area, and is my personal 'best' selection. If you feel strongly about wines I've left out, please send me a note to info@bestwinesunder20.com.au
NSW, Victoria, Tassie and NZ
A strange collection of areas but they either don't make many convincing wines in this style, or they're way above our price range.
Galli Estate Cabernet Sauvignon Merlot 2013 – $19 at Nicks / Vintage Direct. This is a winery to watch, with vineyards in Sunbury and Heathcote. We haven't tried this wine but all the Galli reds we've tried have punched above their price range, and all have shown great style and elegance.
Innocent Bystander Cabernet Merlot 2013 – $25 at the winery. They had this on special for many weeks at $180 a dozen. It's typical, elegant Yarra Valley Cabernet Merlot. Not sure it's worth the full price.
Storm Bay Cabernet Merlot 2010 – $20 at Trio Wine. I thought I'd better find a Cabernet blend from Tassie, and this one is from Frogmore Creek, our winery of the week last week. It's made for early drinking.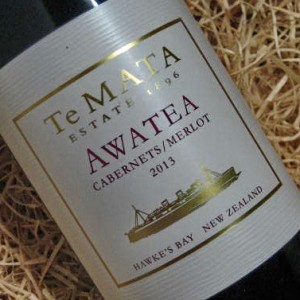 MOKOROA BY PURIRI HILLS 2011 – $26 at Airoldi Fine Wines. Hand-made production of 300 cases. The blend is 65% Merlot 23% Cabernet Sauvignon; 8% Malbec; 4% Carmenère. Hens teeth produced by Pomerol Tragics in the green rolling hills southeast of Auckland, just outside of the village of Clevedon.
Te Mata Awatea Cabernet Merlot 2013 – $37 at Kemenys or Winestar. Bordeaux at a bargain price even if it's out of our usual range, from across the Tasman. Unbelievable value. A subscriber wrote in saying: 'Kim, please keep quiet about this great wine, which is one of the great bargains out there.' NZ reviewers agree, giving it scores of 19/20.
Coonawarra
Balnaves The Blend 2013 – $19 at Dan M's. Past vintages have been pretty chunky but the 2013 is more elegant. Has more Merlot too – 50% – and is better for it. Silky smooth with fine lines, best they've made IMHO.
Leconfield Coonawarra Cabernet Merlot 2012 – $20 at Summer Hill Wine Shop. Coonawarra with notes of mint and ripe cassis and plum, perfectly balanced and integrated with gentle oak. Stylish and classy Cabernet and it's only 14%. Sheer delight.
Lindemans Pyrus Cabernet Blend 2012 – $35 at Winestar. Not sure how long the price will last but this is usually more like $60. Cabernet Sauvignon, Merlot, Malbec and Cabernet Franc. Truer to the old Pomerol style with some stalky, herbal notes and a measured 13.5% on the alcohol scale. Built for the long haul.
Fleurieu Peninsula
Rosemount District Traditional Red 2012 – $15 at MyCellars. Rosemount has been on the comeback trail for a couple of years now, and is making some good value reds. This has won 2 trophies and two top golds, and scored 4.5 out of 5 with the crusty team at Winewise. Cabernet Sauvignon, Merlot and Petit Verdot from McLaren Vale. Not exactly subtle but highly effective.
Hidden Label Langhorne Creek Cabernet Malbec 2012 – $17 atKemenys. This is Bleasdale Frank Potts Cabernets, and the hidden label knocks $10 off the best price under its own label. It's a blend of 65% Cabernet Sauvignon, 15% Malbec, 11% Petit Verdot, 5% Merlot and 4% Cabernet Franc matured in new new and preloved French oak puncheons for 12 months. Bordeaux chateau owners would have heart attacks if they tried this and learnt the price.
Cape Barren Cabernet Sauvignon Merlot Cabernet Franc 2012 – $18 at Winecave. Another winery to watch, at Blewitt Springs in McLaren Vale. 45% Cabernet Sauvignon, 32% Merlot, 23% Cabernet Franc. Made by Rob Dundon who has been making wine for 35 years (at Hardy's and others). Nolt for the faint-hearted (14.8%)
The rest of South Australia 
Paracombe The Reuben Cabernet Blend 2010 – $19 at Winesellersdirect. Cabernet Sauvignon 46%, Cabernet Franc 17%, Merlot 23%, Malbec 11% & Shiraz 3%. Another biggie at 14.5%, some reviewers love this, me less so because of the size. Either way, a 2010 boutique red at this price deserves our attention.
Thorn-Clarke Shotfire Quartage 2012 – $20 at MyCellars. One of the few reds on the list that include all 5 of the Bordeaux varieties: Cabernet Sauvignon, Merlot, Cabernet Franc, Petit Verdot and Malbec from Barossa and Eden Valleys. I bought stacks of the 2008 and 2009 a few years ago at silly prices from 1st Choice. The 2012 is another biggie, and that's my only quibble.
Pauletts Cabernet Merlot 2010 – $20 at Dan M's. This one's from the Clare Valley, and while previous vintages have shown typical Polish Hill River finesse, this one reflects the warm, ripe vintage with typical Clare Valley generosity. 70% Cabernet Sauvignon and 30% Merlot.
Mountadam The Red 2010 – $30 at MyCellars. 52% Cabernet Sauvignon, 45% Merlot and 3% Cabernet Franc from Eden Valley. A class act and object lesson in this style, great red and blue fruits, smooth as silk oak treatment, lovely integration and length.'
Margaret River
Ravenshead Cabernet Merlot 2012 – $10 at Kemenys and they throw in a case of Becks if you buy a dozen. This is what I said in my review last year: 'Soft seductive Cabernet Merlot. More stylish and elegant then most of the 2012s tasted so far. Dark fruits, rich flavours and velvety tannins. The polish suggests a more expensive wine. Scores high on drinkability.'
Brookland Valley Verse 1 Cabernet Merlot 2011 – $14 at Kemenys. This vintage is better than the 2012 and 2013. Medium-bodied smoothie with good depth of fruit and enough tannin to see it improve for another year or two.  Halliday hits the nail on the head when he says it 'underlines the ability of Margaret River to make high quality cabernet merlot at almost any price point.'
Juniper Estate Juniper Crossing Margaret River Cabernet Merlot 2012 – $16 at Summer Hill WS. This label from one of the oldest Margaret River wineries delivers serious value, in this case a stylish and elegant Cabernet blend with seductive fruit, dried herbs, Margaret River dust and olives, all wrapped in a stylish, medium-bodied package at a bargain price.
Voyager Girt by Sea Cabernet Merlot 2012 – $18 at Grand Central Cellars. Another great Cabernet blend at a great price, delivering the almost perfect $20 Margaret River classic red: sweet fruit, a touch of oak, plenty of polish, medium bodied. Terrific drinking.
Fraser Gallop Estate Cabernet Merlot 2012 – $18 at Wineonline. 81% Cabernet Sauvignon, 10% Merlot, 6% Cabernet Franc, 3% Petit Verdot. Reflects the warm vintage but all the goodies are here, they just need a bit more time to get comfortable with each other.
Woodlands Margaret River Cabernet Merlot 2013 – $22 at Winesellersdirect. Been looking for a decent price for this great red, and Daniel di Pietro has provided again. 65% Cabernet Sauvignon, 23% Merlot, 10% Malbec and 2% Petit Verdot. IMHO the 2013 is even better than the great 2012 – such polish and finesse, and so much flavour and elegance (13.5%). Sadly, the Cabernet Franc blend pictured is all sold out.
Cape Mentelle Trinders Cabernet Merlot 2012 – $22 at Boccaccio. Never far behind the Woodlands, and similar in keeping the alcohol and body down to medium (13.5).
Flametree Margaret River Cabernet Merlot 2012 – $22 at Winestar or Nicks / Vintage Direct. I grabbed a sample this week for this in-depth look at the style but didn't get it open in time. Gary at the Winefront gives it 94 points and says: 'Red and black fruits, chocolate, floral perfume, regional seaweed and bay leaf perfume, light high quality spicy oak influence. It's a charmer all right. Medium bodied, lovely ripe, but not over-ripe fruit, dark chocolate and spice, sure tannin – feels good, tastes good. Lengthy too. She's a little trimmer, for sure.'
Blue Poles Allouran Merlot Cabernet Franc 2010 – $23 at Cloudwine. Max Allen says: '$28 a bottle is crazy for a wine of this quality,' and I agree, but I have to add that the 2010 mighty be a tad too elegant for most red drinkers these days. It's lean and tight in the old Bordeaux style.
Rosily The Cartographer 2011 – $23 at the winery. The make-up is Cabernet Sauvignon 48%, Cabernet Franc 24%, Merlot 20%, Petit Verdot 8%. The 2010 was something of a benchmark for this style. The 2011 has more flavour, a wonderful mix of berries, soft earth and and vanillan oak – 18 months in French oak, 30% new. It's a softer wine than I expected, charming and silky, lovely drinking now and the short term. Perhaps it was overshadowed by the Blue Poles Allouran that stood next to it on the tasting table.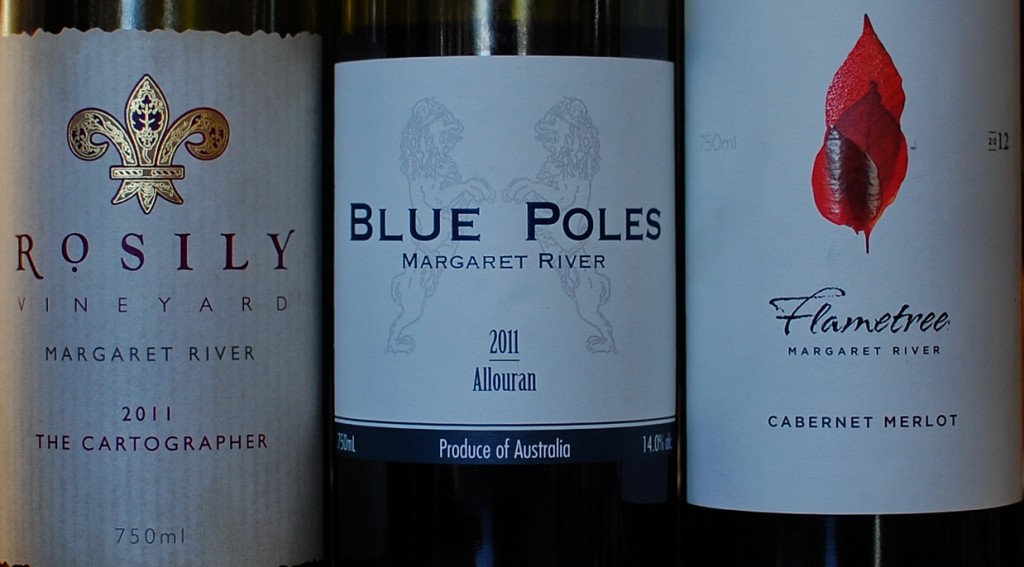 Amelia Park Cabernet Merlot 2012 – $24 at MyCellars. A big, rich, plush version of the style (14.5%), and not really my idea of perfection but the judges have been seduced by the wine's obvious charms as usual, and have loaded it up with 3 trophies and 5 golds.
Blue Poles Allouran Merlot Cabernet Franc 2011 – $26 at North Sydney Cellars (special offer) or $28 at United Cellars. Wonderful wine, this, choc-full of fruit and nuts and spices polished with soft oak and great length. The richness and perfect balance makes it a lovely drink now, but it has the tannin/ acid balance to age well. Can't see how it can get better though – this is one of the best Cabernet blends I've tasted at any price. (14%). My favourite reviewer Gary Walsh at the Winefront gives it 95+, the highest score I've ever seen from him.
Cullen Cabernet Merlot 2013 – $33 at Wine Box Warehouse or Winestar. The junior partner of the $100 Diana Madeline, and very similar in style – lean, long and elegant like a fashion model (12.5%). 68% Cabernet Sauvignon, 24% Merlot, 5% Petit Verdot and 3% Cabernet Franc. 12 months maturation in good quality French oak, one third new. The 2012 is still listed at Dan M's for $36 and it's a bit richer at 13.5% (but the website could be lagging behind).
Woodlands Margaret Cabernet Sauvignon Merlot Malbec 2011 – $38 at Nicks / Vintage Direct. I prefer this vintage to the 2012 which is mostly in the shops now. The 2011 is a masterclass in the Margaret River Cabernet blend, combining classy dark fruits with pencil shavings oak, dried herbs and Margaret River gravel. Plenty of depth and fine-grained tannin for the long haul. 70% Cabernet Sauvignon. 16% Merlot, 14% Malbec.
That's where we'll leave it for now.
Kim