Mike Press has a lot of admirers. He's been making wine for decades, for Penfolds, Seppelts, Krondorf and Mildara Blass in the role of chief wine maker. In 1998 Mike and his wife Judy planted their Kenton Valley Vineyards high in the Adelaide Hills.
Early success saw a clean skin they made in 2005 become runner up for the Jimmy Watson Memorial Trophy for its 2005. Their 2005 Shiraz, Cabernet and Merlot won three trophies and seven golds in 2006 at the Adelaide Hills Wine Show.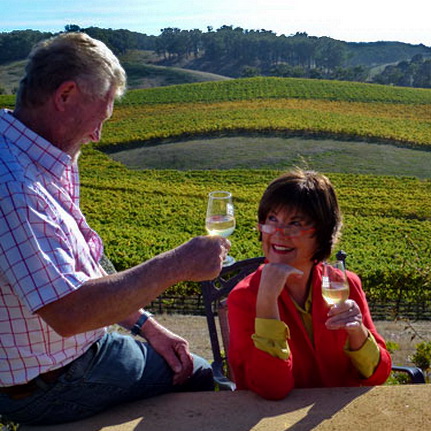 Mike Press wines are all made from the lofty home vineyards, yet they sell for down-to-earth prices – between $10 and $15. Last Year, Tyson Stelzer awarded Mike Press The Wine Taste Weekly value for money winery of the year (2012), saying:
Mike Press Wines blows all else out of the water when it comes to value this year, with an average price of well under $13, a full $5 less than any other estate in the Wine Taste Weekly Hall of Honour. Order direct and you'll pay even less. Nine wines take the credit for this result, spanning seven varieties from this sensational single vineyard high in the Adelaide Hills.
I agree that the value for money ratio is very appealing, but my experience with these wines has been more patchy. That said, Mike really showed what he could do in 2012. I liked the 2012 Chardonnay and said so, and this is what I thought of the 2012 Shiraz:
The wine is kind of compact, a bit like Mike is built, with a good concentration of red fruits on the middle palate and a touch of soft oak. It's barely a year old but drinkable already, yet with plenty of headroom for growth. It's not huge but it's not exactly subtle either. Tyson Stelzer gives it 94 points, so does Campbell Mattinson at the Winefront. I saw it more as a 91/92 point wine, which is pretty good for the money ($13).
Here's how other reviewers saw the wine
'We've been on the Mike Press case for some time now,' says Campbell Mattinson at the Winefront. 'We may even have been the first publication to publish notes and raise the alert on his wines. The shiraz and cabernet sauvignon are always good value, but not always – contrary to the opinions of some – compelling quality. It's a single vineyard; the wines have their ups and downs. When the stars are in alignment though, value red wine buying in Australia doesn't come much, or any, better.
'Forget ratings, forget hype: this is the best shiraz Mike Press has released under his own name. Easily. It's thick and sweet-fruited and more authoritative than any previous release. It has some presence. It tastes like a Penfolds red, and a very good one at that, but at a fraction of the asking price. Dense plum, a lift of cherry, substantial vanillin oak and juicy acidity. The recipe is simple but density and purity of flavour is not. If you enjoy this style of wine, this is the release to stock up on. In Mike Press Shiraz terms, it is 'the one' TOP VALUE" 94 points.'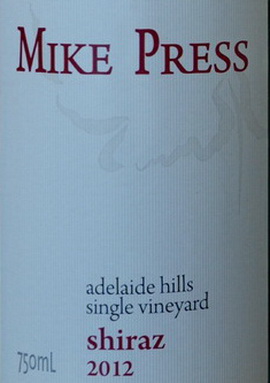 ———————————————–
"Mike Press celebrates a half-century of winemaking this year,' writes Tyson Stelzer. 'It's been seven years since I first started avidly tracking his work, and in this time his vines have precisely doubled in age. His shiraz style has grown up with its vines, from the precocious, peppery wines of the early years to a deeper personality of great black cherry and plum fruit presence, epitomised in the spectacular seasons of 2010 and 2012.
'Lifted violet perfume, succulent blueberries, intense liquorice and pepper are the hallmarks of the new Mike Press style. The biscuity, milk chocolate presence of American oak is prominent, as it always is in Mike's early release reds, demanding plenty of time for fruit and oak to settle into place. It's got all the engineering to go the distance: beautifully textured tannins, enlivened by the naturally vibrant acidity of this lofty site. 2012 is the most complete Mike Press Shiraz to date: concentrated, confident, mesmerisingly persistent, and at every moment refined and graceful." 94 points.
Mike Press Shiraz 2010
I thought I'd open a bottle of this while I was writing about Mike Press. It's bigger than I remember, but not huge at 14%. The colour is a good, solid mid-red; the subdued nose doesn't speak of Shiraz with the sour cherry, spicy notes you'd expect from a cool climate Shiraz. The flavour is straightforward and one-dimensional, the line of acid seems a bit awkward and the wine finishes short. I'd give it 88. Campbell Mattinson gave this 89.
I have to say I don't see what Richard Warland sees in these wines – on the billboard – not in the 2010 or the 2012 which shows its charms readily. The 2012 Shiraz is the better of the two, but it's just about vanished from the market. Randalls still has some for $14 a bottle or $13 as part of a dozen. The 2013 Sauvignon Blanc is $11 at MyCellars, and the 2012 Cabernet $12.50 at Winelistaustralia.
I have to add that what Mike and Judy are doing really hits our sweet spot in terms of value, and we promise to pay more attention to their wines in the future.
Kim