FAQ (Frequently Asked Questions) about BWU$20
What people most often ask us.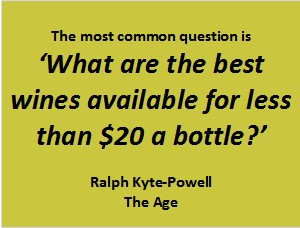 What made you want to focus on best wines under $20?
Wine is made to be enjoyed by ordinary people, and 9 out of 10 people spend less than $20 on a bottle of wine. I want to help people drink better wine and save money.
You claim you can buy some of the best wines in Australia for $20. How?
Yes, but a long list on our website shows how many wines costing around $20 have beaten much more expensive wines at major wine shows and competitions.
You claim to save your subscribers at least $500 a year on wine. How? 
That's based on drinking 2 bottles of wine a week – many people would drink more than that. How do we do that? We constantly monitor wine merchants across Australia for the best deals on quality wines.
You claim to find great wines but not always at Dan Murphys or Vintage Cellars. How?
Independent wine merchants in Australia have set up shop online, and offer wines from boutique wineries or wines made in small quantities that wouldn't suit the big chains. In Australia, you can buy some really exciting boutique wines for $20 or less.
How do you know so much about wine? What's your background?
I've been a wine lover for 3 decades. I've been around wine as long as wine writers like Huon Hooke and peter Bourne. I know them well, but I've always been on the consumer side of the wine business, and I intend to remain there as my focus on affordable wines shows.
So how is BWU$20 different from other wine websites?
No current wine website in Australia delivers the service we provide for consumers. The main differences are:
Our independence – we have no ties to industry and no affiliates, and don't accept kickbacks.
Our lists are based on 'street price' (best available), not RRP (almost meaningless)
Our lists of Best Wines under $10, $15, $20 and $25 are updated monthly (not yearly)
We send out a weekly mailer to subscribers with the best deals available
Our focus on the highest quality wines between $10 and $20.
You talk about dumb and smart ways to buy wine. Can you elaborate?
Sure. The dumbest way to buy wine is to grab a bottle at the bottle shop next to the supermarket where you've just shopped or at the bottle shop nearest to the restaurant where you're dining. You'll pay the highest price because of convenience. The smartest way is to shop online, and we list the merchants that offer the best range and the best deals
You also talk about no-nonsense wine reviews. What's that about?
Our reviews are in plain English and avoid wine poetry and wine jargon. And we're really frank about wine – if it's no good, we say so. We don't expect you to work it out from what we don't say.
You don't have a high opinion of Australia's show system. Why is that?
The system forces judges to evaluate several hundred samples in a few hours. No wonder the results don't make sense half the time. We taste a handful of wines over a couple of days, with and without food. It's much more reliable.
But how do you get through enough samples, tasting that way?
Unlike other websites, we choose what we review even if that means buying samples. We don't review wines that we already know are boring, dull or worse. Why bother? We want to get to the good stuff by the shortest route.
How do you find these low cost quality wines?
We're signed up with Halliday, Huon Hooke and the Winefront, and we monitor their reviews for wines that fit our high value / low cost formula – a $10 wine that scores 90 points or a $20 wine that scores 95. Then we get a sample.
Can't people do that for themselves on those websites?
They can, but they'd have to wade through countless reviews to find those gems, and they'd need a lot of wine knowledge to make any sense of them. Finding gems is part of the value we add – we save subscribers lot of time as wel as lots of money – and we discover wines they would otherwise never hear about.