Front Bench Dinner at WAQU, Crows Nest, December 5, 2013
New venue, lovely food (modern fusion), comfortable room but the light was poor and made it tough on the photographer. Here's a small selection.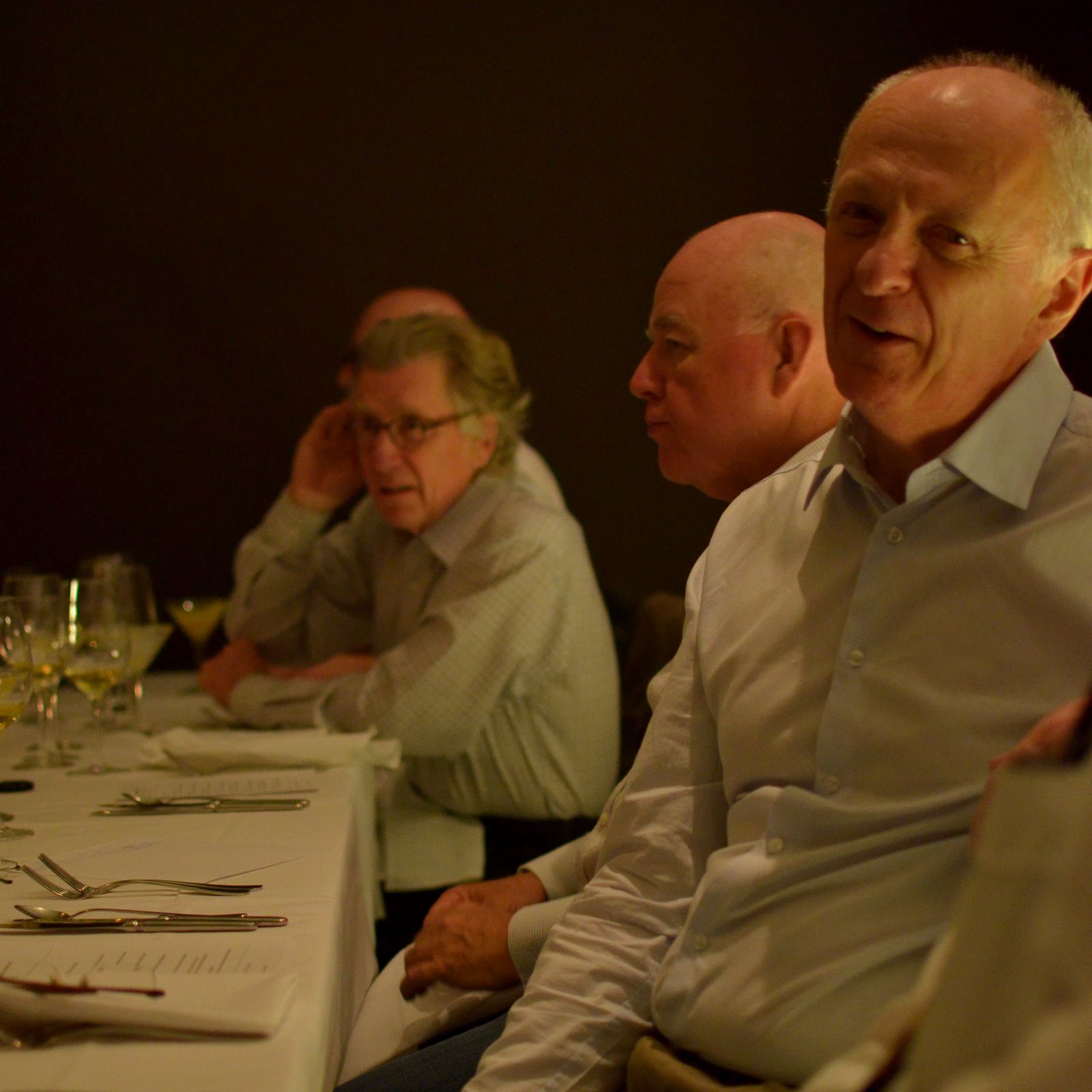 We're all becoming hard of hearing, so it's just as well the wines speak for themselves.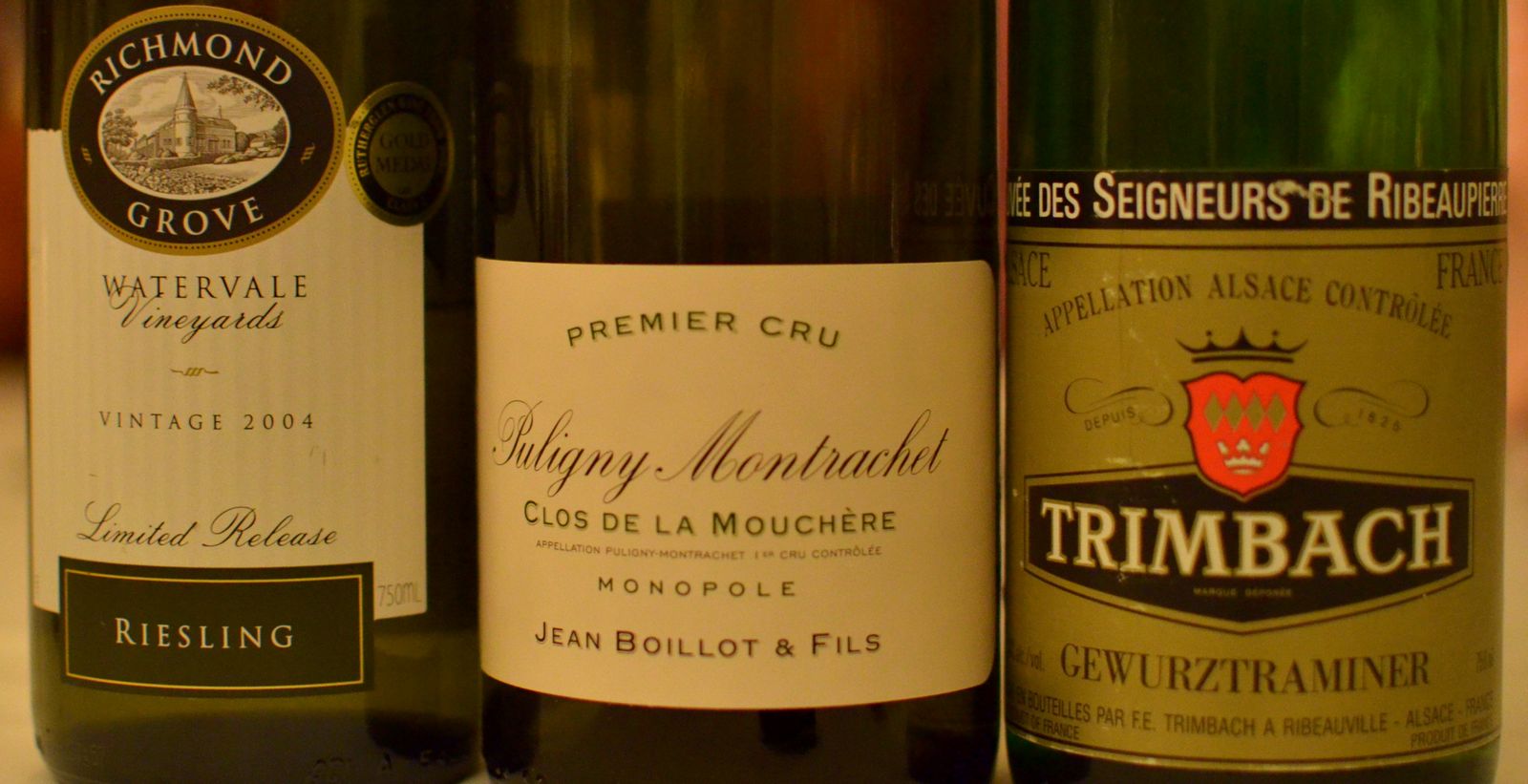 The faces tell a story too.
This looks serious!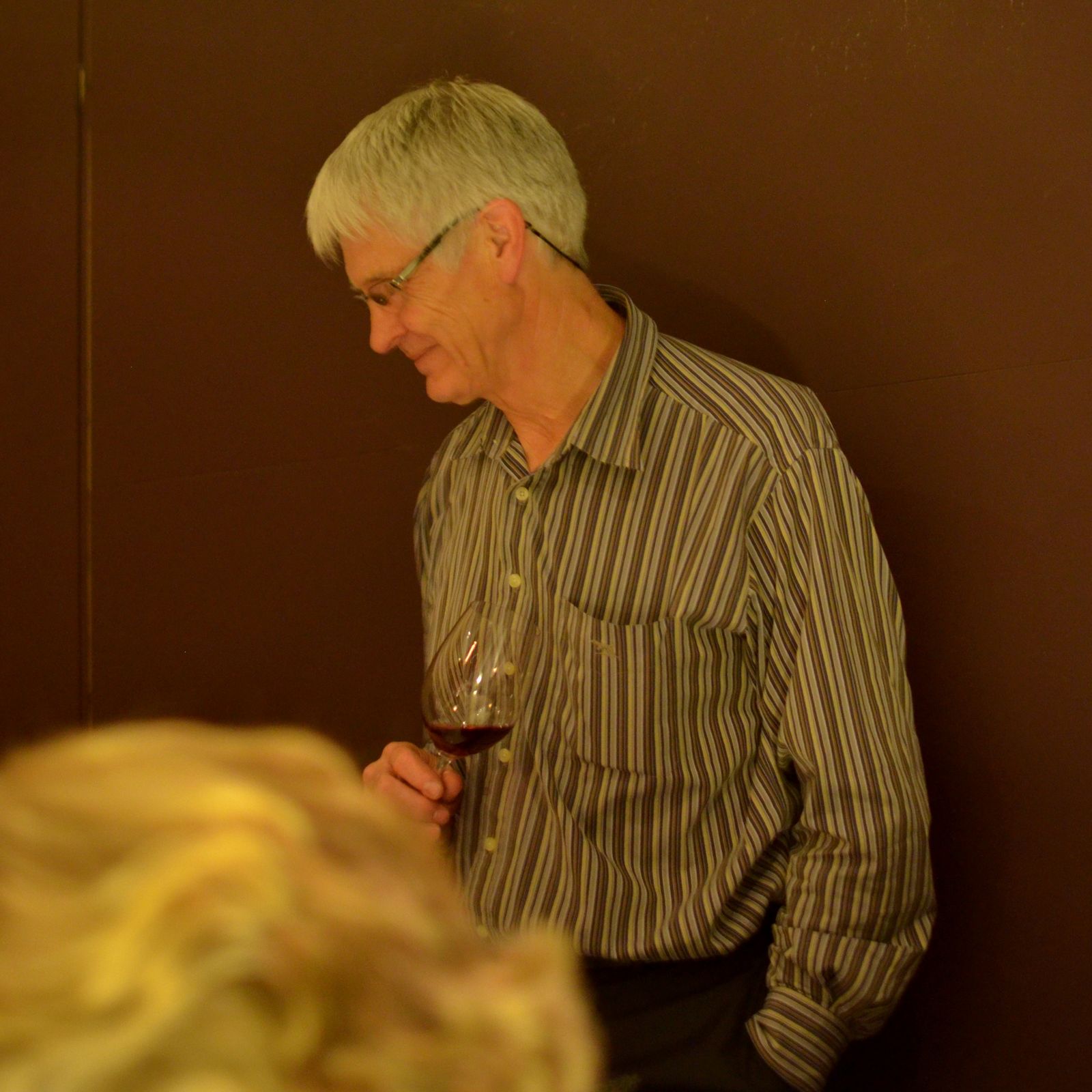 Peter did it tough, in a cramped, dark corner.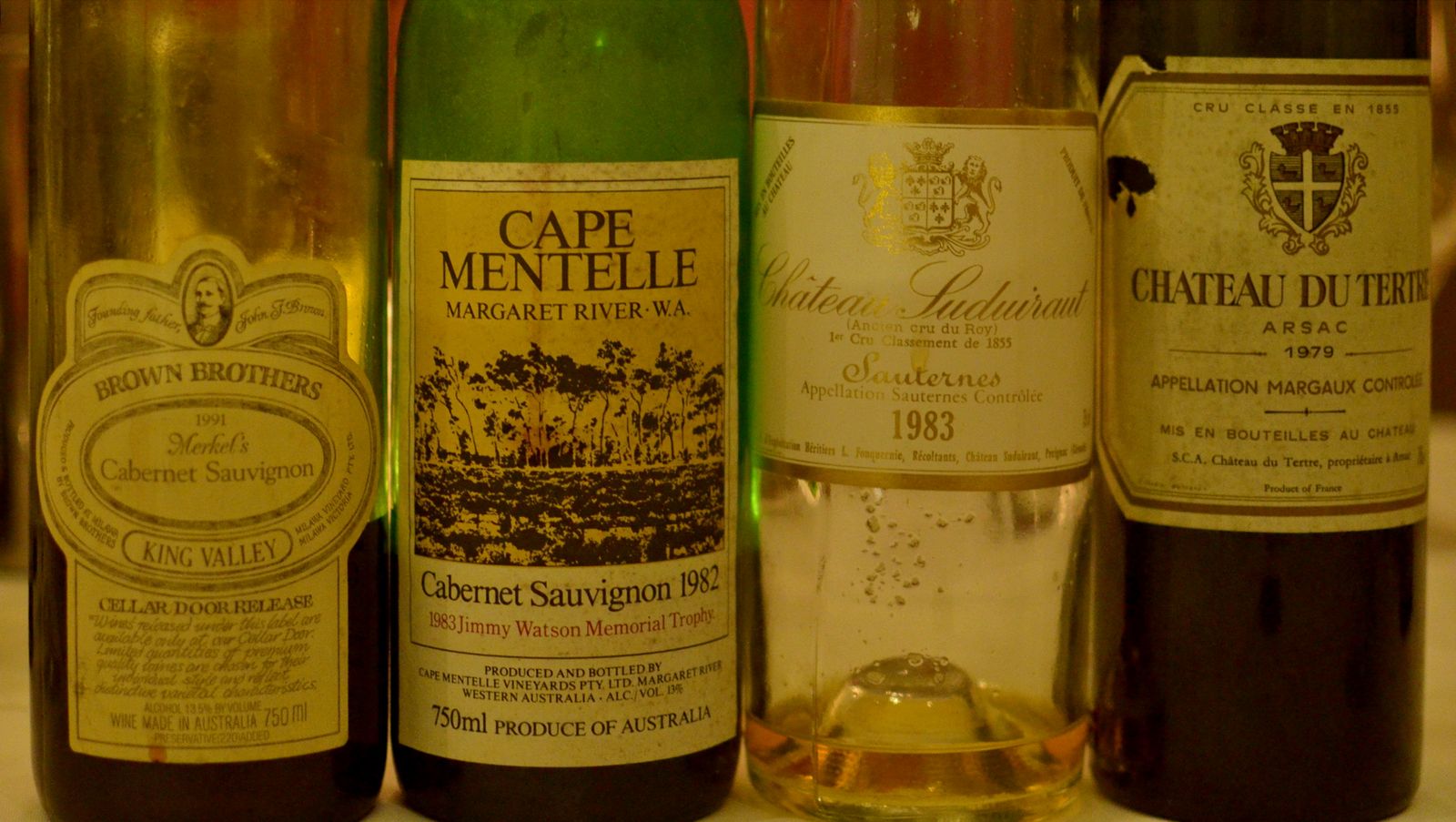 Ah, the Suduiraut was mother's milk.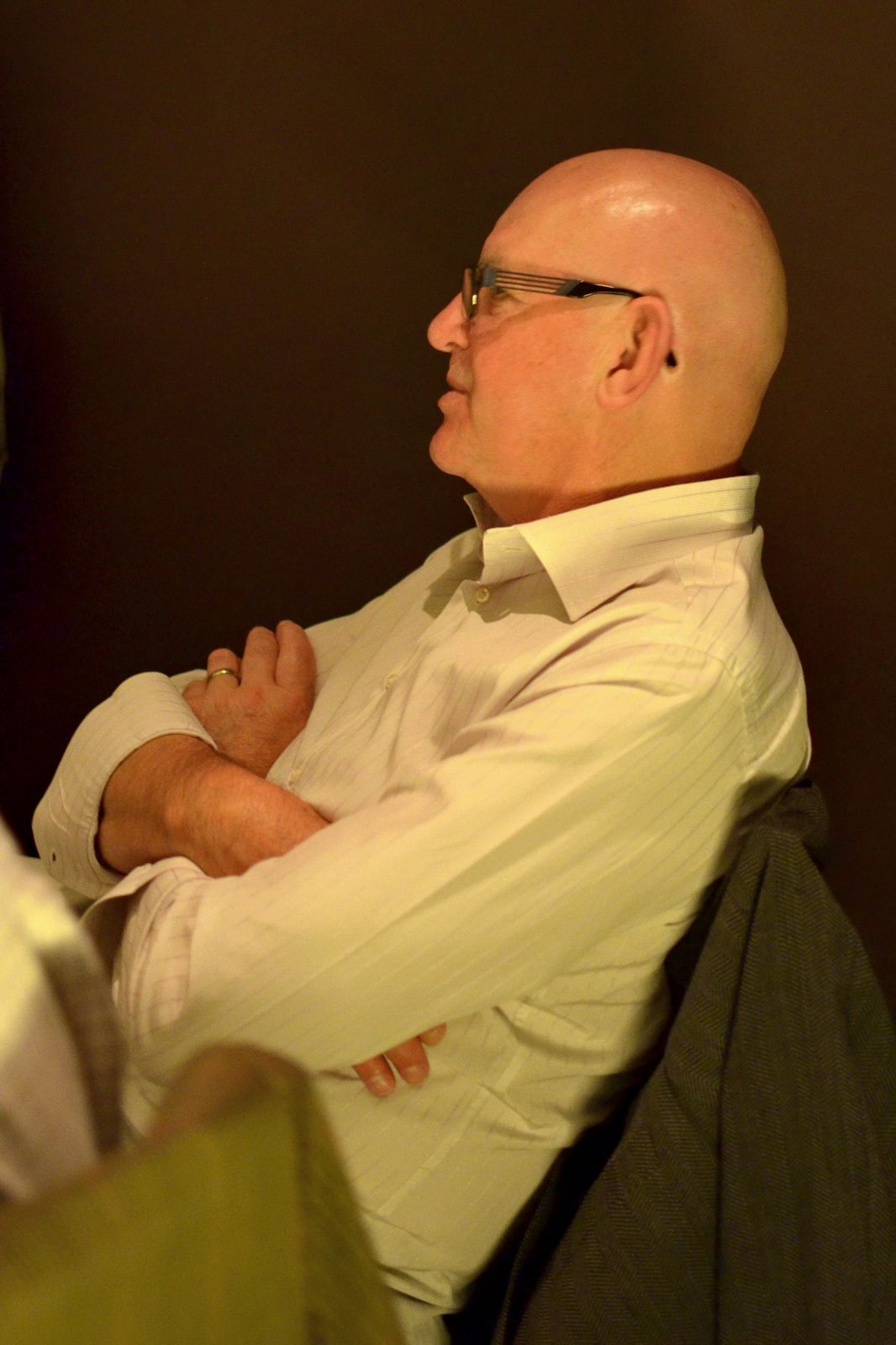 PB looked relaxed as usual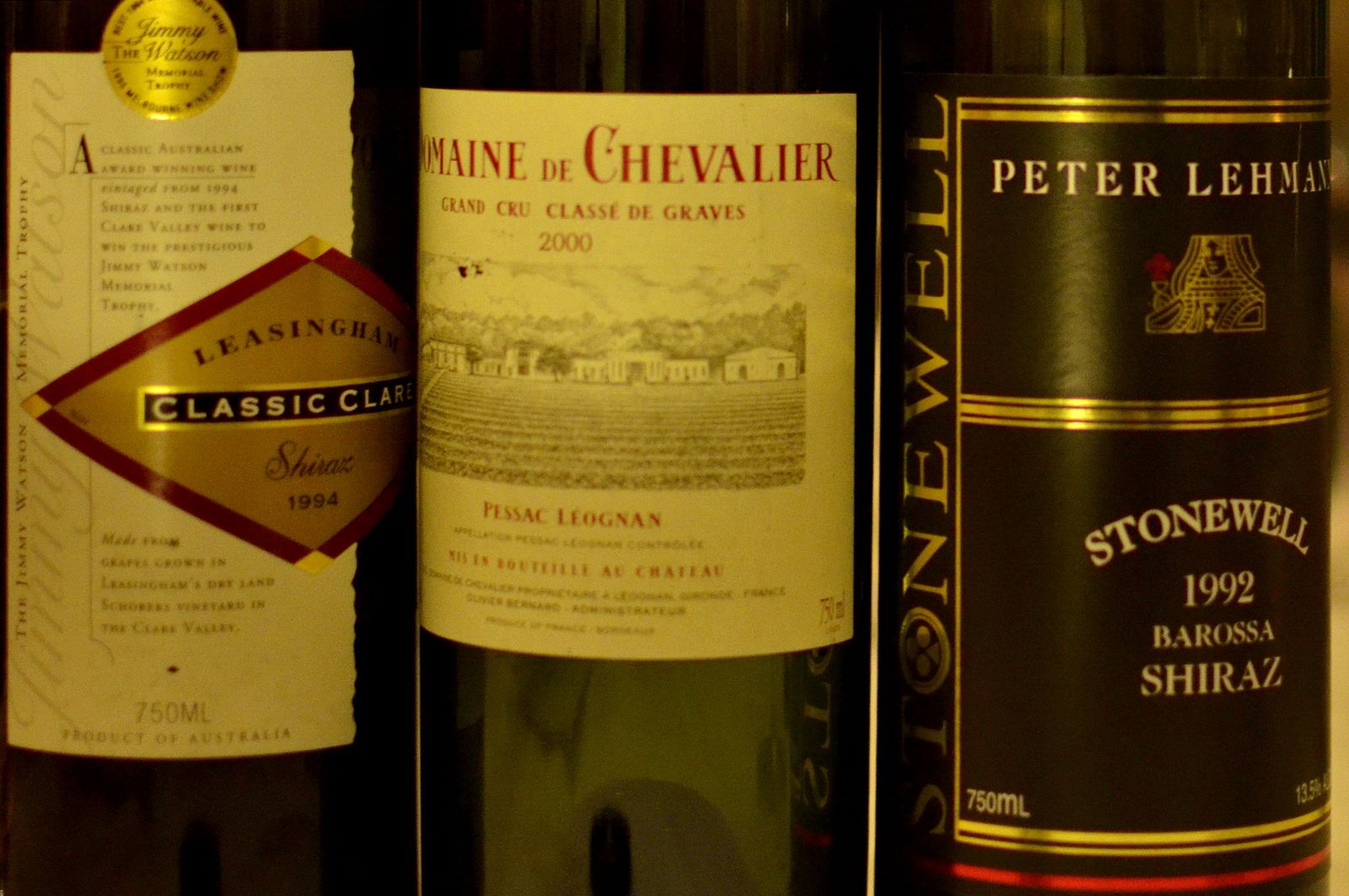 Chris Anstee couldn't be with us, so the Christmas Port Season remained unopened. That's why Neil looks so glum.
Let's end on a happy note: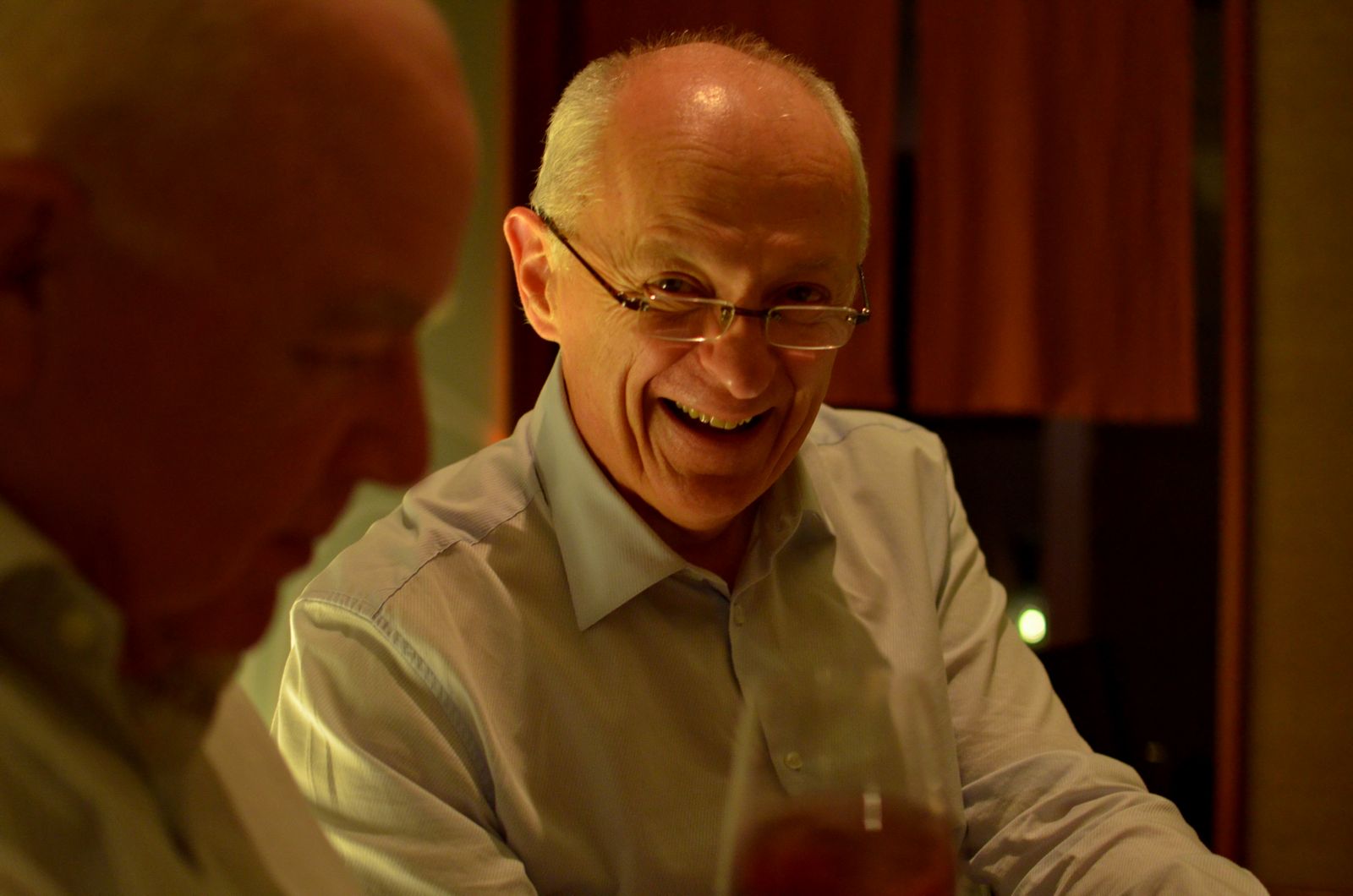 A great Night
Here's the full list, thanks to Peter Snowball, with his succinct notes:
1. Tattinger Comtes de Champagne 2002 – very good
2. Mt.Mary Chardonnay 2003 – superb
3. Domaine Caillot Puligny Montrachet "Les Pucelles" 2002 – very good
4. Jean Boillot Puligny Montrachet "Clos de la Mouchere" 2004 – very good
5. Richmond Grove Watervale 2004 – v good but a bit lost in this line up
6. Trimbach Gewurztraminer "Cuvee des Siegneurs de Ribeaupierre" 1985 – voted wine of the night. Most guessed it to be 5/10 years old. Bought at a recent Sydney north shore auction!!
7. Guigal Condrieu "La Doriane"2009 – wonderful
8. Pipers Brook Summit Chardonnay 1997 – oxidised
9. Saki 2913 – red rice saki. The sommelier said that he had not seen red rice saki in Australia before.
10. Kasuda Martinborough Syrah 2009 – yes
11. Bouchard 'Vigne de L'Enfant Jesus" 2002 – very good
12. Bruno Clair Gevrey "Cazetiers" 2008 – not up to it – perhaps just the year?
13. Seppelt St Peters Shiraz 1998 – very good
14. Ch. Suduiraut 1983 – superb
15. Cape Mentelle cab 1982 – too old
16. Brown Bros Merkel's Cab 1991 – awful
17. Ch. Du Tertre 1979 – v good once but now faded
18. Domaine de Chevalier 2000 – big wine and a bit young  – perfect in 10/15 years from now
19. Leasingham Classic Clare Shiraz 1994 – overoaked awful
20. Peter Lehmann Stonewell 1992 – American oak and no good
21. Kasuda Pinot 2010 – biggish but very enjoyable after the dreadful 16 19 and 20
Kim
Front Bench Dinner at Tastevin, Victoria Road, Darlinghurst, August 28, 2013
Lots of fun as usual, and a perfect backroom with a bar for Peter M to do the decanting, which he does with enormous dedication and diligence. Like the photographer, he gets no credit for his labours, only unintelligible mutterings from Paul.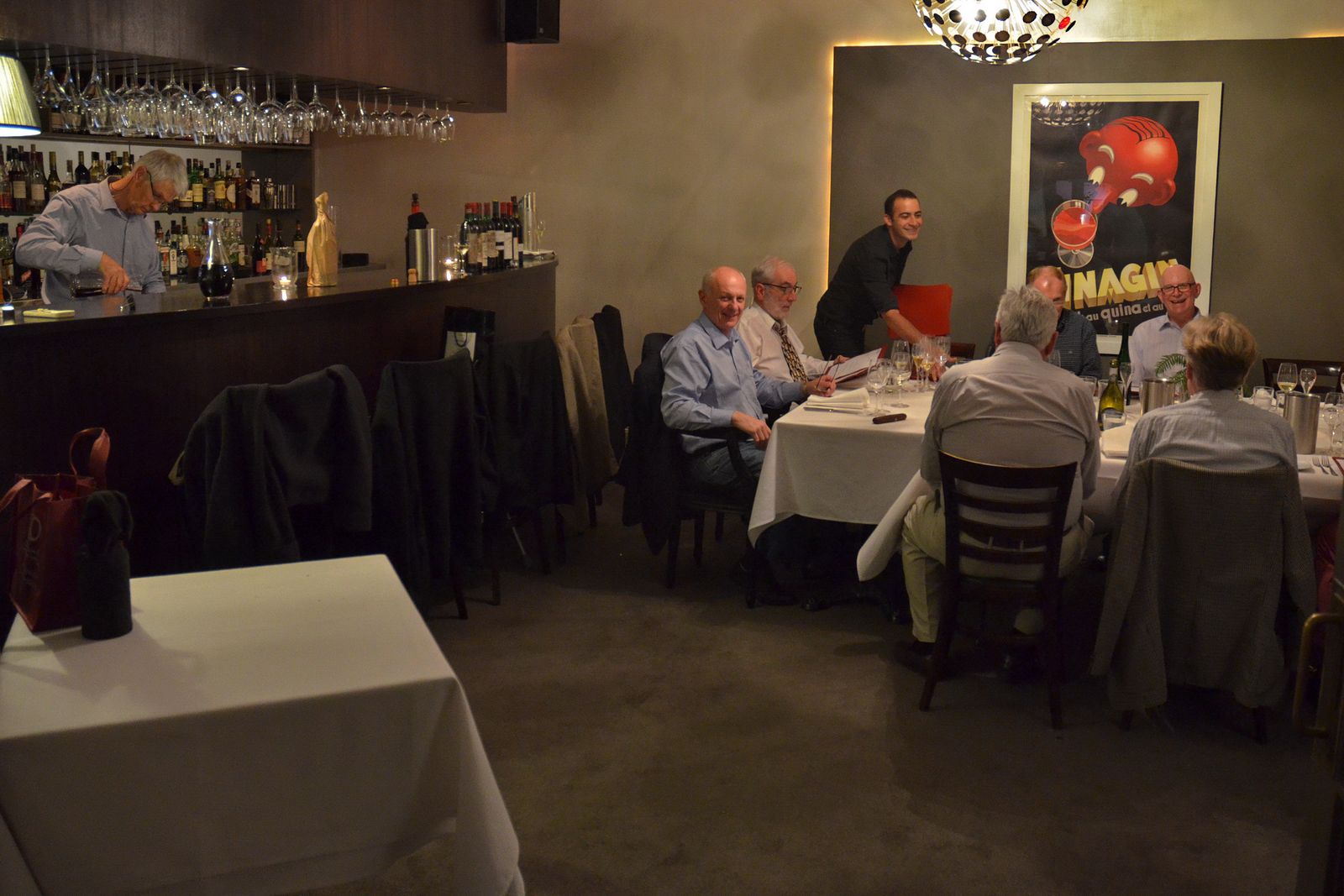 The wines were a strange lot – superb whites, most of all the Rieslings. Stunning Wilsons Polish Hill River 2002. Desert Island number that one, and the Austrian Prager. The Savannieres sure had us fooled – if only we could make a Chenin Blanc remotely similar! I had more than my fair share of the Canard-Duchene Blanke de Blanks – what a lovely champagne!
Some of us look pretty happy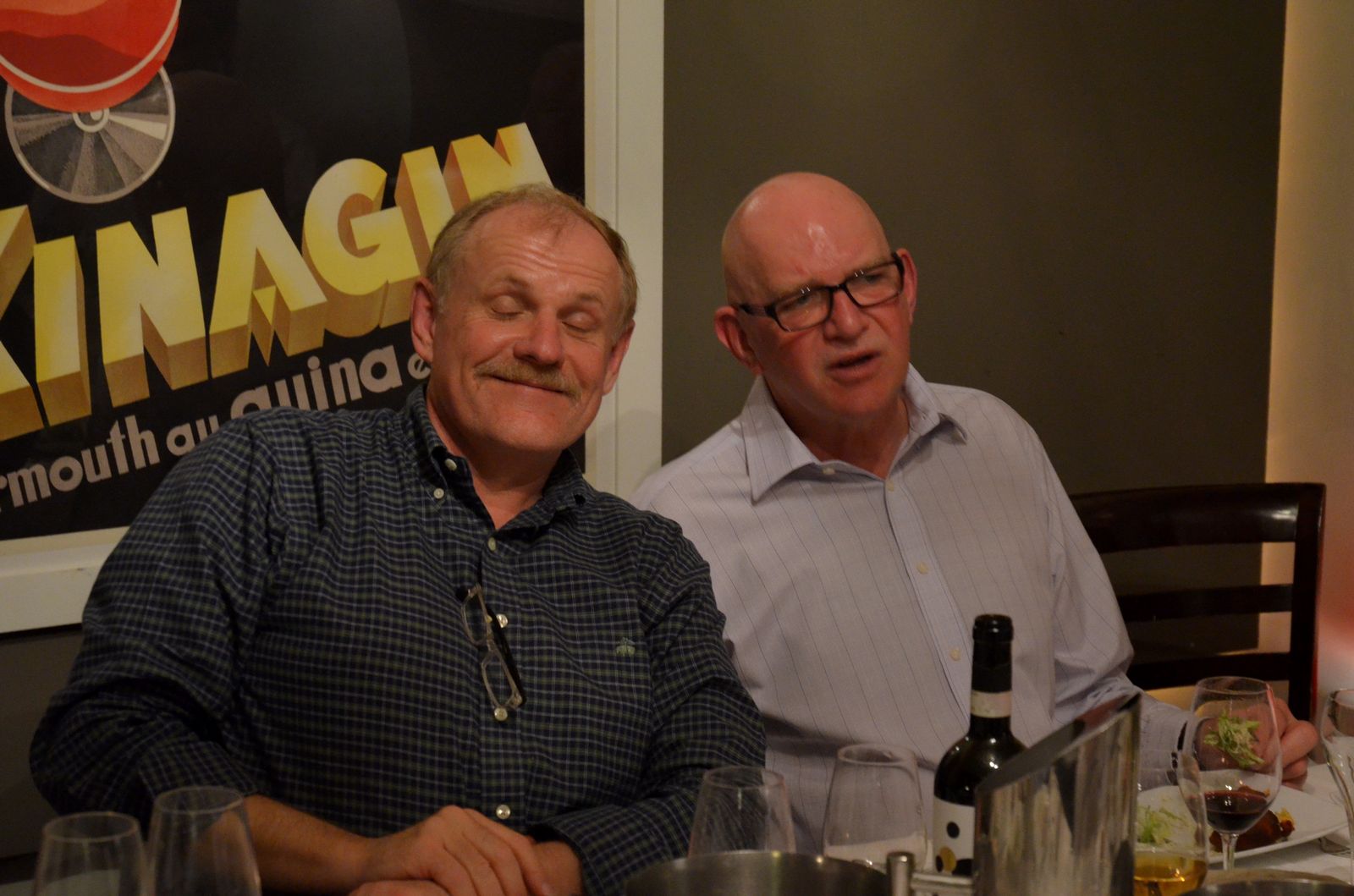 The food was pretty good, especially the Cassoulet. Very tasty and very ducky. The problem was that we had about a dozen bottles before we started to eat. Bad Boys.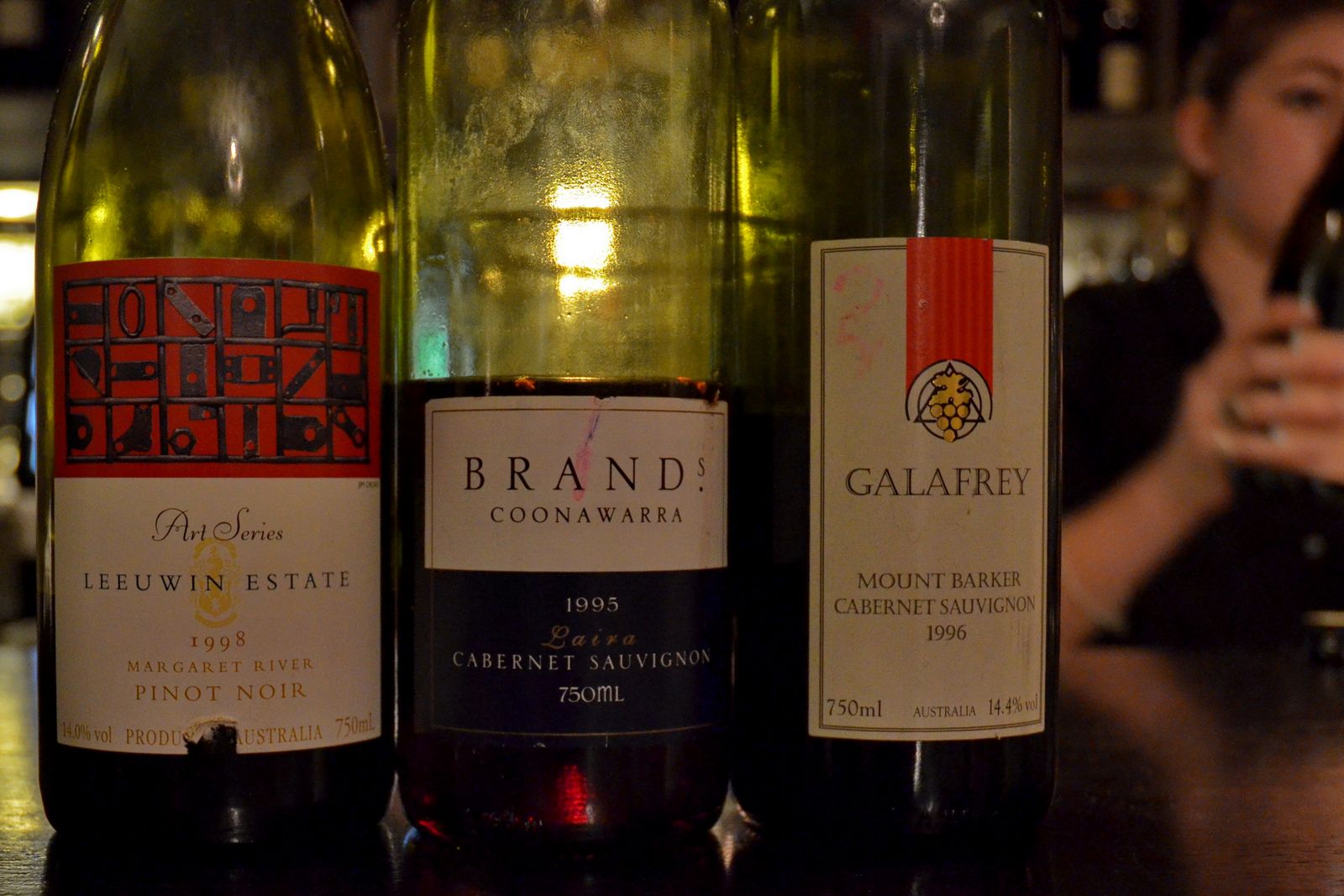 These reds were a bit underwhelming after those terrific whites.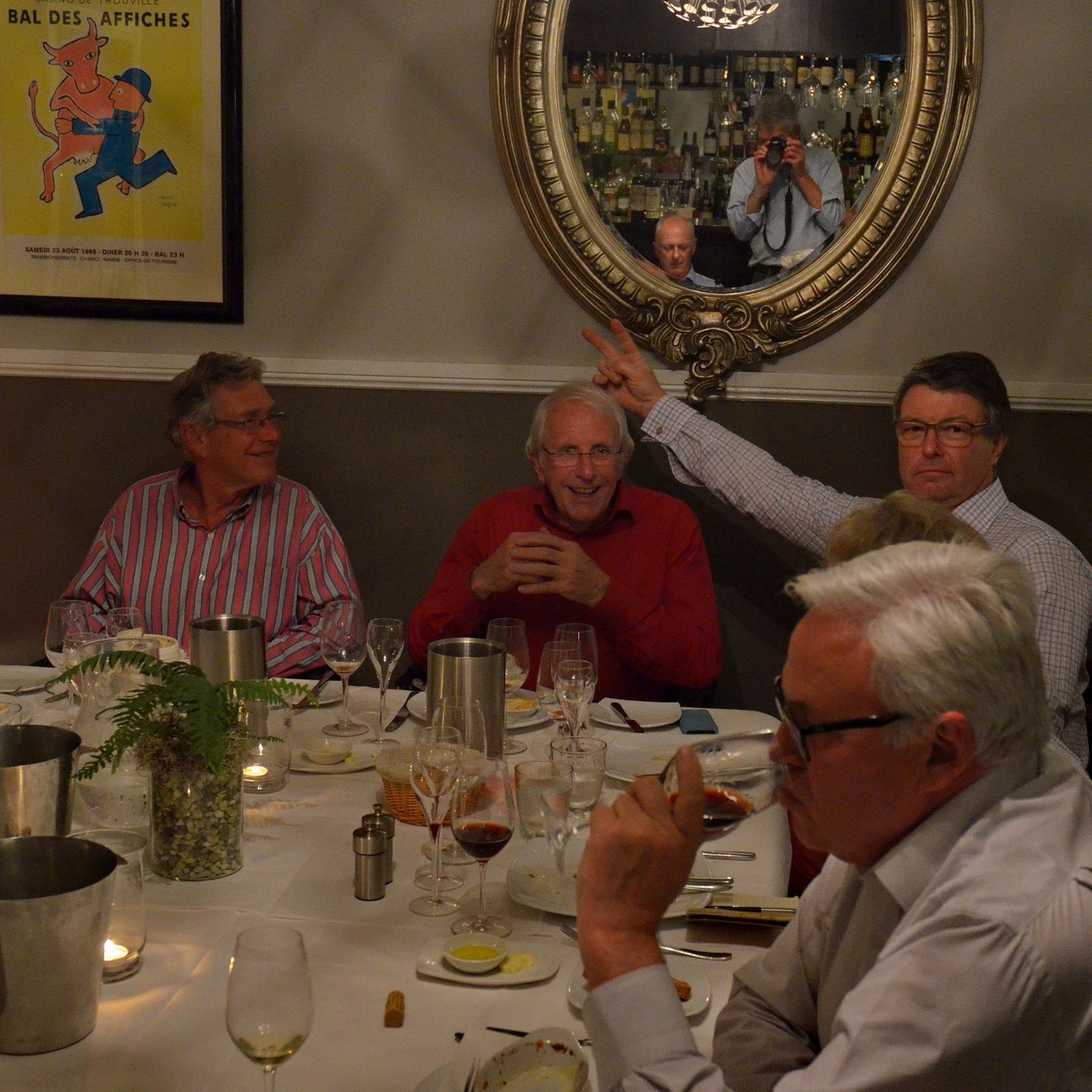 We had fun, though. We have our ways.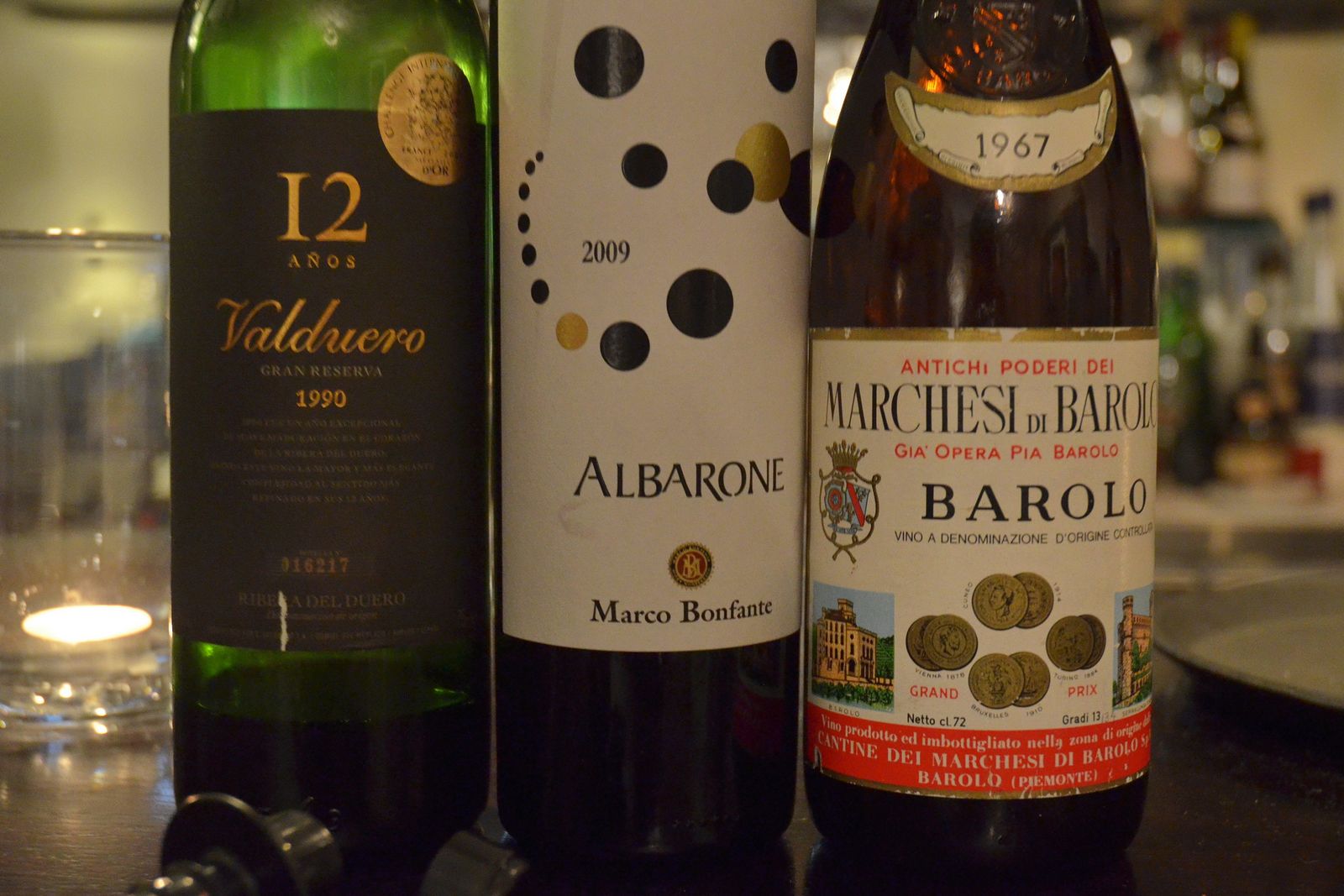 Mm. Polka Dots. The guys liked this cross breed better than I did. And the Barolo was buggered. These are wines you have to stash away for 30 years, then you pull one out and it's gone. The old Spaniard was still all there, though.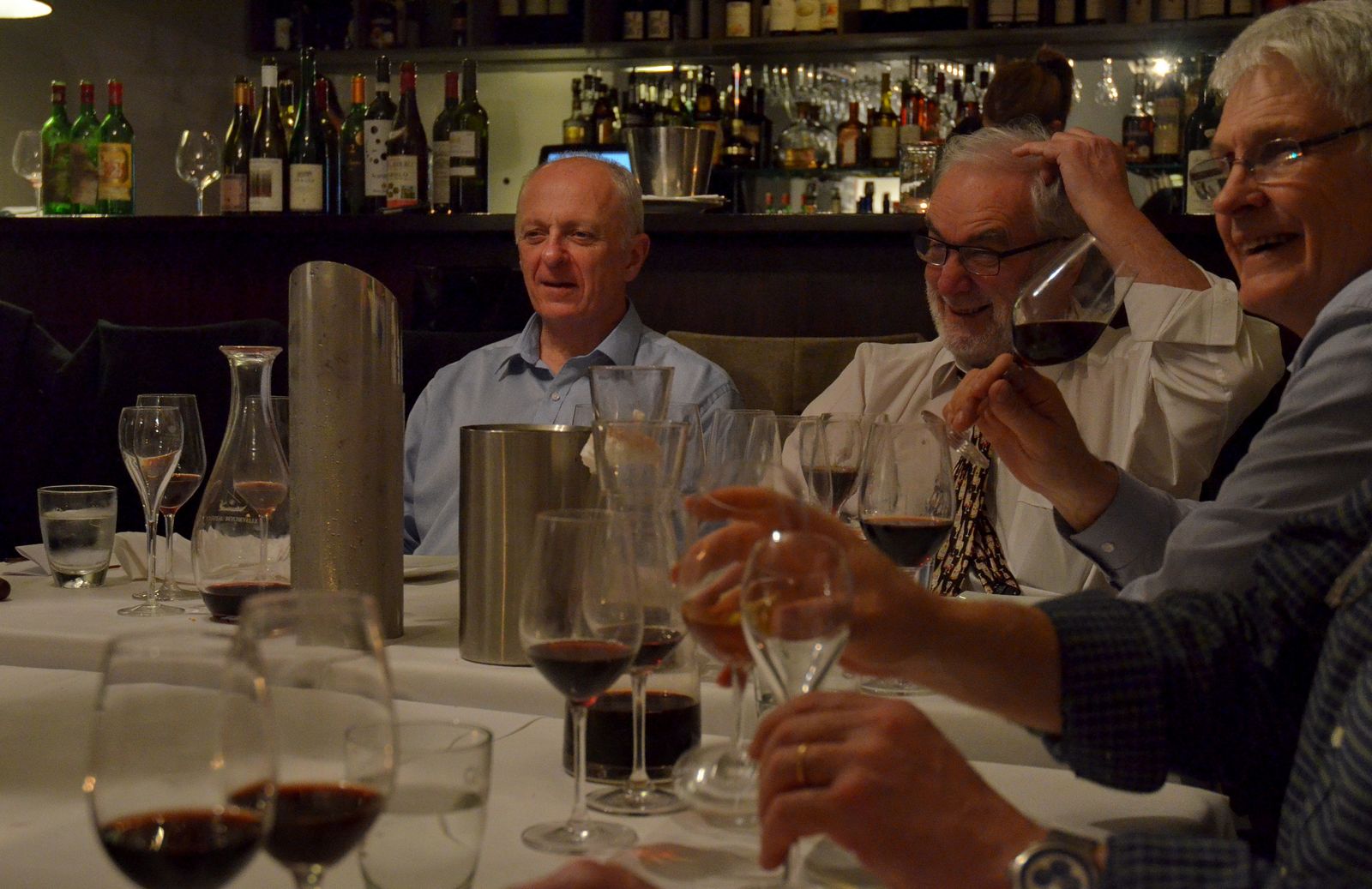 Yeah, we're having fun.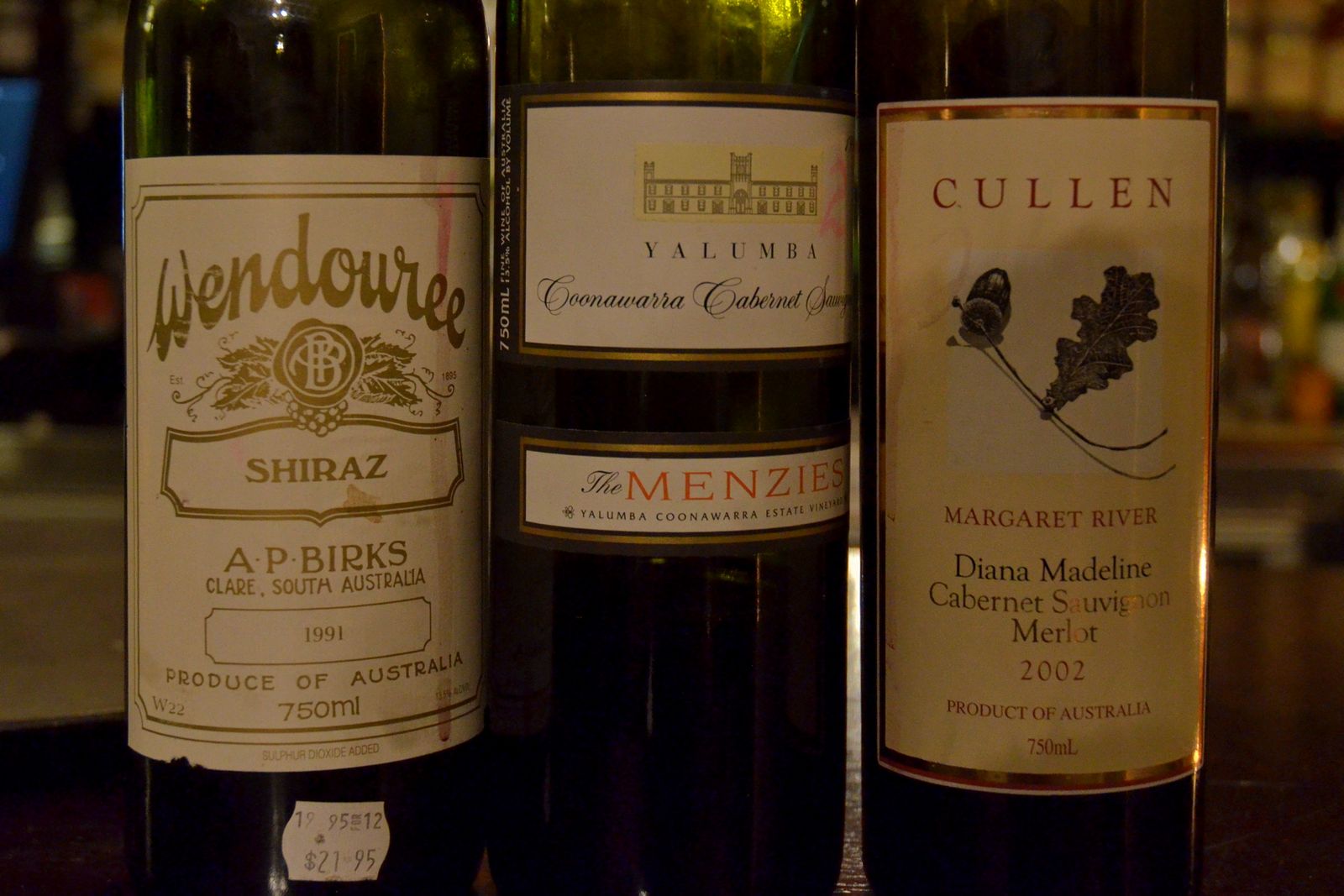 This Menzies was a gentle soul, refined and perhaps past its best. The Wendouree was a great example of this wonderful style at its peak. And the Cullen was sheer bliss. So much flavour combined with such elegance and style . Seductive, utterly seductive.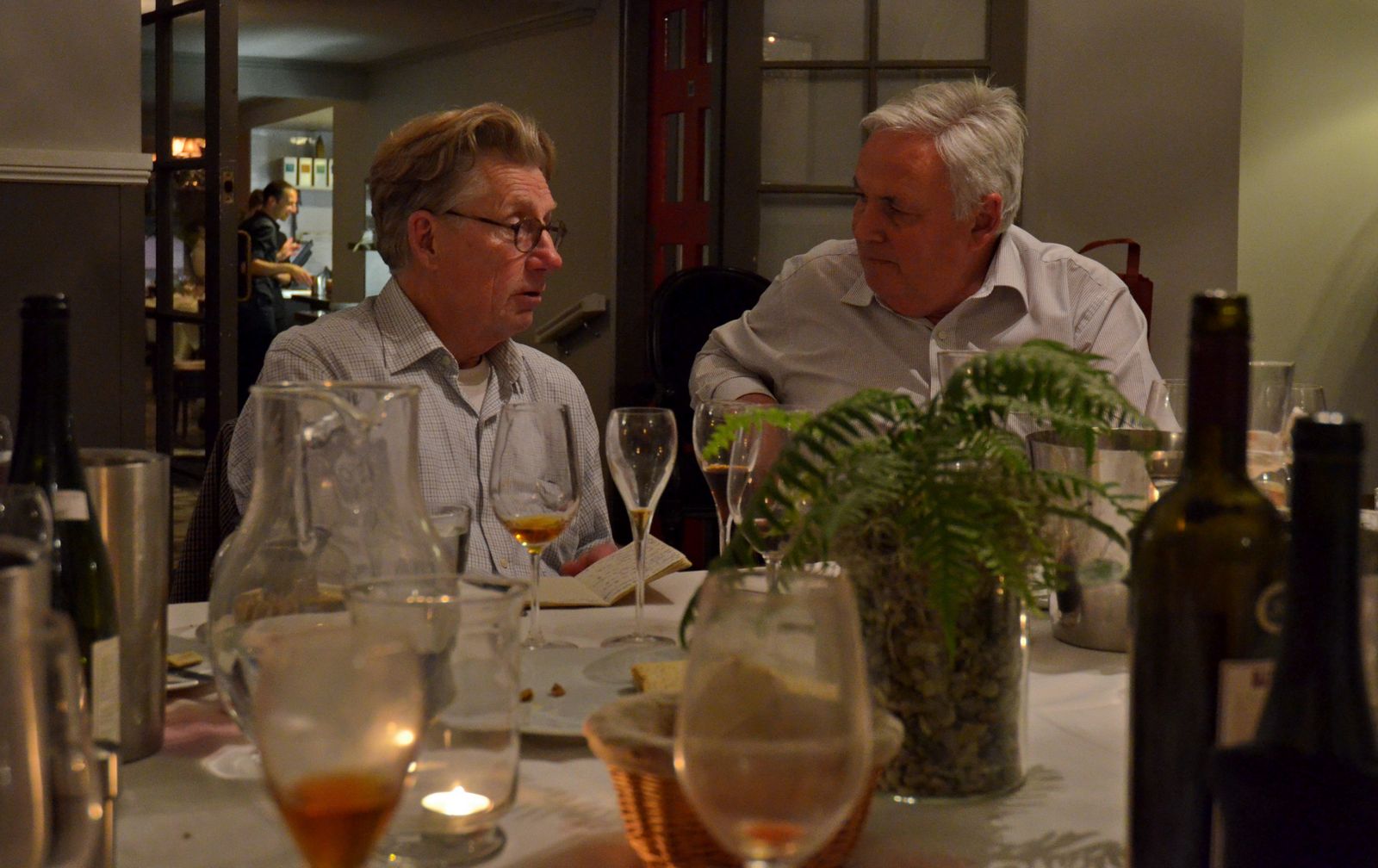 Paul looks surprisingly sober after 250 bottles earlier in the day.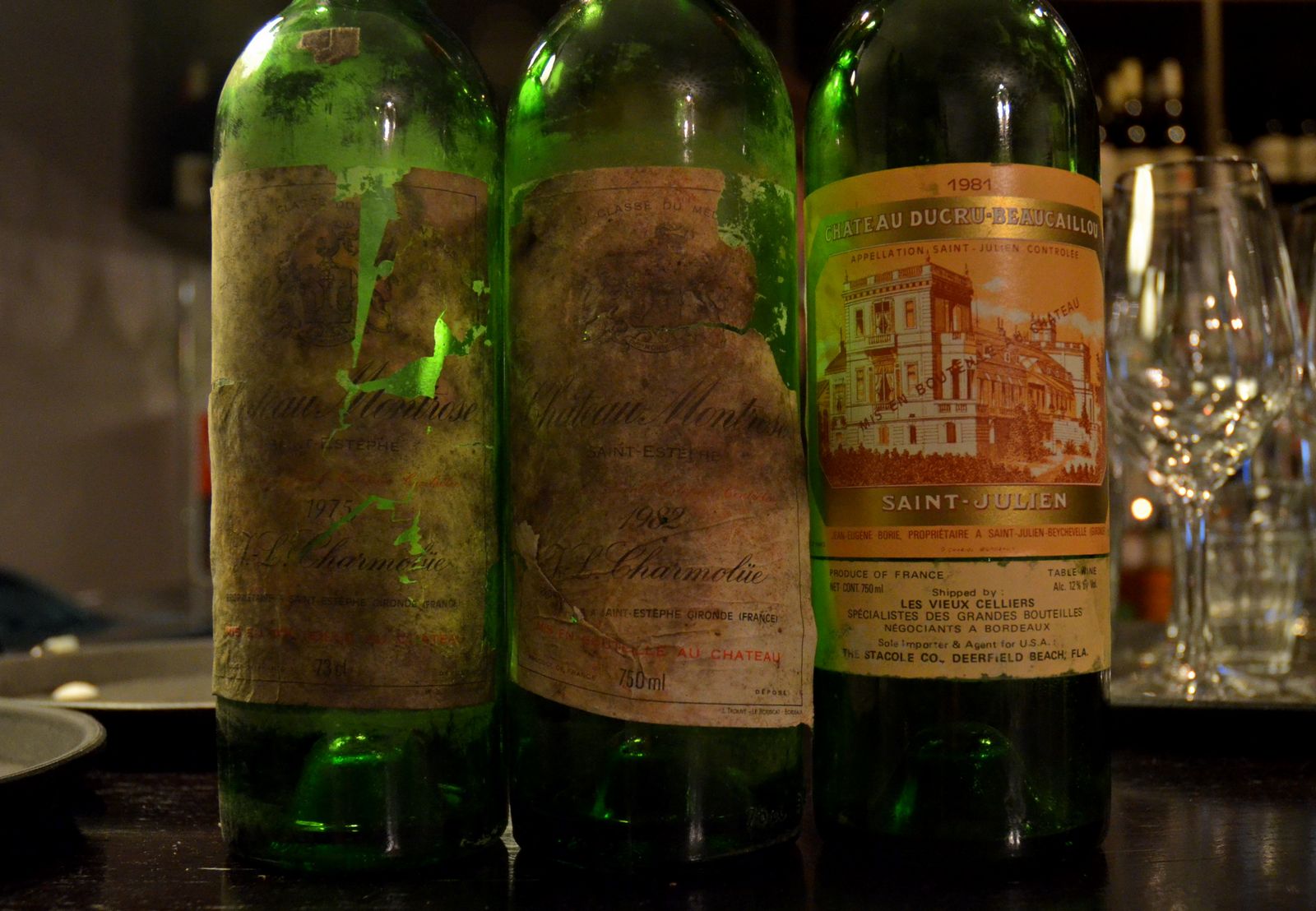 I have to confess that the Ducru was disappointing, and the Montroses were mean old codgers. Shame.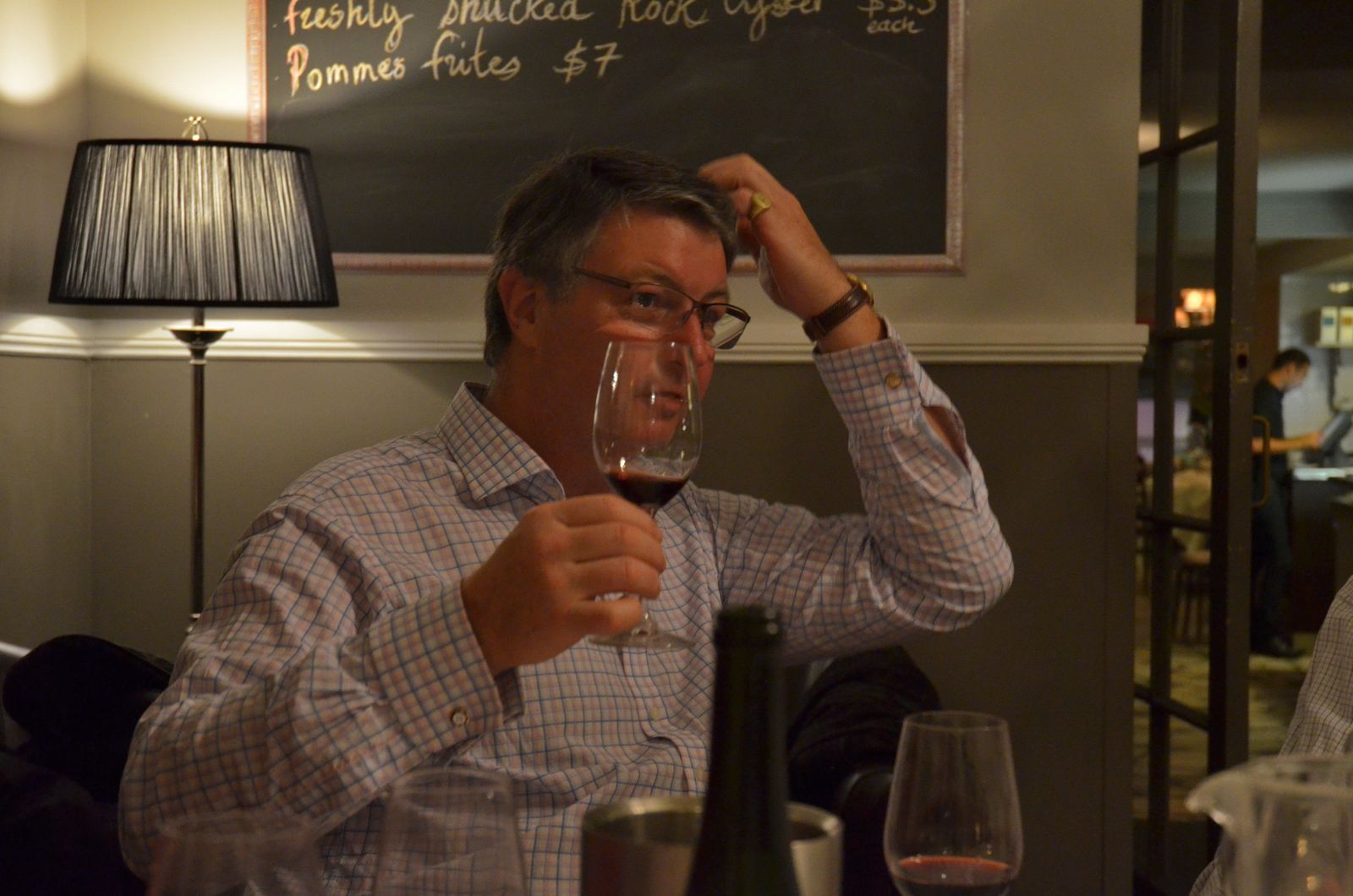 Chris wasn't sure what to make of them either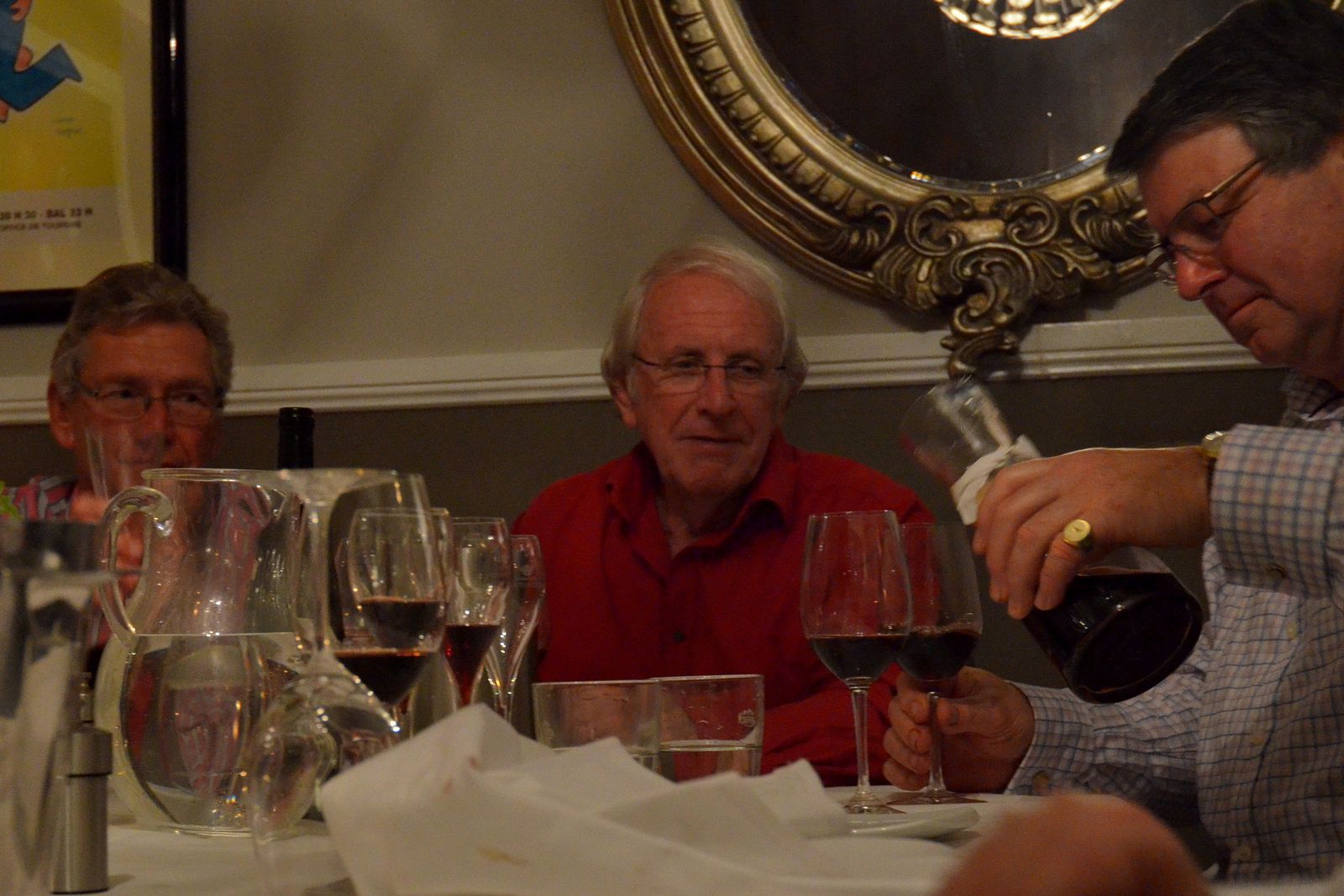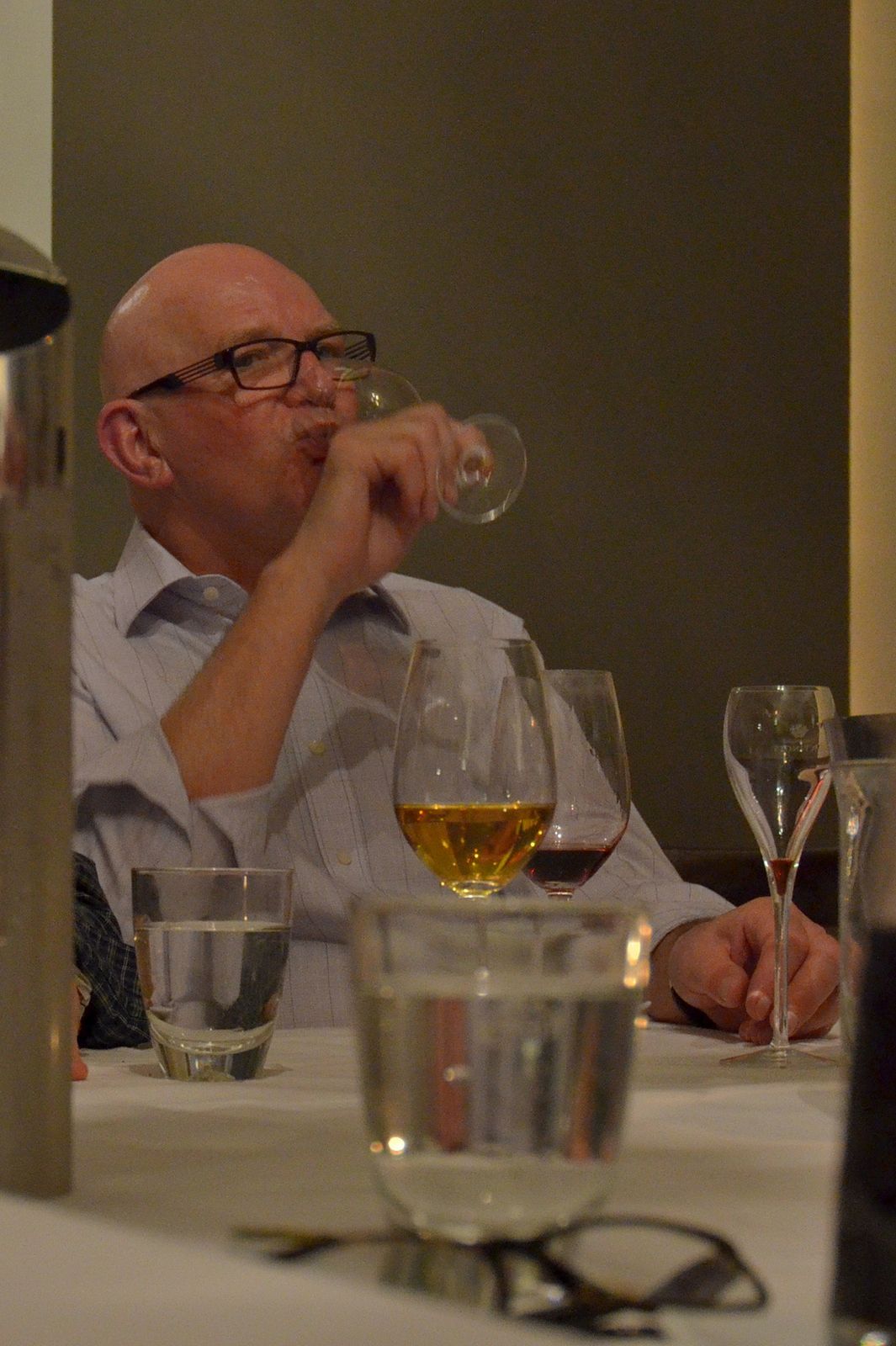 Peter looks remarkably sober, no?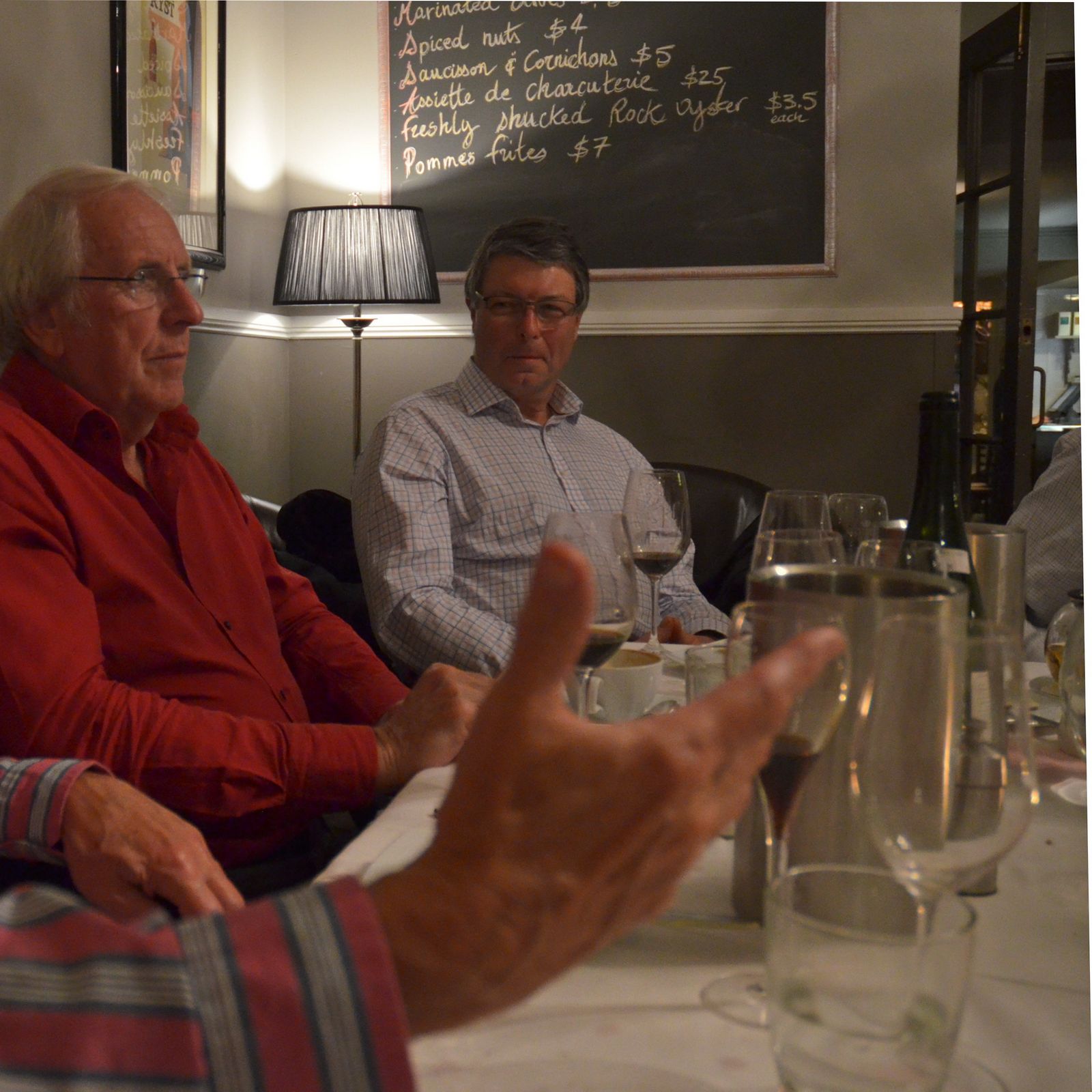 There was a dessert wine a lovely 1994 Alsace Pinot Gris Vendange Tardive, but I took it home instead of taking a shot of it.
Kim
The last Front bench Dinner at Pyrmont – mid 2013

It was a special occasion, and all of us took advantage of it I think. We drank less and talked more, we enjoyed each other's company – that's clear from the photos. I took a lot of those last Wednesday night, as I love these nights and the venue and the company and the wines and the food. The friends I've made here were my main focus this time, and I've collected the best shots on this page. Simply click on any photo to see the full-size version.

Peter looks happy

Even happier here, but Doug and Ray are clearly stumped

So is Alan

Ah, Reg is in his element

So is John

Yes!

Jeffrey wrapping up his options wines

Neil and Andrew smiling at one of Reg's jokes

Jeffrey thinking: I really stumped them with those wines!

Peter and Ray doing the Foxtrot?

Paul looking remarkably composed

These boys still look sober! That's Front bench stamina for you.

Doug got a shot of me romancing some great reds.

Peter Mouser having a break from pulling teeth, or corks or …

It all looks far too civilised but the camera doesn't lie.

Sorry Peter, couldn't fit you in for the group photo.

That big smile just about sums up a great evening.
Thank you, Peter Bourne, for so much joy.
Kim
The Last Front Bench Dinner at Pyrmont March 2013 – the wines
Here they are, with the full list at the end
Click on any image to see a larger file

A great beginning, with the CH the standout

The Leeuwin was great as always, the Yattarna overoaked as always, the suprise here was that the Pipers Brook wasn't corked

I found the Condrieu disappointing, the Rothbury way past its best, and the Vat 47 full of serious promise

The Wendouree was in stunning condition, minty and elegant. The VegaSicilia was one of the best reds I've ever tasted – wonderful goodies wrapped in an elegant package. The ANAPERENNA was a sledge hammer by comparison (a well-made one).

The Hermitage was way past its best in my view, sadly, and the 76 Grange showed ridiculously young and vibrant. What a wine! I'm sure the 96 Grange was good too but it paled against its older sibling

The old one still showed signs of life! The young one was robust for a Burgundy.

What can I say? Gorgeous stuff, the Lafite still full of life

Going a bit vague at this point. Can't remember hearing any complaints

The Graham was great but the Para was a knock-out! What a way to finish!

And here's the full list
Kim
Penultimate Front Bench Dinner at Peter Bourne's  – March 20, 2013
At Pyrmont, that is. Sadly, Peter is leaving these lovely rooms soon
After all the debates about reducing the number of wines at these events, I didn't notice any difference. Makes it hard for the pourer (Peter M), the scribe (Chris A) and the photographer, later on when cheeks get flushed. Paul F missed out, and we missed out on his Delphic utterances. Still, we had enough fun as you can see (please click on any image to see a large version):
The tucker was tops as usual
And the wines bloody lovely
How lucky are we to have friends who share ancient treasure like this so generously?
And this lovely lot of Murray's best – interesting to see the transition from Hunter River Riesling to Semillon.
John L brought a whole bracket of Turkey Flat Shiraz, one of my favourite Barossa reds, 1992 – 96.
Remarkable were two things: utterly consistent modern Shiraz style, and the wines' steadfast refusal to show signs of age. Will they outlast us? Sadly, I didn't get a shot of these lovely, John.
Someone kept moving the bottles off the table
Just warming up with this lot
And this lovely bunch
Serious stuff on the table now.
Someone took a photo of me – don't remember that – offering one of the strong opinions I have so many of, with Reg looking non-plussed and Peter smiling politely.
Would you believe a 1939 Dolcetto from Johnny Walker's Rhinecastle? Still with us as well? In good company here.
Thank you all for a wonderful evening
Kim