Mount Horrocks Watervale Riesling  2016 – $28 at MyCellars where the freight is free for subscribers on any quantity (promo code BWU20). Yes, it's a bit over the limit. I grabbed a bunch of higher-priced Rieslings for my Riesling Blog, and chose this one because Campbell Mattinson and Huon Hooke gave it 96 and 95 points respectively and both waxed lyrical about it. I don't get the raves: it's a pretty decent Riesling, and yes it's pretty and floral but simple and a touch sweet. I'd buy 2 bottles of the Jim Barry 2016 instead of one of these. 92 points. Not Convinced at the price (which is well over $30 in most shops).
I have to wonder if Campbell M understands Riesling when I read: 'Certainly there are a lot of rieslings from the 2016 season [in Clare] that are their usual same selves, nothing more, nothing less.' Jeffrey Grosset agrees that 2016 is exceptional, calling it the 'most exciting vintage in a decade.'
Jeffrey Grosset Springvale Riesling 2016 – $35 at MyCellars. It's a classic Clare Riesling from a great vintage, with everything in place plus perfect poise and pitch. The surprise is how much enjoyment it delivers already. A great wine to drink over the next few years. 96 points. Just one issue: at this price I'd buy the McNicol every time.
McNicol Riesling 2009 – $35 at the winery. If you want to know what aged Clare Riesling is all about, grab a bottle of this wine. Andrew Mitchell makes just 250 cases of this from a single vineyard and mature dry-grown vines. Andrew tells us that the wine spends time in old oak barrels and maintains lees contact before bottling 'to mellow the wine and offset its power.'
The concentration of flavour would make Grand Cru Riesling makers in Alsace shake their heads in disbelief, and the price would make them weep. The depth of flavour here is astonishing, as is the complexity, and the acid backbone gives the wine the freshness it needs for perfect balance. It's a masterpiece. 98 points. BUY.
Jim Barry The Lodge Hill Riesling 2016 – $18 at Winestar. Trophy, Best Young White at the Sydney Show 2016 (and the top gold of course), gold in Adelaide as well. 93 points and a good wrap from Campbell M at the Winefront. Really pale colour, lots of lime and talc on the nose, plenty of finesse on the palate with the faintest hint of apricot kernel, but perhaps lacking a bit of depth. 93+ points. BUY.
Pikes Traditionale Riesling 2016 – $20 at MyCellars. Neil Pike likes to keep his Rieslings lean as this one shows. 11.5 % and balanced on a knife edge of fine acid. Has all the limes and bath powder we look for, but wrapped up really tight right now. There's excellent line and length here, and no question that this wine will improve for 10 years or more. 93++ points. BUY for the cellar.
Voyager Estate Sauvignon Blanc Semillon 2014 – $19 at Dan M's or Jim's. Classic Margaret River blend, understated, stylish, elegant, long and dry, more minerals than tropicals. Will improve for a coupleof years.  Very tidy. 93+ points.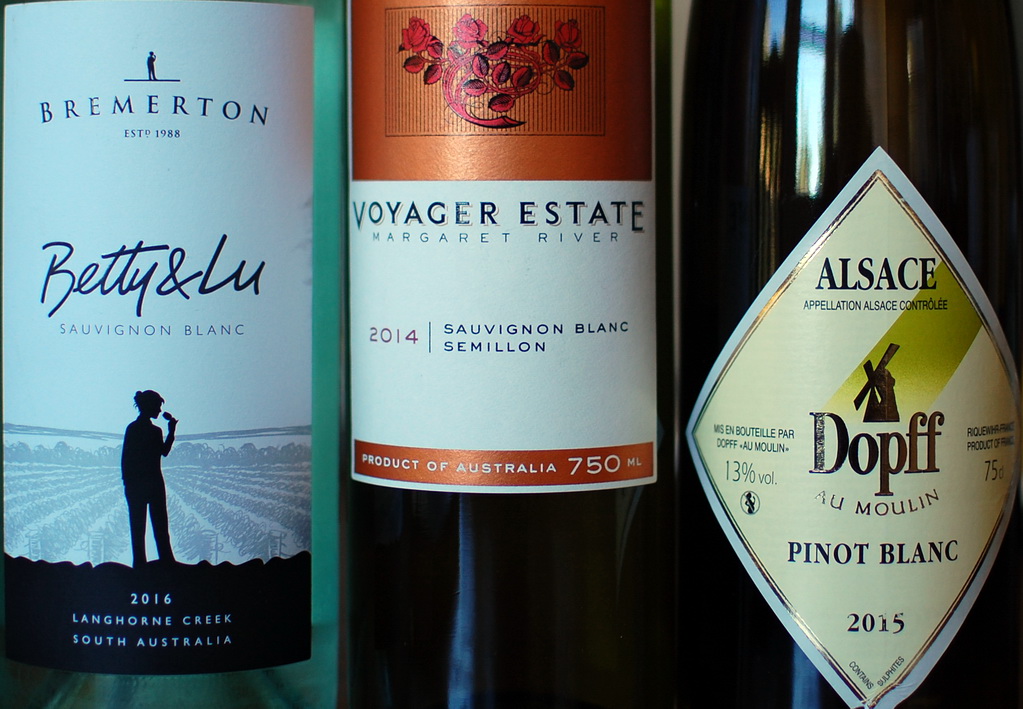 Dopff au Moulin Pinot Blanc 2015 – $14 at Dan M's. An old favourite, a kind of Pinot Gris without the ripe pears. Nice clean drinking, but give it another 6 months or twelve to open up a bit. 91+ points. BUY.
Bremerton Betty & Lu Sauvignon Blanc 2016 – $17 at the winery. My ideas about this style are best described as those of a purist, and I often cringe when I see samples from places not known for their savvies. What a surprise this one is: fresh and crisp and grassy and lemony without any unripe hints despite the 11.5%. Rebecca Willson has really hit her straps here. 91 points. BUY. Drink this summer.
Babich Sauvignon Blanc 2015 – $14 at MyCellars. Gets 4 stars from Raymond Chan, heaven only knows why. It has no varietal definition, no energy, no crunch, no excitement … it's the kind of savvy that does New Zealands reputation no good at all. 86 points. Buy something else.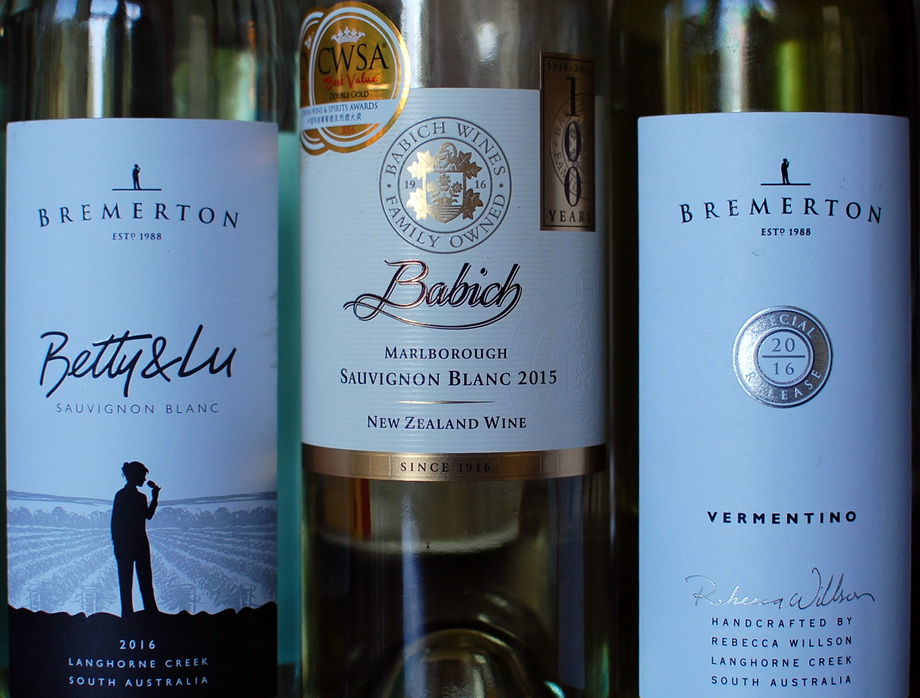 Bremerton Vermentino 2016 – $24 at the winery. This is the best Australian Vermentino I've tasted. It's not the usual vacuous, frivolous, undisciplined fruity white, but a classy, stylish, restrained white with appealing aromatics combined with hints of lemon and brine, and good line and length. Good drinking this summer. 93 points. I'd rate it a definite BUY if it were under $20.
Topers Chardonnay 2014 – a follow-up on the super-popular 2013, which is still the only option on the website. Also, I think it has the edge on the 2014 even if the style is very similar: rich, round and full of soft goodies. 93 points.
Shingleback Salmon Rosé 2016 – $17 at 1st Choice.  Clean, uncomplicated drinking, not much flavour, dry finish. There are better Rosés around for less money. 88 points.

Wynns Coonawarra Estate Riesling 2016 – $12 at Bayfiedls. Over the years I've rarely struck one of these that impressed me, but the 2016 has a lot going for it. It doesn't have the delicate aromatics of Eden Valley or Clare but serves up a decent amount of flavour, which makes it a great food wine as I discovered when I matched it with a pork filet done in the Asian style. 91 points. BUY.
Tar & Roses Pinot Grigio 2016 – $16 at Summer Hill or Dan M's. This Gris is dripping with ripe pears and lychees, a busty wine about to fall out of its corset. There's good fruit there but no discipline to keep it in check. 88 points. They should've made a dessert wine from this fruit.
Massena the twilight path 2015 – $22 at Summer Hill Wine. Fresh and fruity and interesting bistro wine, good with pizza or pasta, a bit light on for the money. 90 points.
Hill Smith Eden Valley Chardonnay 2014 – $18 at Jim's Cellars. Eden Valley Chardonnay has a very appealing bright energy, and this one follows that style. It's more forward and less complex than the 2013, more fruit, fewer minerals. It tastes ripe and rich yet claims a 12.5% alcohol level. Not a great chardy but seductive drinking. 92 points. BUY.
Mitchell Mataro Grenache 2012 – $22 at the winery. Fascinating wine, not aged in wood. Fruit is big but subdued, lots of dusty, earthy savoury, meaty characters from the Mataro, reminded me of a Barolo, old-fashioned style that should be great with hearty meat dishes. Over several days, I liked it less and less; that happens when you taste wines the way we do. 89 points. Not Convinced.
Devil's Lair The Hidden Cave Cabernet Shiraz 2014 – $17 at 1st Choice. Not sure about the vintage here; Dan M has 2014 on the shelves at $2 more. The 2013 is just as good though. This is a great value red every year, and often dicounted down to $16 or less. It's on the generous side but not blockbusting. Rich and rustic but with enough polish and that touch Margaret River dust. Great balance and good drinking already, it will improve for 5 years or more in the cellar. 92+ points.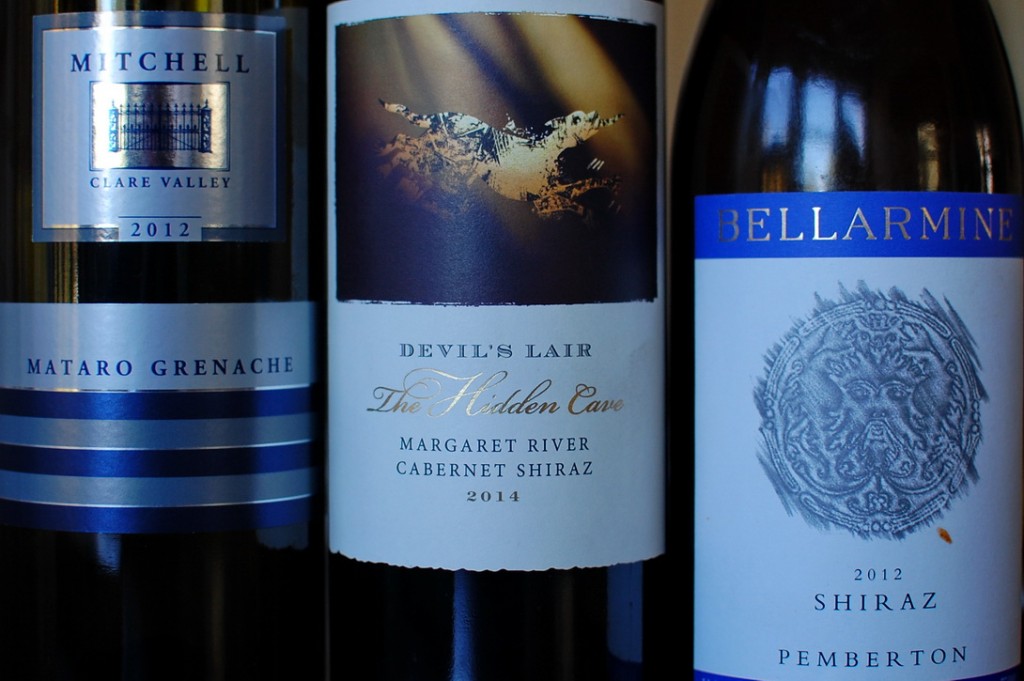 Bellarmine Pemberton Shiraz 2012 – $20 at Summer Hill Wine. I grabbed this on the strength of the winery's reputation and a 96 point score from Halliday. It's a bit on the hot and spicy side, and a bit short. We had it with a hottish goulash which was a stroke of genius. 89 points. Not Convinced.
With the next group, it struck me what a difference a year or two in bottle makes. Of course this is not news, but sometimes an illustration underscores the validity of a well-known idea. The two 2015s were simply not ready to be let loose on the world, and they were $20+ reds from Head Wines and Wirra Wirra. A 2014 Bremerton Selkirk Shiraz showed better (and scored higher) simply because it had a chance to settle down for another year.
Wirra Wirra Catapult Shiraz 2015 – $22.50 at the winery. Big, rich, chunky Macca Shiraz with an apt name: it sure hits you between the eyes. Needs another year or two to find its feet. 91+points.  Gold medal in Melbourne. The 2014 might be a better bet at this time; it's still in the shops – $20 at Jim's.
Bremerton Selkirk Shiraz 2014 – $18 at Dan M's. Completes Rebecca Willson's trifecta this week, and proves the value of tasting wines over several days.This red impressed me from the moment I opened it, and got better for 4-5 days. Typical Langhorne Creek generosity of flavour, ranging form gum leaves to dark red fruits and chocolate. Full-bodied but not huge, rich but well-behaved. 93+ points. BUY.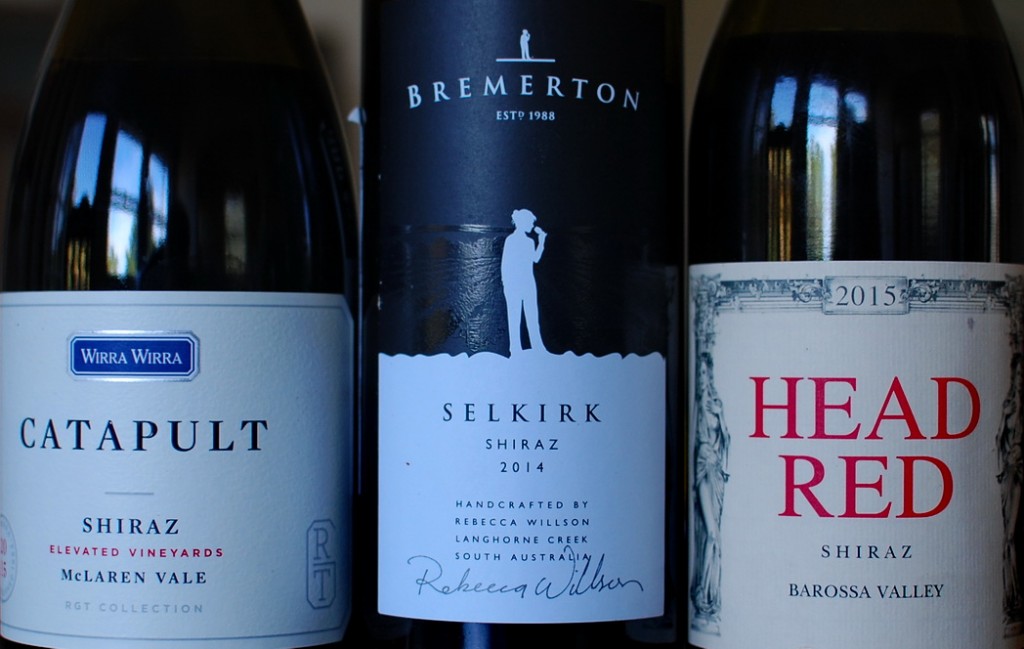 Alex Head Head Red Barossa Shiraz 2015 – $20 at Winelistaustralia. Another pup of a red that's still skittering all over the place with its big paws. You can see the underlying quality here, the touches that make this wine more than just another warm and cuddly Barossa Shiraz; there's more finesse here but it needs another year or two for all the bits to get to know each other. 90++ points
Tim Adams The Fergus 2013 – $21 at Dan M's. Made from Grenache, Tempranillo and Malbec. Clare Valley goes to Spain? It's a riot of exotic flavours and spices, from chorizo to gum leaves. Medium-bodied, would make a good bistro wine in a smarter bottle and a better price. Good to drink now but will mellow with a couple of years. 91+ points. BUY if you feel like a change from the usual fare.
Young Brute Red Blend 2014/15 – $17 for 2 bottles at Dan M's (online special). This red was a bit taciturn when opened but much better on the second and third nights. Cabernet Shiraz from Wrattonbully, made by the Casellas of Yellowtail fame. It's a pretty good red with good depth of flavour and a bit of grip on the clean finish. Won a trophy at the Melbourne show and a couple of golds; no idea why they're giving it away. 92 points.
Tatachilla Partners Cabernet Shiraz 2015 – $9.50 at Dan M's. This red won the Best Wine Under $25 at the Great Australian Red Comp 2016. I had my doubts when I opened it coz I can't remember seeing a good wine under this label for many years, but I was surprised. It leapt out of the glass with bright energy and juicy fruit, high on drinkability. It did the opposite to the Young Brute: on the second night it was less attractive and had lost some of its vigour, more of the same on the third night when it tasted pretty tired. 89 points. BUY, but make sure you don't leave it open too long.
What were the judges at the Great Aussie Red comp smoking? The Devils Lair Cab Shiraz above has far more class, and so have many others.