Inflated Scores, Kickbacks and Cash for Comment are Rife in the Wine industry
'We have formed an alliance to promote and differentiate our approach to wine reviews,' the two well-known wine reviewers & judges say. 'We are making a stand for even-handed, transparent, ethical and independent reviewing.' More Here: #realreviews initiative
They say: 'Independent opinion in wine has come under pressure from several fronts:
Excessively high scores by some critics, which undermine the credibility of wine ratings for the consumer
Wine writers being paid directly by retailers, or entering into revenue share arrangements, for reviewing wines
Advertorials masquerading as independent opinion
'Cash for comment', i.e. wineries being asked to pay to get featured.
When Wine Reviews become bankable currency
These are extraordinary statements, the like of which I cannot recall. The target is obviously James Halliday who towers over the Australian wine industry like the Colossus did over the Greek island of Rhodes. The industry chatter has it that the Hardie Grant tail is wagging the Halliday dog, pushing for inflated scores that make wineries and wine merchants happy but mislead consumers.
Hardie Grant has built a Multi-Media Marketing Machine around the Halliday brand, which sells books and magazines, and a lot of wine. Halliday points have become more important for retailers than gold medals and trophies: their ads and catalogues are choc-full of Halliday points. They've become 'bankable currency' in Andrew Caillard's words.
One of our subscribers simply wrote: 'I'm increasingly frustrated by inflated Halliday scores which are, to put it mildly, kinder to the winemaker than the consumer.' So why is James doing wineries and retailers favours instead of working for his primary constituents?
It's the Money, Stupid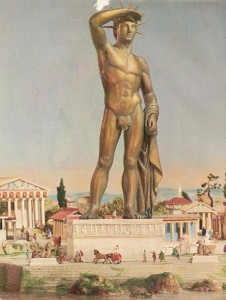 An old friend of mine answered the question this way: 'Halliday is the only wine reviewer in Oz with a successful business model.' He's right. Huon Hooke, Bob Campbell and the rest are working really hard to make ends meet, I suspect. Meanwhile, the colossus Halliday has enlisted the help of two other reviewers: Campbell Mattinson and Tyson Stelzer.
Tyson is a sparkling wine specialist and tastes most of the bubbles for the Halliday Wine Companion (HCW). Campbell is the editor of HALLIDAY (the new name of the magazine), a publication that makes it hard to tell advertorials from genuine content. Supplements of Halliday's various best lists feature wineries with glossy one-page profiles if they pay up, or give them a listing at the back. Read more in Pulling the Cork on Ethics in Wine Writing
Inflation
In the 2016 edition of the HWC, Mattinson's scores are marked by a CM, and Stelzer's by a TS. Between them, they reviewed and scored more than a third of the wines. The question other reviewers are asking is: will Hardie Grant persuade Halliday's helpers to inflate their scores in the interest of closer alignment with their business model?
Time will tell, but Bert Werden at Winestar has had no trouble finding Halliday 95 Halliday point bargains under $20 for the opening gambit of his weekly newsletter. The gloss comes off these bargains when you remember that Halliday's scores are consistently 3 -5 points higher than Huon Hooke's or Andrew Graham's or the Winefront's (or ours). Those 95 point $20 bargains turn out to be 91 point wines that are OK but nothing special. Read more HERE
'He is someone I have always greatly admired,' Red says about James Halliday on the Red-to-Brown blog but adds that his scoring 'has almost moved to the point of farce … there are only so many times consumers will buy what they're told is a 96 point wine before it starts to become shorthand for just a solid bottle of wine …'
It's not just Halliday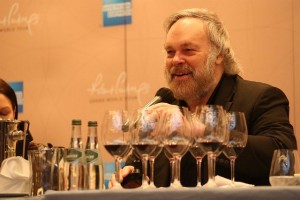 'Is it a conscious decision by some wine writers to give over-inflated scores?' Tim Atkin MW asks in a blog post. 'Their peers may laugh at them, but why should they care? The people who make and sell wine will be eternally grateful …' In his Decanter blog, Andrew Jefford quotes a colleague who claimed that they'd soon be writing songs about Robert Parker in the foothills of Pauillac.
Robert Parker is another wine writer who built a highly successful business, which he sold recently. That's not the only similarity. 'Robert Parker's reviews are always 2 to 4 points high,' writes J.C. in Wine Spectator under the heading Inflated Wine Scores – Unreliable Reviewers. 'James Haliday's reviews are notoriously over stated,' he adds. Read More Here.
Wine Writers: Lying to Your Readers
Parker has gone over the top in recent years, giving hundreds of wines 100 points. Halliday might hand out too many 97s and 98s, but he's drawn the line there. Whatever, people in the wine trade love farcical scores that help move wines, and they don't give a damn if they distort reality and mislead consumers.
I borrowed the heading above from a post by Jamie Goode, a UK wine writer, who says, ' … the future for wine lovers looks a cloudy one. Unless, that is, consumers can be persuaded to change their buying habits, and wine writers can be persuaded to be more honest in their recommendations.'
I admire Huon Hooke and Bob Campbell for taking a stand on this issue. Sadly, it won't make any difference since the current system is too entrenched and too good for business. Only the smarter consumers have seen through the deception, while the vast bulk will continue to fall for those 95 point Halliday bargains. For those of you who care, here's their scoring system:
Kim