History and mystery of Australia wines
Read the stories about wine industry pioneers, superstars and corporate raiders you won't find anywhere else.
1. Seppelt and Seppeltsfield, a short history.
From Migrant Family to Corporate Raiders and back
Another great name that fell into the greedy hands of corporate raiders, but this story has a happy ending, with new owners restoring Seppeltsfield to some of its former glory after it had been Southcorped, Rosemounted and Fostered over two decades.
I remember the first time I saw Seppeltsfield, on a glorious summer day: the long driveway lined by Canary Island Date Palms, the huge old bluestone buildings, the mausoleum for long-gone members of the family, and the majestic expanse of the place. Seppelt's was one of Australia's great wine dynasties, founded by Joseph Seppelt who came to Australia in 1849 from Silesia, a couple of years before modern Germany was defined in Frankfurt. Read more


2.

Wolf Blass

: Wine Wunderkind or 

was it John Glaetzer who worked the miracles?
Those backward colonials
Wolf Blass has had a big influence on Australian wine making and marketing, no question about that. There's also no question that Wolf's mouth and ego are way bigger than the body they're attached to. Wolf simply loves to cast himself in the role of Maverick, the young German who showed those backward colonials how to make table wine. He also showed them how to make soft reds that were easy to enjoy at just a few years of age, and that is a fact and in my view Wolf's real contribution.
More puzzling is how he worked this particular magic, since he'd never made a single drop of red in his life until he came to our shores. He studied making wine in Champagne, made bubbly for a German company using the Charmat method, and worked for Avery's in Bristol for 2 years . He was 25 years old when Ian Hickinbotham brought him out to make Perlwein for Kaiserstuhl in 1961. In 1975, he made John Glaetzer chief winemaker. What exactly was John's contribution? He is the most decorated winemaker in Australia after all. Read more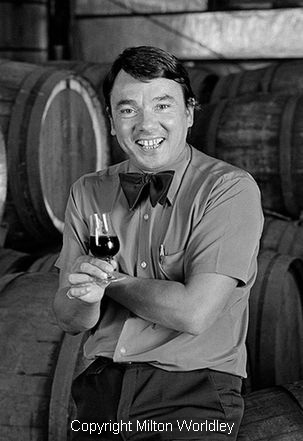 3.
Where did Murray really get his Chardonnay from?
Tracing our chardonnay boom, and busting some fairytales
This is an intriguing story that pops up at wine dinners from time to time, usually at the late, mellow stage of the evening when everyone feels like a good story. And this is a good story: Murray Tyrrell ducking over the fence on a moonless night in the Hunter Valley to help himself to some Chardonnay cuttings from Penfolds' HVD vineyard next door. But that's just one of many stories on who made the first Chardonnay in Oz, and we try to find out the right one. Read more
4. The 1960s – from Pearl Wine to Chateau Cardboard
How Australians re-discovered wine after wars and wowsers
Ian Hickinbotham at Kaiserstuhl saw Perlwein as a way to shift the vast surplus of grapes in the ailing growers'co-op he was trying to make profitable. In 1961, he went to Germany and came back with a young winemaker called Wolf Blass. Wolf has been on the radio a lot in the last year or two, talking about showing Australians how to make table wine, but that's another story.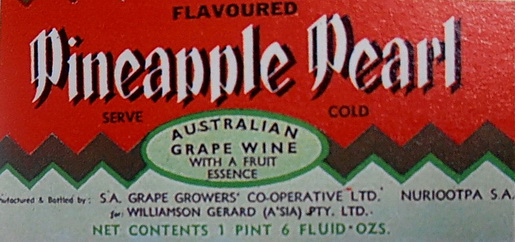 Wolf created Pineapple Pearl and a variety of sparkling wines for Kaiserstuhl. 'It came in a pineapple/hand-grenade-shaped bottle,' recalls Philip White, 'with a lurid green plastic emulation of the crown of the pineapple around its stubby neck.  Last time I was pleasured to visit Blass at his home, he still had a row of these proudly displayed along the shelf atop his bar.' Read more
5. Len Evans, Anders Ousback & Les Années de Pèlerinage
Stories from the Bulletin Place front line, with apologies to Franz Liszt
My brief review of Len Evans' memoirs provoked some fascinating contributions from those who were there in the wild old days of Bulletin Place with Len and Anders Ousback and John Parkinson and Anne Tyrrell. These anecdotes and contributions came to me in various forms, and I've listed them here in ascending date order. They add colour and perspective in a way that I could not, because I wasn't there. Read more
6. Australia farewells wine pioneer Ray Beckwith
The scientist behind Max Schubert is out after a century.
Although history will remember Max Schubert as the creator of Penfolds Grange, he couldn't have done it without Ray Beckwith's ground-breaking science and flair. Once he had unravelled the importance of controlling ph to quality wine making, he said to Max Schubert: 'Now you have the science! Let the art begin.'
Beckwith won the prestigious Maurice O'Shea Award in 2005, was awarded an Honorary Doctorate from the University of Adelaide, and in 2008 the Order of Australia 'for service to the Australian wine industry through contributions towards enhancing the quality and efficiency of the winemaking process.'
It's just as well Ray Beckwith lived to 100. For most of his life, he was the unsung hero in the Penfolds saga. In a recent interview, he said: 'All these things have come only after the last few years. It's a good thing I didn't conk out earlier, otherwise I wouldn't have known!'
Read Andrew Caillard's brief summary of Ray's legacy, an extract from Penfolds – The Rewards of Patience, 6th Edition (2008), by Andrew Caillard MW, Allen & Unwin.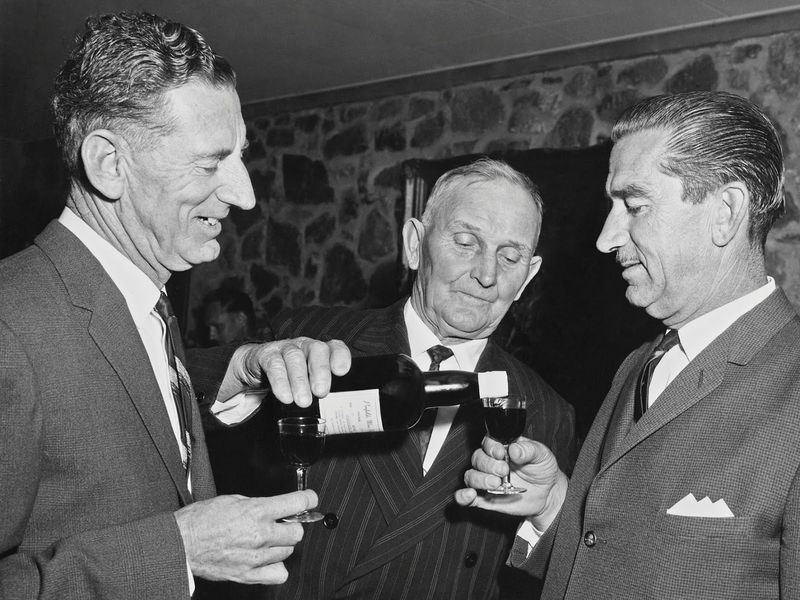 Ray Beckwith and Max Schubert – courtesy of Philip White

7. Trevor Mast – a winemaking life cut cruelly short
Trevor Mast's sudden death was a shock. I knew he'd been diagnosed with Alzheimers some 5 or 6 years ago. His slow fading away must've been so painful to watch for his wife and four daughters, the inspiration for Trevor's 4 sisters label. Read more