'BEST BUYS WEEKLY is one of the best wine publications on offer'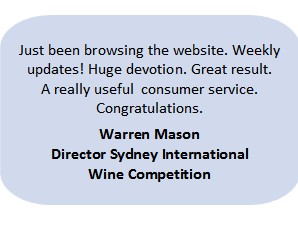 says Brayden, a long term BWU$20 subscriber.
BEST BUYS WEEKLY is our Friday email showcasing terrific wines, with direct links to retailers with the best price. No other wine website in Australia offers anything like this.
Now you can buy BEST BUYS WEEKLY on its own for $20 a year. Here's what you get each week:
The 24 BEST BUYs (white, red, rosé, sparkling &  dessert)*
*These 24 terrific wines include:
We do the legwork that takes out the guesswork, so you can try new wines with total confidence.
You'll love BEST BUYS WEEKLY if:
You're short of time to choose & buy wine
You want better wines for the money you spend
You like to track down your own bargains but would like some new ideas.
(If you don't care about drinking better wine or buying better, BEST BUYS WEEKLY is not for you.)