HALLIDAY is the new name for the old Wine Companion magazine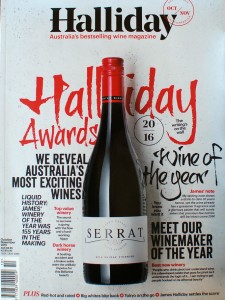 Halliday Wine Companion 2016 (HWC) signalled the change in branding a few weeks ago. The 2015 edition was called James Halliday Australian Wine Companion. The magazine comes with the subtitle 'Australia's bestselling wine magazine,' which surprised me until I recalled that the mag is part of various subscription options and special offers on the HWC website. I can't imagine a lot of people paying $10 for a LITE wine magazine such as this. It's a slim 80 pages and carries a lot of ads and sponsored content.
This October / November edition also contains an 8-page lift-out for the HWC 2016 awards, plus 6 pages of award winners and a separate booklet under the title 'RED HOT & RATED – over 80 wines reviewed and rated by James Halliday.' They're all red wines and all of them scored 'a whopping 96 points or more.'
Red Hot and Paid For?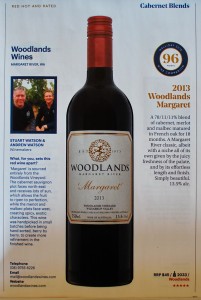 There are several hundred red wines in the HWC 2016 that rate 96 points or higher, so how were the 80 reds in the booklet selected? It doesn't say. Last year, we discovered that the wineries selected for a similar booklet were those who were prepared to pay for their place in this showcase. It was a Top 100 Wineries booklet, where 52 wineries got a page each, and the rest appeared in a listing at the back.
In last year's ABC radio segment Lifting The Veil On Wine Journalism, Simon McKeown from the HWC magazine's publisher Hardie Grant said he saw nothing wrong with this arrangement. He said there was no need for disclosure since Halliday's notes were provided unaltered – only the wineries refusing to pay had been pushed into the listing at the back. He then argued that no winery could buy its way into the supplement.
This caused Ethics Professor Dr Muller to shoot back that all the wineries featured with their own page had in fact bought their way into the supplement. That Simon didn't see this is deeply disturbing; that James Halliday and the magazine's editor Campbell Mattinson work closely with this publisher is just as troubling. More here Pulling the Cork on Ethics in Wine Writing.
Excessively Generous?
Hardie Grant has built a Multi-Media Marketing Machine around the Halliday brand, and you can't blame them for that. Brand Halliday sells books and magazines, and most of all wine. Halliday points have become at least as important for retailers as gold medals and trophies. Their ads and catalogues are choc-full of Halliday points. They've become 'bankable currency' in Andrew Caillard's words, but why is James doing wineries and retailers favours instead of wine lovers?
Maybe he's following Robert Parker who chose the same route many years ago, and has been criticized widely for giving too many 100 point scores, putting too much money in to the pockets of Bordeaux chateau proprietors, and driving up the prices of top Bordeaux reds for wine lovers. More in Perfect Parker Scores Keep On Coming. At least James has resisted 100 points scores.
Generosity is a good thing but inflation devalues any currency, and so it is here. Are wineries and retailers complaining about that? No way – they love it. It's good for business, even if it's misleading consumers. I've made my point in that blog post, so it's time to let the big man explain his ratings. As it happens, he's done that in the current issue of HALLIDAY.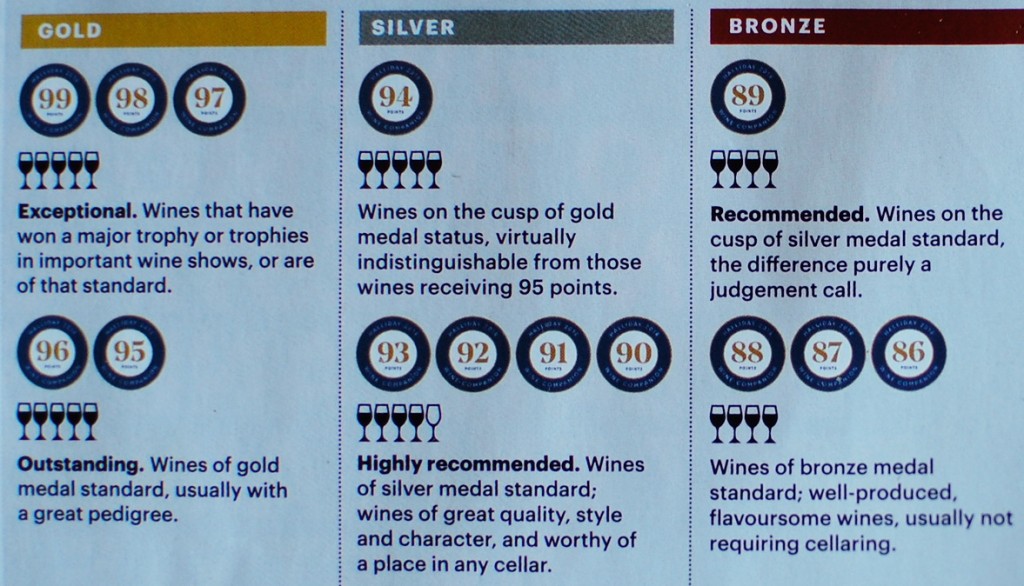 '76% of the 8958 wines scored for the 2016 HWC scored 94 points or less,' JH writes, '28% received 89 points or less. Thus, those who regard my points as excessively generous only see 24% of the story.' It's a curious defence because it actually supports my contention:
2150 wines score 95 points or better (Outstanding) in the 2016 HWC
2500 wines score less than 90 points (Bronze & Recommended)
Keep in mind that 87 – 89 points suggest decent bronze-medal standard wines
Do we really make over 2000 outstanding or exceptional wines in Australia in a single year? And is the average quality so high that just 2500 wines out of almost 9000 score less than 90 points? We're looking at a parallel wine universe, one of extraordinary generosity. That point is underscored by 700 wineries receiving a 5-star rating. That's more than half of the wineries listed in the HWC, and almost 1 in 3 wineries score 5 RED stars. Enough said.
Whose scoring system is the right one?
It's not a dumb question because in the same magazine there's a section called tasting notes – 100 New Release Wines, with Exclusive Notes, and here the scoring system is much simpler:
95 – 100 points: Outstanding (Wines of the highest quality, often with a … pedigree)
90 – 94 points: Highly Recommended (Wines of great quality, style and character …)
87 – 89 points: Wines of above average quality
This is pretty much the system we use at BWU$20 but this magazine is called Halliday, and it doesn't use Halliday's scoring system? Whose is it then? Campbell Mattinson's? It doesn't say. Nor does it say who wrote the 'exclusive' tasting notes. There's a star rating system for the winery that made the wine as well, which 'references James Halliday's own ratings in his book (HWC).'
My guess is that Campbell wrote most of the notes, which raises another question: does he adjust his ratings to fit in with James Halliday's generous scores? His scores at the Winefront are often 5 points lower, so how does this work? In the HWC, CM's tasting notes have a CM behind them so it's clear. There's no such detail in the magazine. That's pretty sloppy.
Kim