It's a different wine company from most, that's for sure
It's older than most for a start. It's a big business producing almost 1 million cases of wine a year, yet it's a family business and a privately held company. Yalumba's chief winemaker is a woman, Louisa Rose. There are half a dozen winemakers at Yalumba. They all have their own domains, but these aren't defined in the usual way.
For example, Yalumba owns 2 Eden Valley Vineyards producing Riesling: Pewsey Vale and Heggies. Louisa Rose makes the Pewsey Vale, and Peter Gambetta makes Heggies Riesling. Louisa Rose also makes the Heggies Viognier since she has championed and developed this variety into several successful lines for Yalumba.
Louisa Rose has made some truly great Rieslings under the Pewsey Vale label. A 2006 we drank a couple of weeks ago was a complete Riesling serving up the classic flavours of aged limes, buttered toast and lanolin with a hint of kerosine. The 2012 is another great Pewsey Vale I wish I'd bought more cases of. Remember, this is a wine that's often discounted down to $15 – $16.
Anyhow, this story is about Peter Gambetta who also makes the Heggies Chardonnay, and most of Yalumba's serious reds. He was our host at the Bistro Moncur this week. It's the first wine company sponsored function I've accepted this year, and felt comfortable doing that since I've raved about many of Yalumba's wines for some time – last week's wine of the week was The Cigar 2012. Today was a chance to find out more about the people and the company.
The Whites
I didn't tell Peter that I usually prefer the Pewsey Vale Riesling to the Heggies. Peter leaves a tad more sugar in the Heggies (you can't taste it but it makes the wine feel rounder), and he makes it for earlier consumption. The 2014 is a classic Eden Valley Riesling full of ripe limes and talc, but a touch short in the way most 2014 Rieslings from S.A. have shown. The 2015 reflects a hot vintage where all the grapes pretty much ripened at the same time and caused a special kind of 'crush' in S.A.'s wineries. It's a rich and forward Riesling best enjoyed over the next year or 2.
The Heggies Chardonnay is always a polished act, a modern style that balances flavour with elegance and restraint but avoids the grapefruit characters I loathe. The 2013 follows that model. It's $23 at Dan M's.
Peter also makes a Pinot Grigio under The Smith & Hooper label, which is bursting with ripe pears and apples and spices. The 2014 is a big, rich wine that would go really well with rich pork dishes. It's a Pinot Gris in the Alsace style, so why's it called a Pinot Grigio? I didn't get to ask that question. I can't fiund a source for the 2014 yet but you can buy the 2013 at Nick's for $17.
The Reds from Wrattonbully
Smith & Hooper has made smooth and easy-on-the-gums Cab Merlot blends for years, and the 2012 is more of the same polished drinking and good value for the money. The standard Merlot 2013 is just as easy to drink but overshadowed by the Reserve Merlot of the same year.  Dan M's sells both wines for $16, Here and Here.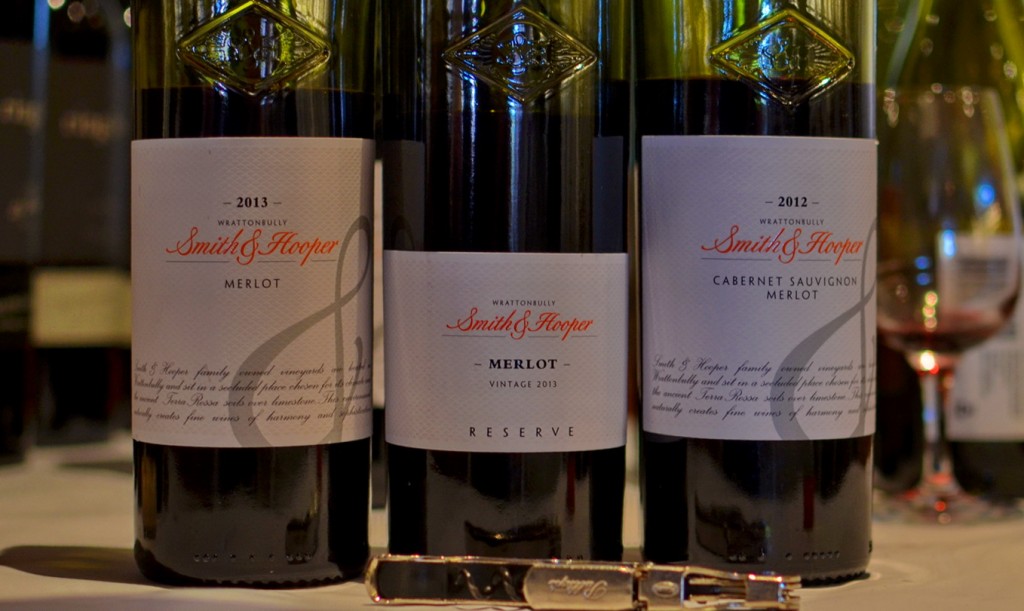 I reviewed the Reserve Merlot 2013 a couple of months ago, and I can't add much to my review. 'It's an impressive Merlot with all the ripe, plush fruit and velvety smoothness you'd expect form a good Merlot, fine-polished with cedary oak and held together by a tight backbone. I reckon it'll improve for 3-5 years at least. Proof that Merlot can produce serious reds in the right hands. 93+ points. BUY. $23 at cracka.
What makes Yalumba Different?
Peter talked a lot about 3 things:
The degree of freedom Yalumba winemakers enjoy for experimentation,
The importance of planting the right clones of grape varieties , and
The benefits of wild yeast fermentation for adding more interest to finished wines.
He didn't mention the company's long established vine nursery that provides clones for Yalumba's vineyards and others. Established in 1975 and now Australia's only commercial vine nursery, it is literally at the cutting edge when it comes to introducing and propagating new grape varieties, with some 50 or so already available.
Its impact on Australia's wine industry is substantial. Only about 10 per cent of the 1.2 million grafted canes it produces each year go to Yalumba, the rest are made available to grape growers across the country.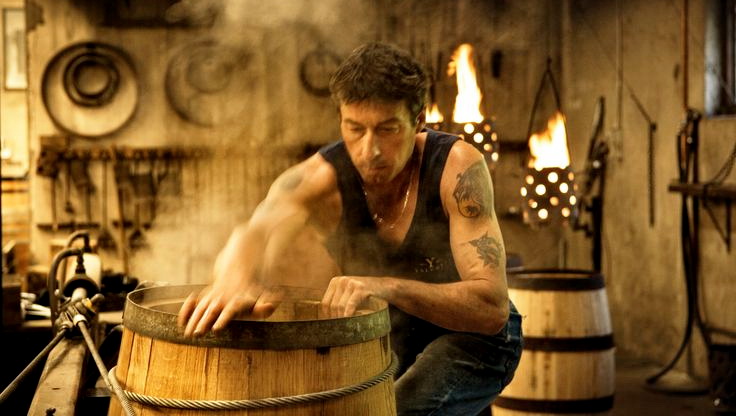 He did mention that Yalumba has its own cooperage that makes many of its own oak barrels. Both of these assets give Yalumba's winemakers the kind of control others can only dream of.
Peter made the point that most of the Merlot planted in Australia was from inferior clones. It was the same story with Chardonnay years ago. One thing we don't appreciate is that Yalumba's Eden Valley vineyards are now going on 5 decades old. I remember drinking my first Pewsey Vale Riesling in the early 1970s.
The Reds from Coonawarra
Yalumba The Cigar Coonawarra Cabernet Sauvignon 2012 – $21 at McGuires. The cigar is the long, slim shape of central Coonawarra's Terra Rossa. The fruit in the 2012 is bigger than it was in the 2010, and so is the oak to keep the balance. Blue fruits, chocolate and pencil shavings here, plus great depth and length, and polished tannins on the finish. Tastes like a much more expensive red.
Yalumba The Menzies Cabernet Sauvignon 2012. It's a quality red that has clearly enjoyed privileged treatment but nothing is overdone or forced here. There's more of everything – blackcurrant fruit, dried herbs, tobacco, cedary oak, length and depth and French polish.
More complexity than the Cigar, more refinement, more layers of flavour in a slinky, medium-bodied package. Gastly labels is my only gripe with these reds.  $45 at Dan M's or Nick's.
Margaret River Reds
These wines named after one of many shipwrecks off the Western Australian coast aren't as well-known as they should be. They're seldom seen, in fact, but worth chasing. Peter makes these wines from fruit bought in from a number of vineyards around Cowaramup in Margaret River.
The Ringbolt Cabernet Sauvignon 2012 is a classic Margaret River Cabernet with blackcurrant fruit, a twist of olive and a pinch of dust. Lovely balance and length, more elegant than many 2012 Cabernets. $21 at Dan M's.
The Ringbolt Cabernet Sauvignon 2013 is very similar but has a touch more refinement and elegance, even a hint of cool climate leafy character. $24 at Cracka.
Ringbolt 21 Barriques Cabernet Sauvignon 2011 – 'Matured for 16 months in 21 barriques. 25% in new, 53% in one year old and the balance in older French oak barriques.' Terrific red, fragrant fruit, lots of energy and perfect balance. The oak treatment made me think of the Menzies, which is a good thing but suggests that the winemaker's thumb print on these wines is perhaps stronger than their vineyard of origin.
It's a lovely wine, don't get me wrong, but extremely hard to find. $36 at The Wine Emporium.
Ringbolt 21 Barriques Cabernet Sauvignon 2012. The 2011 is a tad more elegant, and the 2012 a touch more complex, but it's a close call. I can't find a source for this wine (I suspect Yalumba's Negociants distributor sells most of these to restaurants).
These are terrific Margaret River Cabernets. There's no question that Peter Gambetta loves Cabernet and has really hit his straps with this range of wines. Good on Yalumba for giving him a free hand.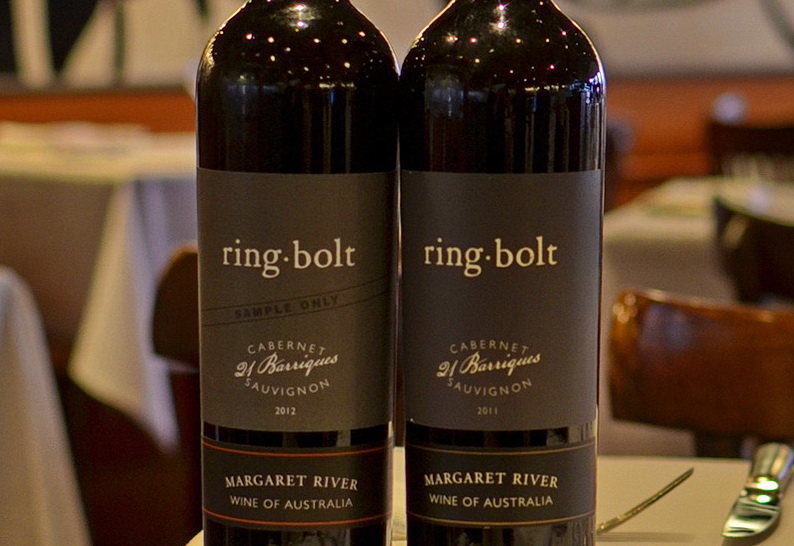 Further reading
http://www.goodfood.com.au/long-reads/yalumba/control/
Kim