Not when 2 wine competitions hand out over 20,000 awards
The last couple of weeks have seen the results of the 2 biggest world wine competitions announced: the Decanter World Wine Awards and the International Wine Challenge 2015. The medal tally for both competitions is simply mind-boggling – 11,152 out of some 16,000 entries for the DWWA, and 9694 at the IWC who won't say how many entries it received since it doesn't want to look smaller than the Decanter affair.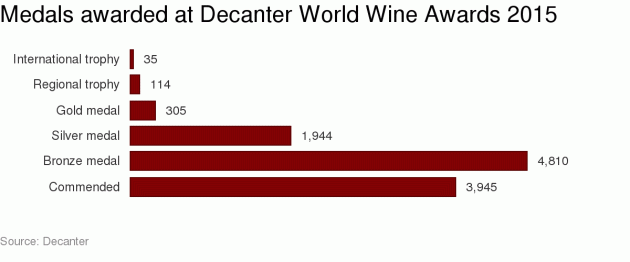 The IWC handed out 490 golds, 2,110 silvers, 3,426 bronzes and 3,668 commendations. These results suggest one of 2 things:
70% of all the wines submitted were good enough to earn a medal or a commendation
These shows are enormous gravy trains for an industry engaging in giant shams
Unless you believe in Father Christmas, option 2 is the obvious explanation. The next question is: why would a prestigious magazine like Decanter put its name to a sham like this? The simple answer is Money. For Decanter and the IWC, Victoria Moore writes in the Telegraph, it's a simple commercial proposition: 'the more entries received and stickers sold, the more profitable the competition.'
'Do wine competition medals abuse the consumer's trust?'
That's the question Decanter columnist Andrew Jefford asked in a recent post. He really should know the answer since he has been a panel chair at the Decanter World Wine Awards. He prefers to use wine columnist Victoria Moore as a proxy, and quotes from her piece in the Telegraph where she comments on the staggering number of bronze medals and commendations: 'Congratulations to all 9,694 wines given an award by the IWC this year. Did anyone fail to get a sticker of some sort?'
Moore cites Tesco, the British supermarket chain, as an example. 'Tesco entered around 112 own-label wines into the IWC and is thrilled with the 98% success rate. It is remarkable – and, to me, surprising: Tesco does a great job on wine, but I certainly couldn't find that many own-label bottles there that I'd recommend.'
98% is the kind of figure we used to see in Communist Block election results. Real life is very different, so it's no surprise when Moore calls this 'an all-shall-have-prizes pass rate that makes complete mugs of trusting drinkers like me and you'.
She managed to get a couple of interesting quotes from judges at these events as well: 'When I judged at the IWC,' said one, 'if a wine didn't make you retch, it got a commended. I was a bit surprised.' Another judge told Moore that 'a commended wine is one that causes you less than pain. If you were given a glass [of it] at a friend's house, you wouldn't need to pour it in a flower-pot.'

So do they think we're stupid?
Jefford says consumers aren't idiots and goes on to defend the indefensible. Clearly the people who run these shows think consumers are idiots or ignorant or naïve or all three, otherwise they wouldn't put on these expensive, giant-scale events. If consumers ignored these awards, these shows would soon come to an end.
Of course consumers pay attention to medal stickers when they choose a wine in a bottle shop. Even some of my wino friends who should know better pay attention to medals, that's why supermarkets and wine merchants push the medals so hard in their wine promotions.
Moore also tells us that these competitions are 'run by IPC Media and William Reed Business Media for whom commercial diversification is imperative as print sales face advertising and circulation challenges. Each charges £99-£120 (paid by a producer or retailer) per wine entered, giving Decanter an entry turnover of £1.84 million. More prizes helps to keep the producers sweet, and the money rolling in.'
The final money spinners are the medal stickers. 'IWC sells these at £44 (including postage) per roll of 1,000,' Moore tells us and adds 'Imagine how much less opportunity for profit – and free advertising for the competitions — there'd be if the bronze and commended levels did not exist. If each commended wine buys just 10 rolls, that secures an additional turnover of £3.2 million.'
Defending the Status Quo
It's kind of sad to see a wine man of Andrew Jefford's calibre doing this but he says 'Competitions have to make money or they wouldn't exist,' then he adds that his directions to the judges are clear: 'Judge severely but do not be ungenerous. Wines that receive a medal should be medal-worthy. Commended wines must be good, not just faultless'.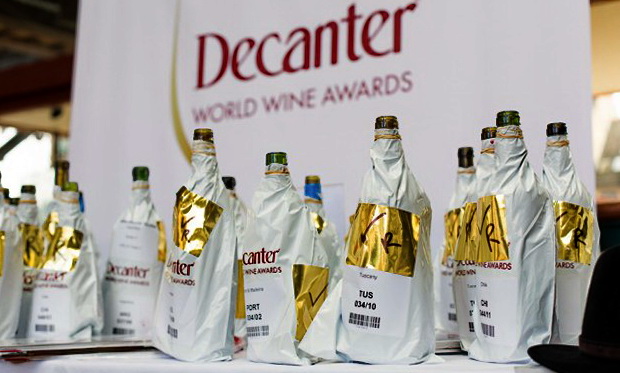 Jefford adds 'I'm always mildly shocked to find how many producers appear to make no use at all of their awards (only 18% bought stickers, for example, after the 2014 competition).' Could it have something to do with the sticker price of 44 pounds per thousand?
Then Andrew offers a couple of fascinating insights: 'France's main wine competitions are owned and run by the French Ministry of Agriculture; few realise that the law there forbids awards to more than 33% of the entries, and there are no commendations.'
How interesting, and how much more realistic is that ratio between winners and also-rans? Then comes a line that made me sit bolt-upright: 'My own chief regret as a panel chair is that so few top producers see fit to enter, almost entirely slicing off the top tier of quality in every appellation. In other words, the best wines are never entered in these comps. Doesn't that make the number of medals handed out even more suspect?
The story down under
We don't have gala shows on the scale of the DWWA or IWC, but we put on many more shows in this tiny country (in wine producing terms) than you'd imagine: it's heading toward 100 a year when you add up national, state and regional shows. It's a gravy train that grows longer all the time, and everybody loves it. Lots of wine writers and volunteers get to rub shoulders with winemakers and judges and enjoy wine dinners that are breathtaking by most standards.
At the Sydney Show alone, some 35 trophies were awarded last year. Yes, 35 trophies at a single wine show. Hotels donate trophies, wine merchants donate trophies, banks donate trophies, airlines … Even a regional show like the Hunter Valley Show hands out 25 trophies! Next time you see a trophy sticker on a bottle of wine, remember this: the Aussie wine show system awards about a 1,000 trophies every year, along with thousands of gold medals.
More reading: 
Kim