Greater brains than mine have been scratched to come up with a reason why Riesling is so hard to sell to people.  There's no question in my mind that Riesling makes Australia's best wines, year in and year out. The quality of so many wines in the $15 to $20 range is breathtaking, and the Aussie style of Riesling we've evolved is distinctive from Tassie to the Great Southern.
Why am I beating this drum again?
Because I went to the Riesling tasting put on by GTW (Gourmet Traveller Wine) at Mojo in Waterloo last night, and there was hardly anybody there. 20 people tops, when these events hosted by Peter Bourne – fourth from the right – usually attract 100.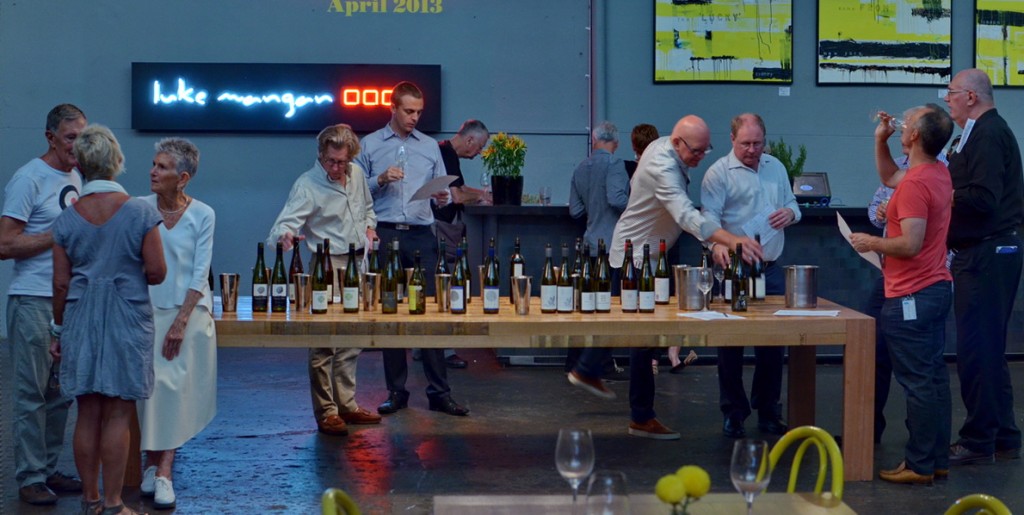 This was a more instructive tasting than usual because the wines were presented in pairs, one bottle of the current release and a second of an older vintage – between 5 and 15 years of age. It was fascinating to compare the two and see how they had matured. The wines from Tassie impressed me with their richness, and those from the Great Southern in Western Australia surprised me with their staying power.
Riesling is Über Cool
The Rieslings we make down under are cool, crisp and refreshing, perfect for our warm weather, great with the cold chicken and ham of our summer picnics or the spicy fare of the diverse Asian restaurants across the country. Riesling makes the perfect lunchtime wine or bistro wine, and a much more refined drink for women than Kiwi Savvy. You can drink young, steely Rieslings with seafood, and older, richer styles with pork dishes as they do in Alsace. They'll even stand up to a bacon sandwich.
Riesling serves up a lot of flavour in an elegant package with 11.5 to 12.5% alcohol, and much less in examples from Germany's Rheingau or Mosel. The variety is always recognisable, from the delicate Rieslings of the high Eden above the Barossa Valley to the richer wines of Clare. Is there a more versatile wine than Riesling? If there is, I don't know it. Is there a wine style that offers better value? If there is, I don't know it.
So why is this cool, stylish, versatile and affordable wine so hard to sell to people?
Jancis Robinson, the grand dame of wine in the English speaking world, gives us some answers: 'I increasingly get the feeling that I will be taking this knowledge to my grave,' she writes, 'unshared with the great mass of wine drinkers. I used to want to convert them all to the virtues of Riesling but more and more I realise that Riesling just has too strong a personality to appeal to enough consumers to gain global traction. The problem with Riesling is that, unlike Chardonnay and Pinot Grigio, it has a very powerful flavour. And there are so many wine drinkers who have been put off it either because they associate it with residual sugar (which people purport to hate even though there can be a lot in mass-market brands of Chardonnay and Pinot Grigio) or because with age some Rieslings take on a sort of petrol or kerosene note. And even when it is young it has a much more powerful flavour than most white wines – which some people are bound to dislike.'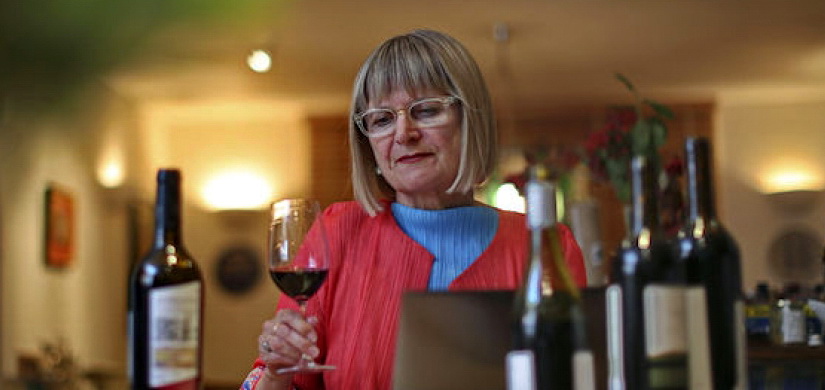 I'm not convinced by her claim that Riesling has too much flavour and too strong a personality. Maybe when it's 10 years old but not when it's young. Remember, more than 9 out of 10 bottles of wine made down under are consumed in the year they're made, and young Riesling down under tends to be shy and withdrawn. Sweetness isn't an issue either for us – when is the last time you had an off-dry Aussie Riesling?
I'm sticking to my guns: the culprit is lousy marketing
In my last post on that subject, I quoted winemaker Kerri Thompson who told Max Allen: 'I'm seeing a whole new wave of young professionals taking a really keen interest in my wines … and mostly it's because they've been introduced to the grape at events like Summer of Riesling or Riesling Downunder that present Riesling in a social, popular way.'
Let me ask you a question: How much publicity did you see leading up to these two events, the biggest Riesling events in the Aussie east coast calendar? A couple of obscure web sites announced the events, that's about it. Did any blogger write about them afterwards? Not that I know of, even though the 2015 Summer of Riesling event received much more publicity than this year's. The whole show is going the wrong way, and it looks like the organisers have given up the unequal struggle.
Stop Preaching to the Converted
The first task is to broaden the market, to open the minds of wine drinkers who're blissfully unaware of Riesling's virtues. These are some suggestions I made in my last piece
Launch a Riesling Revolution campaign in the media
Promote Riesling as a cool, smart wine in the lifestyle magazines
Promote Riesling as a great food wine in the food magazines
Hand out Riesling and chicken wings at street fairs and community events
Riesling and chicken wings? Yes, I wrote a post headed Australia is Blessed with the Unpopularity of Riesling, which argued that wine and food writers have to cop part of the blame for telling punters to drink Riesling with the wrong foods – oysters, seafood, sashimi, stuffed capsicum, eggplant …
Roast chicken and Riesling are made for each other, and how many people eat roast chicken? Loads, and often. Many grab it on the way home, already cooked. We have to make them grab a bottle of Riesling to go with it, and that comes back to marketing.
Sell the Unique Value Proposition
I've never seen Riesling promoted in a way that makes punters think: I really want to try that. We've got to define the UVP here, the Unique Value Proposition of Riesling:
Riesling is cool, crisp, racy, zippy, refreshing, not heavy and not oaked
Riesling is a smart wine for smart people
Riesling's exciting flavour – from limes & minerals to honey & buttered toast when older
Young Riesling makes a great aperitif or anytime drink
Riesling is a great summer picnic wine
Riesling is low in alcohol – 12% on average
Riesling is great value for money
The unique selling points. It's a matter of clear, consistent messaging, and taking the product to consumers in their own environments, in shopping centres and railway stations, at street fairs and markets. The picture below shows Ernie Loosen, Etienne Hugel and Peter Barry promoting Riesling in Macau – read about it HERE. Sadly, Etienne Hugel died of a heart attack not long after this event.