You'll find Part One HERE 
Chasing the Best Value / Price Performers
In our study of The Best Aussie Chardonnays of 2020, we found that the serious contenders started at around $50 and went up beyond $100. We also put these prices in perspective by noting that the top white Burgundies sell for 10 times as much as our most expensive contenders. We concluded that Australia is still the lucky country, at least when it comes to wine.
White wine that is. Our top reds sell for close to $1,000, yet our best Chardonnays top out at $150 with Penfolds' Yattarna if you ignore the $250 Cloudburst which is made in tiny quantities. Other choices with >$100 price tags are Giaconda, Cullen Kevin John, Penfolds Bin A, By Farr GC Cote Vineyard, Leeuwin Estate Art Series, Mount Mary, Xanadu Reserve and Yering Station.
Super Premiums
The question we want to find an answer to is this: how much better is a $120 Chardonnay than a $30 or $40 Chardonnay? One answer to that question is that $120 Chardonnays can be mediocre, unexciting and lacking essential qualities. How would you feel if you'd paid over a hundred dollars for a special Chardonnay, and were as underwhelmed as  these reviewers?
The Xanadu Reserve didn't excite Campbell Mattinson at The Wine Front. 'It didn't scream $110,' he wrote … 'It tastes of grapefruit and nectarine for the most part, though white peach and cedarwood are certainly part of its show. It has good flow, balance, length and overall zip, and while it's well powered it doesn't have killer intensity, nor the suggestion of it. I'd put it in the class of "upper very good", if that makes sense, with the assumption that age will be kind. 93+ points.'
The Yering Station Reserve Chardonnay 2017 made about the same impact on Gary Walsh at TWF: 'One of the more expensive Yarra Valley Chardonnay wines,' Gary starts. 'Fine and lean in style, with green apple, almond, a little smoke and bacon. Tight, lemon and apple flavour, almond cream, bracing acidity, and a long cool finish. It doesn't have a great deal of stuffing, in terms of flavour or weight, but should improve with bottle age. 93+ points.'
Value
As we've demonstrated many times, price is not the best guide to quality. Today we're trying to find a different threshold: how much do you need to spend before you're in the realm of serious Chardonnays that offer seductive stone fruits integrated with fine oak, lees storage complexity, a creamy texture and the promise to improve with a few years of storage?
We figured we should be able to find a handful of great chardies in the $20 – $30 range, and we were right. In fact a couple of the best are around $20: the Hoddles Creek Yarra Valley twins from 2018 and 2019. I reckon Franco d'Anna is making the best chardies he has in years, and he's kept the prices user-friendly. A couple of gems further up the price scale round out the selection.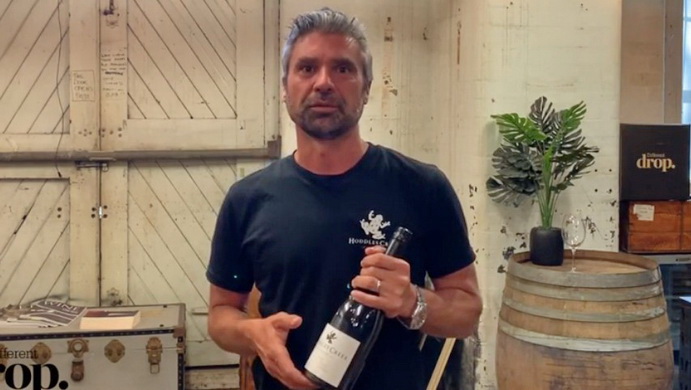 Styles
As I recalled in part 1 of our Search for the Perfect Chardonnay, down under we went from the ripe, peachy, buttery and oaky chardies of the nineties to the lean, austere skin-and-bones style of the naughties. At the same time, white Burgundy went through the 'Premox' crisis, which turned $500 bottles into dull brown wines that resembled badly made sherry.
Premature oxidation – also known as 'the pox' – became a hotly debated topic, since the cause was a mystery at first. Eventually, it was put down to barrel fermenting, lees stirring and racking (moving wine from one barrel to another). When the wine's exposure to oxygen is carefully controlled, the wine tends to show more tertiary flavours that add complexity. When the exposure is excessive, oxygenation can occur.
Burgundy makers quickly reduced exposure to oxygenation in their winemaking with inert gas and more sulfur. Predictably this led to 'reductive' characters, sulphide notes that make us think of struck matches. Once these were seen as faults in wine, but now they became trendy signs of a funky new style.
This style also tended to avoid the malolactic fermentation that converts malic acid to lactic acid, a process that softens wines and gives them a creamy texture. Jancis Robinson provides more detail on the new style of Chardonnay in 'Struck-match wines – reductio ad absurdum?'
The Winners
Hoddles Creek Estate Chardonnay 2018 – $20 at My Cellars. The 2018 is still out there. It came across as fine and elegant when I tasted it last year, and a bit light on. It has put on some weight since then, showing more white peaches and nuts, more texture, more depth and complexity. The style is still elegant and restrained, but should open up some more over the next 12 months. Classy beyond its modest price tag. 94+ points.
De Iuliis Hunter Valley Chardonnay 2018 – $18 at Cloudwine. A well-made Chardonnay from a top Hunter year, showing a lot of restraint right now. You'd swear this were a cool climate chardy, so elegant is the execution here, so subtle the flavours of peach and melon. There's just a kiss of oak and a long fine finish. Good tension and great potential, but why not let the fruit ripen just a little more (alc. 12.8%)? 94++points.
Hoddles Creek Estate Chardonnay 2019 – $21 at Different Drop or Cloudwine. The 2019 is a beauty of more immediate appeal, bigger and more forward than the 2018, it pretty much leaps out of the glass with creamy white peach and almond notes. The flavour is ripe, round and generous and the subtle oak pretty seamless, but there's enough length as well and a clean finish. It will improve in the short term, but it's great drinking already. A joyous wine. 95 points.
Isabel Estate, Chardonnay, Marlborough, 2018 – $28.50 at Dan M's. The moment I got my nose near the glass, I knew it was my kind of chardy: peaches and nectarines backed by toasted oak with overtones of apricot kernels, notes of oatmeal and yeast, all quite seamless. Medium-bodied (13.5) but full-flavoured. The oak/fruit balance is close to perfect (and will be with another year or 2 in the bottle), and there's good depth and length with the creamy texture a bonus. 96 points.

Port Phillip Estate Chardonnay 2018 – $30 at Kemenys. We opened a bottle of the 2016 not long ago, and it's beginning to show its charms. Like good Burgundies, these wines from the Mornington Peninsula take time. They tend to be oaky in their youth, but this fades over a couple of years and gives way to a classic white peaches and cashews style, all with great finesse. Finesse and real class here. 95+ points.
Mountadam High Eden Chardonnay 2016 – $28 at 1st Choice. I'm a fan of Mountadam chardies as you know. This is their top label, made from the oldest plantings on the estate, fermented in and matured in French oak for around 18 months. It delivers gorgeous stone fruits and nectarines, adds creamy cashews and fine-polished oak. It's rich and round and bigger than most of the wines on this list (14%), and it's ready to drink. 95 points.
Dappled Appellation Chardonnay 2019 – $29 at The Vinepress or $30 at Different Drop. Nobody had heard of winemaker Shaun Crinion until he came out on top of James Halliday's Best New Winery category in the 2018 Companion. He produces about 1000 cases a year, all hand-made, and the eviews have been glowing. Read about the road Shaun travelled to get to this point.
'It might be the best $30 you can spend in wine right now,' Campbell Mattinson's review of the 2018 starts. 'Beautifully packaged, beautifully styled, beautifully flavoured. Complex, smoky, ripe, flinty, pure and long. It has much going on, but the recommendation is simple. Matchsticks flung in the direction of grapefruit and peaches. A gentle, gentle milky-creaminess. Just so good. 95 points.'
The 2019 shows the same purity, shape and length but is perhaps less complex, with few matchsticks but more peaches and melons than grapefruit. Blanched almonds add a gentle touch. The wine is seamless, and just glides across your tongue like cool, crystal clear water from a rainforest brook. And it lingers long after it's gone down the hatch, as only the best wines do. Tremendous purity and precision. 96 points.
Oakridge Willowlake Chardonnay 2018 – $30 at Wine Sellers Direct. There's a nervous and edgy energy here, suggesting the wine needs more time to settle down, but there's no denying its vitality and aging potential. White peaches and hints of grapefruit, the oak stays in the background, and mineral notes make the long finish more interesting. 95+ points.
Dexter Mornington Peninsula Chardonnay 2018 – $36 at Summer Hill Wine. Another smooth talker, made by Tod Dexter who has made wine for Stoniers and Yabby Lake. Polished, seamless, round and restrained. White peaches and nectarines, nectarines and cashews from the oak. Some of the fruit went through the malo, but the wine is slippery rather than creamy. Finesse, balance, and great line and length. We're making some stylish cool climate chardies, aren't we? I do wish for a bit more flesh and complexity though. 95 points. 
Oakridge Barkala Chardonnay 2018. This wine is pretty much gone unless you want to pay a premium for it. The Henk and the Willowlake Chardonnays are still out there, and they're very similar. White peaches, pears and grapefruit, supported by oatmeal from the gentle oak. There's vitality and complexity, finely-judged balance, finesse and great line and length. David Bicknell has his cool climate Chardonnay formula worked out: an underlying tension adds life to the wine, but nothing's overdone. Will improve for a year or two. 95+ points.
Derwent Estate Chardonnay 2017 – $35 at Kemenys. Still chasing that illusive dream: great chardies that don't cost and arm and a leg. This one gets 96 points from Huon Hooke and a rave review (at the link). Won the trophy for Best Chardonnay in Hobart 2 years running. 13.5% and all of the wine went through malolactic fermentation.
Impressive fine polish here, and seamless integration of stone fruit, citrus and oak. Real finesse and fine bones, not a hair out of place but left me wishing for a touch more complexity. 95 points. 
Eldorado Road Chardonnay 2018 – $33 at Kemenys. Another rave review from Huon Hooke, and another 96 points – 'Almost anything you want in a Chardonnay is there.' Not sure why  I've not had many chardies from Beechworth. It's only 50 kms south-east of Glerowan, but the hills make it much cooler. The winery takes its name from the road to a town called Eldorado.
The fruit for this wine comes from a vineyard that is 550m high. Lots of energy and flavour here, if not complexity, balanced by great purity and precise varietal expression. Stone fruit and cashews plus hints of toasty oak, all the elements work happily together, and the wine is well balanced with a long, fine finish. Another year or 2 will fill it out some more. 95+ points. 

Shaw + Smith M3 Chardonnay 2018 – $43 at Vintage Cellars (today). Yes we've gone over $40 here, but this wine gets rave reviews and I haven't checked this line for years. It used to be too lean and skinny for my taste, and it's still far from rich and ripe. That said, it delivers plenty of goodies:
Some struck match notes on the nose, but not enough to strangle the aromas of stone fruit and grapefruit. Peaches, nectarines and grapefruit do the singing, supported by oatmeal and almonds from the oak. Everything is in perfect balance here, the wine is seamless and the fine finish goes on and on. I like a little more body in my chardies, but that's a minor quibble. Will improve for a couple of years at least. 96 points. Won the trophy for best young white at the 2019 Melbourne Show.
Tyrrells Belford Hunter Chardonnay 2015 – $34 at Kemenys. A delicate, fine-boned Chardonnay that whispers 'cool climate' with every sip. A fine example of Chablis, or Tasmanian chardy from a cool year. You'd never pick this as coming from the Hunter, let alone Belford which is known for producing generous whites. Why are Hunter winemakers trying to outdo the cool climate winemakers from down south?
What happened to the idea of wine expressing its origins? That aside, it's a well-crafted wine in the manner of Dresden china. Since it's already 5 years old, I can't see it changing much over the next five. 95 points.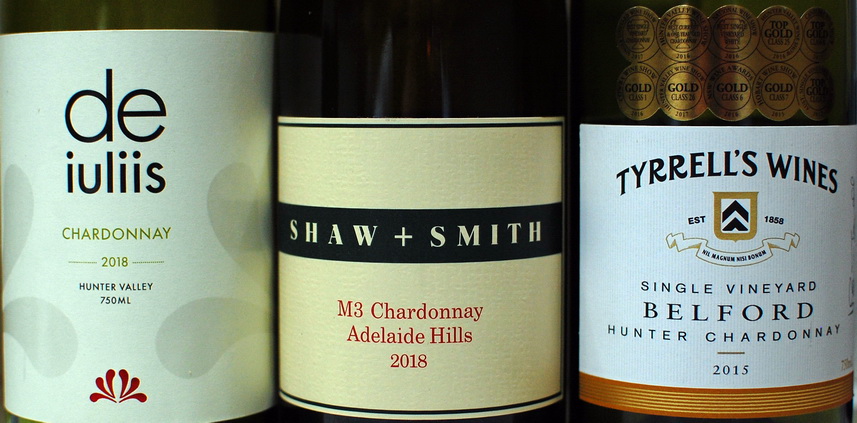 The Disappointments
Toolangi Estate Pauls Lane Chardonnay 2018 – $37 at Kemenys. This is a wine I worked hard to track down, because it gets 2 super reviews from Campbell Mattinson. This is from The Halliday Wine Companion 2020: 'Crushed and pressed with full solids straight to oak (20% new), both primary and malolactic fermentations going through wild. It's a wondrous wine. Flinty, direct, pure and authoritative. It tastes of oatmeal, white peach, toffee apple and cedarwood, though everything is cut and freshened by citrus and those struck match notes are stitched into every cranny. The finish, wow, it doesn't, or not in a hurry. One swallow brings a summer of flavour.' 98 points.
Given the 'modest' price, I thought this might've been our giant killer, but I was wrong. Those struck match notes are indeed stitched into every cranny of this chardy, so much so that they kill all the other goodies CM talks about stone dead. Even after 3 days, the reductive lead blanket refused to lift and give us a taste of the goodies underneath. Did I get a bad bottle? Who knows? On this evidence, the wine has a major flaw. Not Rated.
Domaine Naturaliste Artus Margaret River Chardonnay 2018 – $38 at MyCellars where the freight is free for subscribers on any quantity (promo code BWU20). The fruit comes from the cooler southern end of Margaret River, the wine fermented with wild yeasts and matured in 40% new French oak barriques. Most Chardonnay over here is made from the Gingin (Mendoza) clone, which needs to be picked fully ripe to avoid hen & chicken bunches – plump ripe and small unripe grapes on the same bunch.
The wine was given the royal treatment from wild yeasts to the malo, and spent a year on lees in toasty French oak barrels. That made the wine's delicacy a surprise, as I expected more flavour and more complexity. The subtle stone fruit sits alongside some grapefruit, backed by mild nutty oak. Bruce Duke clearly wants more finesse in his chardies than I do. It's just a bit underdone for my taste. 94 points. Not Convinced at the price.
Penfolds Bin 311 Chardonnay 2015 – $37 at Kemenys. I expected the secrets Penfolds winemakers had learned from making Yattarna to have trickled down to the lower ranks, and so it was, at least with the oak treatment: Slabs of it overwhelming fairly delicate cold climate fruit from Tumbarumba and similar places. Shame. Will the fruit ever absorb the oak? If it hasn't done so in the last 5 years, I doubt that it will in the next 5. 92 points.
Brian Croser Chardonnay 2018 – $28 at DM's. The back label tells us that Brian has always made wines from grapes he grew. I thought he bought in fruit from Cowra and Coonawarra for his early Petaluma wines, but I could be wrong.
The fruit for this wine comes from Geoff Weaver's vineyard at Lenswood in the Adelaide Hills. It's a lighter style that pales a bit in this company. Gentle notes of stone fruit and citrus, a whiff of oak, there's a little more life on the palate but not for long; it's well-made and well-balanced in a gentle sort of way. 93 points. Not Convinced.
Luke Lambert Crudo Chardonnay 2019 – 26 at Different Drop. This chardie gets an excellent review from the Winefront, which was the reason I bought it. 'It's a wine of unique personality and rare sophistication at its price point, and otherwise,' Gary Walsh sums up. It sure serves up an intriguing blend of fruit, herbs and spices, adds a pinch of salt and a note of struck match funk. Oak takes a backseat, and I think it would've been better sitting close to the driver. The wine lacks an essential dimension as a result. 92 points.
Meltwater Marlborough Chardonnay 2018 – $26 at My Wineguy. This is the new 'entry level' range from Corofin in Marlborough. The attraction for me was that all the wine went through the malo, so I expected a rich, peachy, buttery chardy. What I got was a curious wine that shows great finesse on opening, followed by a kind of flat spot of flavour on the mid palate. Sea spray and minerals add interest but the wine comes across a little disjointed, the fruit not as vibrant as it should be, and the texture not as creamy as you'd wish. Might've been better with some time in new oak. 91 points.
Leeuwin Estate Prelude Chardonnay 2019 – $30 at Dan M's. Looking for positives, we can talk about finesse and elegance, and crisp lines like new trousers; the downside is lack of flavour, depth, impact, interest and proper Chardonnay notes. It's not a Chablis style either, it's just underdone, almost feeble for $30. 90 points for being crisp and clean. Not a bit convinced. Gets 96 from you know who.
Scarborough Yellow Label Chardonnay 2016 – $24 at Vintage Cellars. The website says 2016 but I suspect you'll find the 2017 on the shelves. This may be a good thing because the 2016 is a major disappointment, a fairly feeble rendition of The Scarborough Wine Co. had reputation for making chardy in the old-fashioned ripe peaches and buttered toast style. No butter or toast to be found here, and more pineapple than peaches. The whole thing is low-voltage and low impact. 88 points.
Howard Park Flint Rock Chardonnay 2018 – $20 at Nicks. This wine impressed me at a trade tasting, and reminded me (when I bought a sample) that trade tastings are not the best environments for assessing wine. The fruit is too sweet, and the wine kind of peters out after the initial burst. The oak tags along with the rest but doesn't pull its weight … the wine is not seamless and not well-balanced. 89 points.
The Bottom Line
Our Highperfromers were the Dappled Appellation 2019, the Isabel 2018, the Hoddles Creek 2018 & 2019 (different as they are), the Oakridge Willowlake 2018, the El Dorado Road 2018 and the Shaw & Smith 2018 if you can stretch to a little over $40.