A Decade of Black Label Cabernet Bargains
Sue Hodder and her team make a vast amount of wine form the 500 hectare Coonawarra vineyard. The paradox is the consistent high quality of the Black Label Cabernet Sauvignon, a famous line established over 60 years ago. The huge volume of this wine has kept the prices low, and made it easy for Wynns to keep back vintages for museum releases.
Over the last decade, Sue Hodder has introduced a number of fine single vineyard wines that sell at higher prices, and a black label Shiraz to keep the Cabernet company. The black label Cabernet has become an institution: it is one of the most recognizable labels, and one of the most cellared Aussie reds. The quality of these wines is astonishing, given the volumes involved, and it has improved in the last dozen years, despite starting from a pretty high baseline.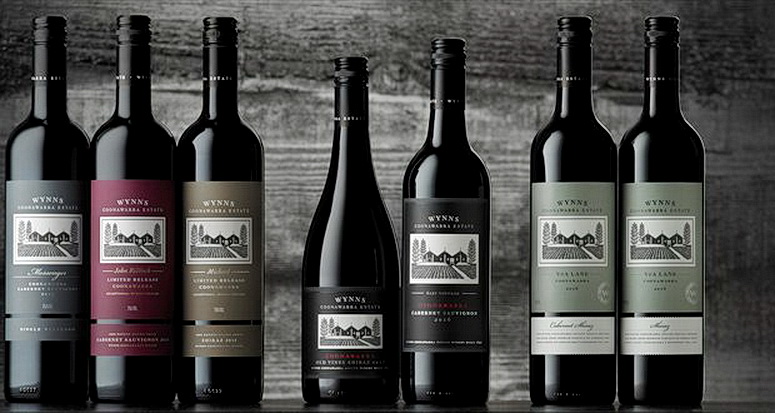 Yet Wynns has always been the poor cousin to Penfolds in the Treasury Wine Estates family. It's as if they only had enough people and money to market one brand. And a few years ago, they added insult to injury when they moved the winemaking from Coonawarra to Karadoc in the Riverland, and to the Barossa for the more prestigious labels. Will the wines be the same? Who knows?
Right now Wynns is a wine lover's heaven, with reds that other companies – including Penfolds – would easily charge twice as much for. Our list of black label Cabernets covers 10 vintages going back to 2006 – what other label offers that kind of luxury without chasing around the wine auctions? Even these older wines go for low prices, in some cases barely higher than the current vintage.
Over the last 20 years, Sue Hodder and Allen Jenkins have overseen a program of revitalizing and replacing the old vines damaged by excessive machine pruning. Sue and Sarah Pidgeon have developed a consistent style: precise Cabernet expression, elegance with depth of flavour, medium-bodied (13.5 – 14%) with great line and length and fine tannins on the finish.

The best of the list below are the 2015, 2012 and 2006, with the 2012 museum release priced just a couple of dollars above the current release (2017). Unbelievable Value.  Going back beyond 2006, the wines tend to get bigger. Sue says she was expected to make bigger reds than she wanted to when she started, and Allen says the nineties were a dream decade with warm, dry vintages. The best wines are 1990, 1991, 1996, 1998, 2001, 2002 and 2004.
Sue Hodder has won many battles over her 25 years, from returning the style to elegance and lifted fruit, to buying French oak barrels to enhance the style. And to getting the best winemaking equipment available including an optical grape sorter. The real winners are we lucky punters, of course.
Wynns Black Label Cabernet Sauvignon 2016 – $30 at Nicks. A top Cabernet from a warm, dry vintage. Rich, almost opulent, ripe dark cherries, oak in the back seat, great line and length, fine tannins on the finish. True to style. Already good drinking, but will last many years. 95 points.
Wynns Black Label Cabernet Sauvignon 2015 – $38 at Vintage Cellars . Huon Hooke rates this vintage as one of the best, along with the 2012, and scores it 98 points. It's a touch bigger than the average at 13.8%, rich and ripe with great depth and length yet elegance and finesse too. My score is 96+ points.
Wynns Black label Cabernet Sauvignon 2014 – $36 at Vintage Cellars. I can't find my notes on this one, but Huon Hooke likes it: 'Very deep, youthful purple colour, with a hi-fi blackcurrant, mulberry nose with a trace of blueberry. It's all about the fruit. The wine is intense and powerful but also supremely elegant, the tannins super-fine. All elements of the wine are in superb harmony. It just needs time. 95+ points.
Wynns Black Label Coonawarra Cabernet 2013 – $40 at Vintage Cellars. This vintage didn't grab me when first released. 5 years later it's a different story: it's full-flavoured, rich and quite dense but not heavy. The classic cassis fruit is backed up with pencil shavings oak, good line and length, and fine tannins on the finish. Has years in front of it. 95+ points.
Wynns Black Label Cabernet Sauvignon 2012 – $33 at Winestar. It's a great release from a great year, with gorgeous dark fruit and seamless oak treatment. It's medium-bodied but tastes richer than usual, with great depth of flavour and perfect balance. Great drinking now and for the next decade. There are 6 reviews at the link. 97 points from me, Huon Hooke gives it 98 points.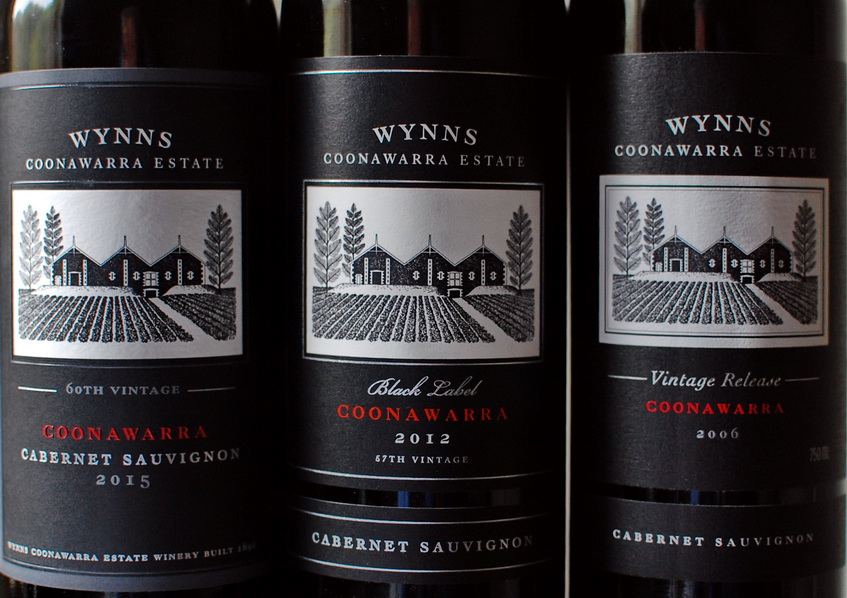 I never noticed the subtle changes to the classic label over the years until I took this shot
Wynns Black Label Cabernet Sauvignon 2010 – $35 at 1st Choice. The 2010 didn't grab me in its youth, despite the outstanding vintage, but it's really opened up and shows great depth of dark cherry fruit backed by subtle French oak, it's rich and complex but elegant as usual. Good drinking now but years to go. 96 points.
Wynns Black Label Cabernet Sauvignon 2009 – $47 at Dan M's. I bought cases of this wine when it was on discount for $19 some years ago. Those days are gone, and $47 is a fair price for this wine if not a bargain price. This vintage was a Peter Pan, still young and fresh at 8 years, but has mellowed and put on weight of late. Yes, hard to believe. Ready to enjoy over the next 5 years. 95 points.
Wynns Black Label Coonawarra Cabernet Sauvignon 2008 – $50 at Jim's Cellars. Rich, ripe fruit dripping with cassis. An opulent red that reflects the warm vintage, and draws a fine line between richness and restraint. 95 points. Great drinking now but will last a few more years. There's a question mark over the quality of Jim's storarge – they run 2 suburban bottle shops.
Wynns Black Label Coonawarra Cabernet Sauvignon 2006 –$45 at Garnet Cellar. Similar style to the 2008, opulent with great depth of ripe cassis, a seductive red that seems ready to enjoy but there's that Peter Pan touch again: I said pretty much the same thing 7 years ago. 96 points. Garnet Cellar specializes in older vintages and has temperature controlled storage.
Wynns Black Label Coonawarra Shiraz Museum 2010 – $40 at Vintage Cellars. I've included this Shiraz because Sue Hodder is very proud of it. The fruit comes off 50+ year-old vines, and this is the first vintage in a fairly new line. I prefer the Cabernets but that's just me.
Some light Reading:
Tasting notes from Chris Shanahan
Insightful interview with Sue Hodder
Why Wynns Coonawarra Estate is one of Australia's best-value wineries, indepth piece by Huon Hooke
Wynns Coonawarra – short story – long shot, indepth piece by yours truly