Mid 2023 Update
When I wrote this post a few years ago, we could still find most of the recent vintages with a bit of hunting around. Now it's hard to find any vintage before 2015, but the black label Cabernet has been in top form since. Closing the historic Coonawarra winery and relocating the team to the Barossa seems to have had little impact on the quality so far. TWE has also pushed the release date forward, which now sees the black label released at 2 years of age.
We have Sue Hodder and her team to thank for the consistent quality of the wines; it's one of the longest partnerships in Australian wine. Viticulturist Alan Jenkins has worked with Sue for about 3 decades, and winemaker Sarah Pidgeon joined them 23 years ago. Sue says the Black label Cabernet is still the most important wine they make in Coonawarra, even though her team has created a bunch of much more expensive labels.
That's not propaganda. Huon Hooke posts lists on his website that show his scores of wines from specific varieties, areas and vintage years. His list of Top 2010 Cabernet Sauvignons from Coonawarra has the 2010 black label in second place out of 50, on 97 points, just behind Wynn's Messenger, and in front of Alex 88, Leconfield, John Riddoch, Penfolds Bin 169 and Yalumba's Menzies. The John Riddoch is over $100, and the Penfolds over $300. The 2012 black label did even better, scoring 98 points and grabbing the No 1 spot from 56 competitors. 
Miracles Take a Little Longer
The obvious question is: How can a wine made in huge quantities be this good? How can a wine this good cost so little? How can the quality improve without the price going up? How did this winery produce such a consistent style while demands from its owners kept changing? And how come we can buy the last 7 vintages of the Black Label Cabernet for just a few dollars more than the current release? Or less in some cases.
David Wynn established this famous line over 60 years ago, and sold Wynns in the early seventies to focus on the Mountadam Venture with his son Adam. Over the last 50 years, Wynns has had many owners with different agendas. In the new millennium, the company ended up in the vast portfolio of Southcorp / Fosters / Treasury Wine Estates. These days Wynns makes a lot of different wines from its 500 hectares of vineyards in Coonawarra, from the basic white label range to icons like John Riddoch Cabernet and Michael Shiraz (introduced in 1982 and 1990).
From 2010, Sue Hodder introduced a black label Shiraz to keep the Cabernet company, along with a number of single vineyard wines that sell at higher prices, but the black label Cabernet remains the backbone of the enterprise. The wine with one of the most recognizable labels in the business became an institution long ago. These days it is made from the top 20% of Cabernet off Wynns' terra rossa vineyards. Still, the volume is large and has kept the prices low, and made it easy for Wynns to keep back vintages for regular museum releases.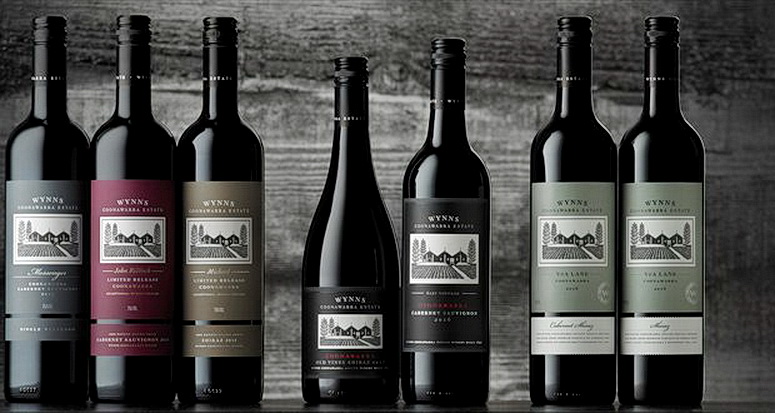 Lost in the Wilderness
After such a dream run, why has Wynns always been the poor cousin to Penfolds in the TWE family? It's as if they only had enough people and money to market one brand. The black label is about the most well-known label out there! Then a few years ago, TWE added insult to injury when they moved the winemaking from Coonawarra to Karadoc in the Riverland, and to the Barossa for the 'Masstige' labels. Masstige is marketing bullshit for mass-produced, relatively inexpensive goods that are promoted as luxurious or prestigious.
I believe the last decade was the best we'll ever see at Wynns. Sue Hodder and her team have made a string of great Cabernets, culminating with the great 2019. Huon Hooke gives it a huge wrap and 97 points. Even the super-critical 3 amigos at the Winefront are fans of the Black Label Cabernets, even if their scores rarely match their rave reviews. Chris Shanahan is another fan, who says you can buy the black label for its RRP of $45, if you try really hard.
Right now Wynns is a wine lover's heaven, with reds that other companies would charge twice as much for without batting an eyelid. The sheer volume produced has kept the prices low, and made it easy for Wynns to keep back good quantities for museum releases.
Bold Vision and Hard Yakka

Over the last 20 years, Sue Hodder and Allen Jenkins have overseen a program of revitalizing and replacing the old vines damaged by excessive machine pruning. Sue and Sarah Pidgeon have developed a consistent style: precise Cabernet expression, bright fruit, seamless oak integration, elegance with depth of flavour, medium-bodied (13.5 – 14%) with great line and length and fine tannins on the finish.
It must be said that Sue Hodder has won many battles over her 25 years. She says she was expected to make bigger reds than she wanted to when she started with Wynns, but she returned the style to elegance and lifted fruit, to maturing the wine in French oak barrels to enhance the style; 20% of the wine is aged in new barrels. She also made sure her team got the best winemaking equipment available, including an optical grape sorter. The real winners are we lucky punters, of course.
The Wines
Wynns Black Label Cabernet Sauvignon 2019 – $32 at MyCellars. A close to perfect vintage that delivered a close to perfect black label. It's choc-full of seductive dark berries, cassis and cherries, subtle smoky oak and hints of dark chocolate. Seamless integration, great line and length with a fine tannin finish. I love the shape of these wines, the depth of flavour in a medium weight, elegant package. 97 points. Will last for years but will be hard to keep your hands off.
Wynns Black Label Coonawarra Cabernet Sauvignon 2018 – $33 at Winestar. Haven't tried this yet, but 2018 wads a good year down south, and the wine gets good reviews (check the link). 97 points from Huon Hooke, 96 from Jenny Port, 95 from J Oliver and 93 from the Winefront.
Wynns Black Label Coonawarra Cabernet Sauvignon 2017 – $34 at Wine,com.au. 2017 was a wet year, and no single vineyard wines were made; there will be no John Riddoch either. Huon Hooke's review says: 'Very deep, bold red/purple colour, youthful and fresh, as is the bouquet. There are intense, fresh, vibrant ripe blackberry and blackcurrant cabernet aromas galore and oak takes a back-seat. A very smart, elegant, intense and tidily-constructed cabernet. It shouts "Coonawarra". 94 points.'  
Wynns Black Label Coonawarra Cabernet Sauvignon 2016 – $30 at 1st Choice. A top Cabernet from a warm, dry vintage. Rich, almost opulent, ripe dark cherries, oak in the back seat, great line and length, fine tannins on the finish. True to style. Already good drinking, but will last many years. 96 points. Andrew Caillard gives it 98 points and calls it 'a brilliant black label with all the hallmarks of a great vintage, reflecting the Coonawarra terroir at its best.
Wynns Black Label Coonawarra Cabernet Sauvignon 2015 – $32 – $38 at Jimurphy. Huon Hooke rates this vintage as one of the best, along with the 2012, and scores it 98 points. It's a touch bigger than the average at 13.8%, rich and ripe with great depth and length yet elegance and finesse too. A wonderful Cabernet at a giveaway price that will improve for years. My score is 96+ points.
Wynns Black label Coonawarra Cabernet Sauvignon 2014. I can't find my notes on this one, but Huon Hooke likes it: 'Very deep, youthful purple colour, with a hi-fi blackcurrant, mulberry nose with a trace of blueberry. It's all about the fruit. The wine is intense and powerful but also supremely elegant, the tannins super-fine. All elements of the wine are in superb harmony. It just needs time. 95+ points.
Wynns Black Label Coonawarra Cabernet 2013. This vintage didn't grab me when first released. 5 years later it's a different story: it's full-flavoured, rich and concentrated but not heavy. The classic cassis fruit is backed up with subtle pencil shavings oak, good line and length, and fine tannins on the finish. Classic Black Label with years in front of it. 96 points.
Wynns Black Label Coonawarra Cabernet Sauvignon 2012. It's a great release from a great year, with gorgeous dark fruit and seamless oak treatment. It's medium-bodied but tastes richer than usual, with great depth of flavour and perfect balance. Great drinking now and for the next decade. There are 6 reviews at the link. Huon Hooke gives it 98 points, 97 points from me.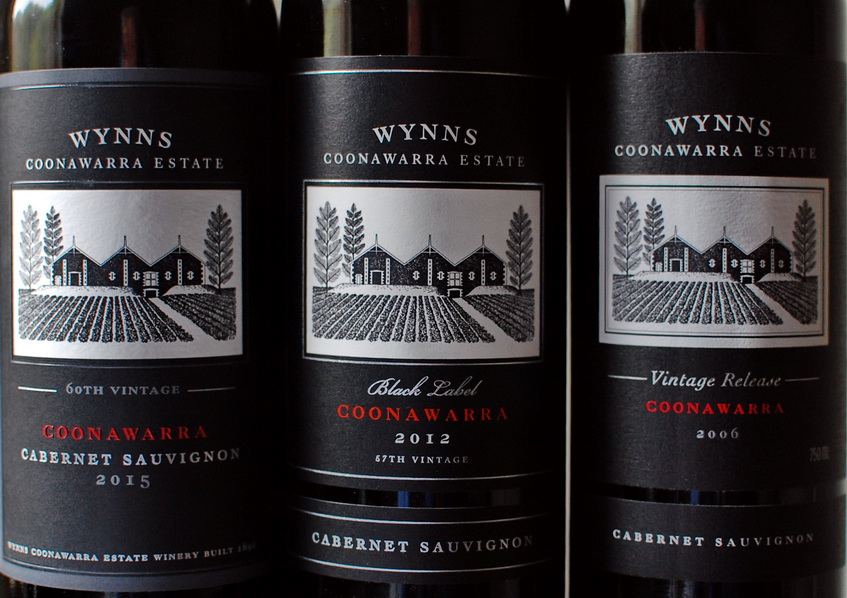 I never noticed the subtle changes to the classic label over the years until I took this shot
Wynns Black Label Coonawarra Cabernet Sauvignon 2010 – The 2010 didn't grab me in its youth, despite the outstanding vintage, but it's really opened up and now shows great depth of ripe dark cherry fruit backed by subtle French oak; the fruit is richer and more succulent than usual, and the tannins on the finish softer. Seductive drinking now and the next few years, but not a long term proposition. 95 points.
If you're not familiar with these wines, I suggest you grab a 6-pack of the black label Cabernets from 2013 to 2018, offered for $192 by Wynns – that's $32 a bottle.
Some light Reading:
Tasting notes from Chris Shanahan
Insightful Interview with Sue Hodder
Why Wynns Coonawarra Estate is one of Australia's best-value wineries, indepth piece by Huon Hooke
Wynns Coonawarra – short story – long shot, indepth piece by yours truly