The Clare Valley
It lies an hour's gentle drive to the north of the Barossa Valley, a dark green oasis in the middle of endless golden wheat and canola fields. Great wines have been made here for many years, yet no one really knows what makes wines from the Clare Valley so attractive. The climate is similar to Rutherglen, and hotter than Nuriootpa, so the aromatic, delicate Rieslings of this area tend to come as a surprise. The reds are bigger and bolder, with wonderful fruit expression.
There are 5 sub regions of Clare: Clare, Watervale, Sevenhill, Auburn and Polish Hill River. Most of the vineyards lie between 400 and 500 meters above sea level, which helps to temper the inland heat  and ensures cool night. Most of the vineyards are not irrigated or have minimal irrigation.
Soils vary from classic terra rossa over limestone to grey loams over sandstone, to broken slate and quartz. Mintaro and Burra to the east of Clare once had copper mines; one slate min is still opoerating. The Clare Valley is one of the prettiest wine areas in Australia. Here's a map that shows all the wineries.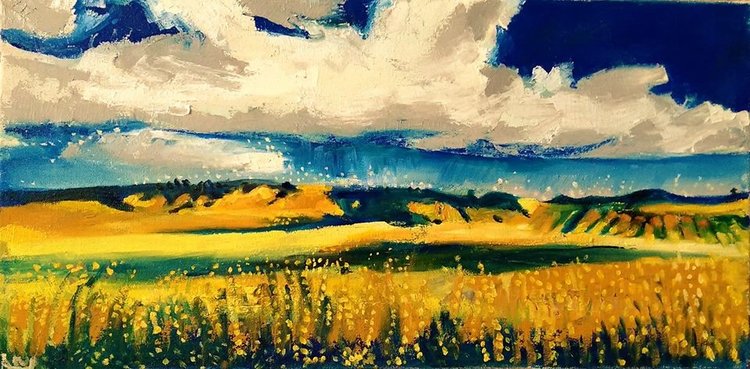 'Storm over Clare' by Rebecca Reid
Polish Hill River
This is the newest sub-region of the Clare Valley, one that rose to prominence when Max Schubert planted 120 ha of vineyards there to Cabernets Sauvignon and Franc, Merlot and Malbec. Polish Hill River is a little cooler than the rest of the Clare, and Max was looking for an area of South Australia where he could make elegant Bordeaux blends. The Clare Estate label was produced from the mid 1980s to the mid-1990s; after Max's death in 1994, Penfolds lost interest in the venture.
The confusing name makes more sense with a little historic context: The original settlement was called Hill River (after John Hill), and a second settlement to the south was established by Polish Catholics who called it Polish Hill River. The established wineries here include Pikes, Pauletts and Wilson; Jeffrey Grosset and O'Leary Walker also grow grapes here. The old Penfolds Vineyards were acquired in 2010 by Jaeschkes Hill River Clare Estate, a winery I'm not familiar with.
The Wilson Vineyard
The Wilson Vineyard deserves to be better known. I've come across the Rieslings here and there, but recently had a chance to taste most of the current range.
Dr John Wilson was one of first to plant vines on his 10-acre plot in the Polish Hill River sub-region in 1973. He was also an early champion for screwcaps. His son Daniel took over in 2009, after cutting his teeth working for bigger wineries in the Barossa.
The boutique Wilson winery produces between 3000 and 5000 cases a year from its 12 hectares of vineyards. The focus is on Riesling these days, but Daniel also makes small quantities of reds from Shiraz, Cabernet Sauvignon, Merlot, Primitivo and Tempranillo,.
Daniel is quite clear about the best way to make his wines
'These are the techniques we use at our winery,' Daniel tells me. 'We practice low tech, small batch winemaking – we do almost everything by hand.' Daniel is clearly proud of his commitment to hand-made wines.
When I ask him about yields, he chuckles and says: 'We get between 1 and 3 tons per acre. The soil is pretty poor, mostly grey loam over clay and sandstone, with broken slate and quartz in some sections. It's not exactly fertile but good for Riesling. We're at 450 meters here, and it can get pretty windy. We also get the highest rainfall in the area, which makes up for some of that.'
The Watervale Riesling Daniel makes comes from a grower's vineyard about 10 km away. The fruit is typically riper and the wine more forward than the Polish Hill River Rieslings.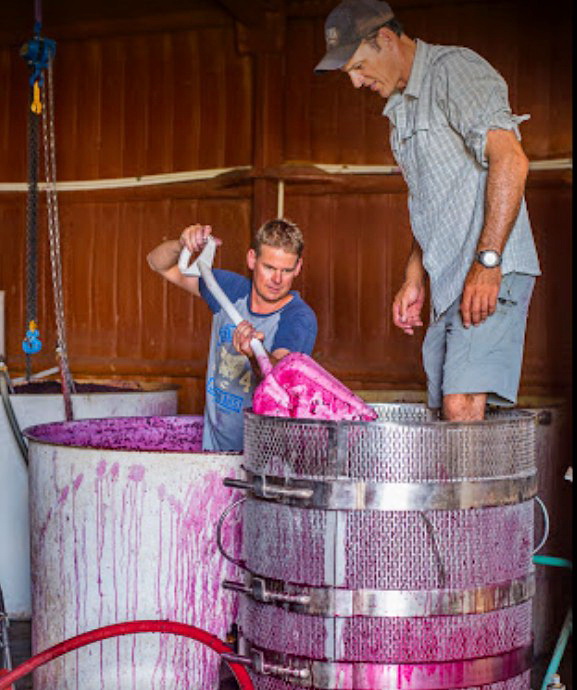 Daniel shoveling the must – copyright John Krüger
When I ask about problems, Daniel talks about dead arm disease. It's caused by wood rot in the trunk and shoots or 'arms' of a vine. As the disease progresses, the affected part of the vine sheds its foliage, leaving behind nothing but bare, rotten wood – a dead arm. The trunk of the vine must be removed from the ground up, and the vine 'reworked' as Daniel calls it. Sounds like hard work.
When we talk about the special aspects of his vineyard, Daniel says the rows of vines slope toward the south, which reduces the sunlight hours. When I ask about the almost creamy mouth feel of the 2018 DJW Riesling, he suggests that might be the result of phenolic compounds that are a byproduct of chilled whole bunch pressing.
I've always felt that Clare Valley reds were underestimated, and the Wilson Vineyard reds lend strong support to my contention. They're hand-made in very small quantities. Reviews below.
Label Acquisition
I was puzzled by the 2018 label that showed a strange lady in an Andy Warhol-style setting.  Then I discovered that since 2012, Daniel has worked with the Helpmann Academy to acquire an artwork by a South Australian emerging artist for the label of his Polish Hill River Riesling. Every year, the selected artist receives full credit on the wine label, and their work is displayed at the cellar door. The artist receives $1,100 and a case of Polish Hill River Riesling, for the work and the rights for future reproduction. More Here.
Tasting Notes
 DJW Wilson Riesling, Polish Hill River 2018 – $20 at Winesquare. Hand picked, hand plunged, whole bunch pressed, unfiltered, minimal Handling. Daniel Wilson tells us that the DJW vineyard is 450 meters high, and the vines struggles in clay soil and frequent winds. I love the wine, which has more body and texture than you tend to find in the Rieslings from here. A hint of blanched almonds? Not sure. Daniel thinks it might be phenolics from whole bunch pressing he employs. Purists might object to phenolics in Riesling but to me it makes it more food friendly. 96 points.
Wilson Watervale Riesling 2019 – $19 at the winery. A fuller, riper, richer style as you would expect. Ripe limes and pears, some talc, soft and round and forward. It will last for years but it's good drinking already. 93 points.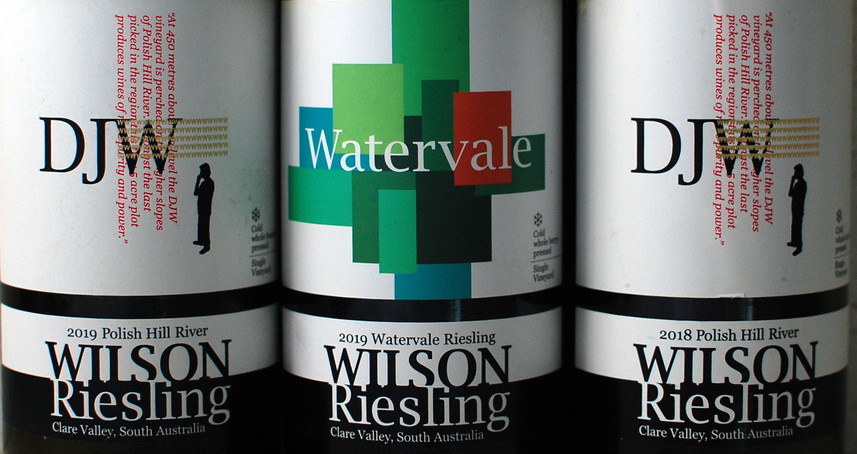 DJW Wilson Riesling, Polish Hill River 2019 – not in the shops as yet, and not on the winery's website. Finer than the 2018, more austere and a bit reserved. One for the long haul. 93+ points.
 Wilson Polish Hill River Riesling 2018 – $22 at Summer Hill Wine. This is the top of the line Riesling Daniel produces, and it's a wine of graceful composure, the finest line of acid, great length, classic Polish Hill finesse and perfect pitch. In short, it's an exemplary Polish Hill River Riesling. 96+ points.
Wilson Vineyard Stonecraft Cabernet Sauvignon 2015 – $22 at Winesquare. A serious red, this, cool Cabernet, dark berries, lots of restraint at this stage, medium- to full-bodied, clearly built for the long haul. 93++points.
The Wilson Vineyard Pepperstone Shiraz 2016 – $22 at Winesquare. The younger of these two, but more welcoming with rich and vibrant fruit, pepper and spices, sumptuous mouth feel and hints of chocolate and vanilla. Big and bold but warm, already a joy to drink but will improve for years. 94+ points.
The Wilson Vineyard Handplunged Shiraz 2016 – $39 at Winesquare. This wine really shows the stellar quality of red wine the Clare Valley can produce. The nose promises seductive sweet fruit from ripe dark berries, and the palate delivers in spades: depth of sweet fruit and spices with hints of chocolate, and vanilla from the American oak, seamless integration wrapped in velvet. There's enough backbone to ensure graceful aging, but I doubt you can keep your hands off it. If only more Aussie Shiraz were like this. 97+ points.