There's no creek, only rivers
Langhorne Creek lies about 80 kms south-east of Adelaide on a fertile alluvial flood plain fed by the Angas and Bremer rivers. The weird thing is that there's no creek here called Langhorne Creek – the area was originally known as Langhorne's Crossing, the spot where local cattle drovers Alfred and Henry Langhorne drove their cattle across the Bremer during the 1840s. Ten years later Frank Potts was the first to plant vines here, and his Bleasdale Vineyard has been in production ever since.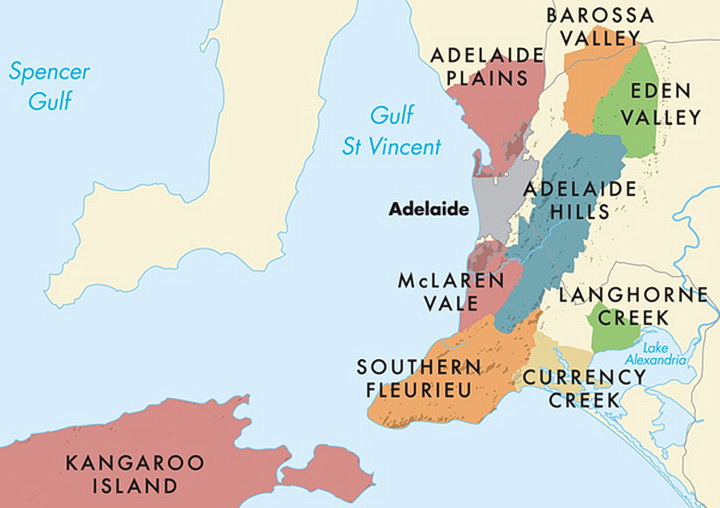 Langhorne Creek lies close to the northern shore of Lake Alexandrina, about 40 kms south-east of McLaren Vale. The Bremer and Angas rivers flood the area in winter and help the rich alluvial soils produce big yields of healthy grapes. The winter flooding – from rain in the Mount Lofty Ranges – carries the vines through the dry summer months. Wineries control the flow of the rivers through a system of floodgates and banks, which they use to divert water to their vineyards as needed.
Who is the Doctor?
Another ace in the hand of this vignoble is the Lake Doctor, the breeze that sweeps across the vineyards on hot summer afternoons and cools them down. Bleasdale's website tells us that the Lower Lakes (Lake Alexandrina and Lake Albert) are on Langhorne Creek's doorstep, and are almost four times the size of Sydney Harbour. Only a thin strip of land separates the lakes from the southern ocean, and apparently 'the region enjoys a mild, maritime climate with growing conditions 3°C cooler than McLaren Vale, and only half a degree warmer than Coonawarra.'
Stoneyfell Metala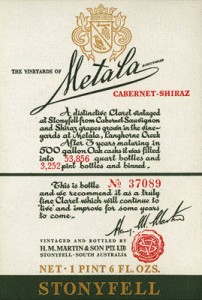 For many years, this was the only Langhorne Creek wine most people knew. A fellow called Jack Kilgour made the first Metala in 1932, under the Stonyfell Private Bin Claret label. It was Kilgour's successor Bryan Dolan who put the vineyard name Metala on the label. Dolan promptly won the inaugural Jimmy Watson Trophy in 1962 with the 1961 Metala. Around about that time, Ian Hickinbotham at Kaiserstuhl brought out a young German wine maker called Wolf Blass.
A few years later, Blass turned consultant and started making his own wines. One of his first was a 1967 Grey Label Cabernet Shiraz made from Langhorne Creek fruit (Bill Potts). John Glaetzer joined Wolf in 1973 and his genius helped Wolf win 3 successive Jimmy Watson trophies. The mystery question on my mind is: why didn't the big guys rush into Langhorne Creek instead of planting vines in far-off Coonawarra, back in the seventies?
Metala beats Grange?
I still remember a special dinner with friends around 1980, where we drank 2 great reds: a 1966 Grange and a 1967 Stoneyfell Metala Cabernet Shiraz. We all preferred the Metala, perhaps because it was more drinkable at a dozen years of age than the Grange, but it was a great red made by Peter Lehmann at Saltram in those days. In the seventies, Saltram was bought by Dalgety who told Peter to cancel most of his contracts with growers.
The contracts were not the paper kind, but sealed with handshakes, and Peter wasn't going to break his word. He left and set up Masterson, which later became Peter Lehmann wines, using the fruit from the growers Dalgety no longer wanted. The label had a playing card on it – clubs I think – because Sky Masterson was a character in Damon Runyon's famous New York gangster stories. Masterson was a big stakes gambler, so Peter used his name for the biggest gamble of his life.
From Growers to Winemakers
As they did in the Barossa years ago, the big wine companies bought the fruit they wanted from the growers here. The folks in the Barossa worked hard to promote its name and its area, while those at Langhorne Creek kept a low profile. They were fewer in number and there wasn't much incentive for them to promote Langhorne Creek, while they received so little recognition of the area's contribution on the labels of the big wine companies,
Even the mountains of bling Wolf Blass won with wines made from Langhorne Creek fruit made little difference, but then Wolfie tended to promote himself rather than the area that was so generous to him. As the big wine companies pushed the growers to lower their prices, more of them began making their own wines while existing wineries lifted their game. They're also working much harder to promote the area, which now has some 6000 hectares under vine. That's more than the Hunter Valley, and that's another mystery.
Who's Who?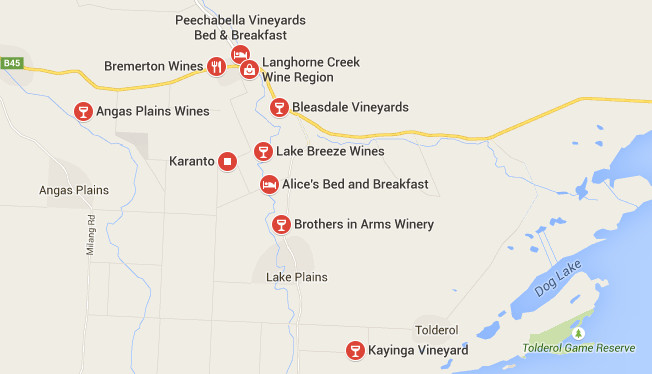 Bleasdale is a good example of a winery that's lifted its game, by its own admission making pretty ordinary wine until Paul Hotker took over the wine making and vineyard management in 2008. On the other hand, Greg Follett at Lake Breeze and Rebecca Willson at Bremerton have been making serious wines for years, reds especially. Newer operations like Brothers in Arms, Angas Plains Estate and Zonte's Footstep are also making names for themselves. Zonte's is the label of a joint venture between winemaker Ben Riggs and Marketer Zar Brooks whose wife Elena also makes Dandelion and Heirloom wines. This is a virtual winery, I suspect, with the winemaking done in McLaren Vale.
Langhorne Creek has a reputation for making great reds, but the most of the winemakers here are working on their whites as well. The best-performing varieties in the past have been Cabernet Sauvignon, Malbec and Shiraz. Here are a few Langhorne Creek wines worth chasing:
Lake Breeze Bernoota Shiraz Cabernet 2012 – $17 Winesellersdirect. Like the Cabernet, the blend has won lots of bling and shows how well these 2 varieties work together. Terrific Bargain.
Bremerton Tamblyn Cabernet Shiraz Merlot Malbec 2012 – $18 at Dan M's. A very attractive fruit salad blend. Plenty of depth and flavour for the long haul.
Hidden Label Langhorne Creek Cabernet Malbec 2012 – $17 at Kemenys. This is Bleasdale's Frank Potts Cabernet Malbec under a plain wrapper that saves $10. Serious red built for the long haul.
Zonte's Footstep Violet Beauregard Malbec 2013 – $18 at Winedirect. Gorgeous, rich, velvety red with lots of instant appeal. Shows what Malbec can do at Langhorne Creek.
Gipsie Jack Terrier Shiraz Cabernet 2012 – $15 at Winelistaustralia.Made by John Glaetzer from Langhorne Creek fruit, this is typical of his rich, ripe, soft on the gums style.
Metala Single Vineyard Shiraz Cabernet 2012 – $14 at Kemenys. Made by the team at Saltram, which is part of Treasury Wine Estates. More finesse than the sledgehammer 2010. Serious value.
Additional Reading: Finding gold in dry Creek reds by Huon Hooke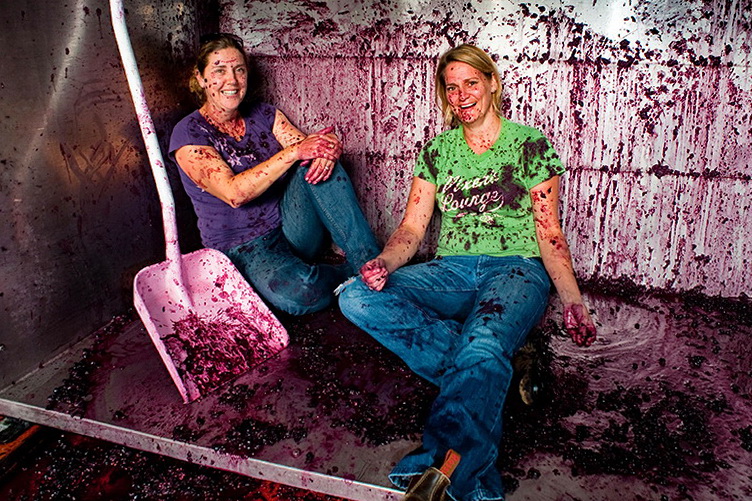 Lucy and Rebecca Willson taking a break after shovelling grapes out of a bin (photo source: Bremerton)
Kim