I love casseroles, especially those based on chicken. There are quite a few on the website already, but I love experimenting. This one uses a white wine sauce (it comes out more green as it happens) with herbs in the anise family. The list of ingredients looks far more complicated than it is, and the ingredients are all familiar. More on tarragon HERE.
As always, use good quality produce, i.e. real free range chicken and fresh veggies from your favourite greengrocer. Herbs can be fresh or dried, wine just has to be drinkable. It takes about 1 hour 20 minutes all up, with plenty of breaks. The quantities are for a biggish family or 2 -3 meals for a couple.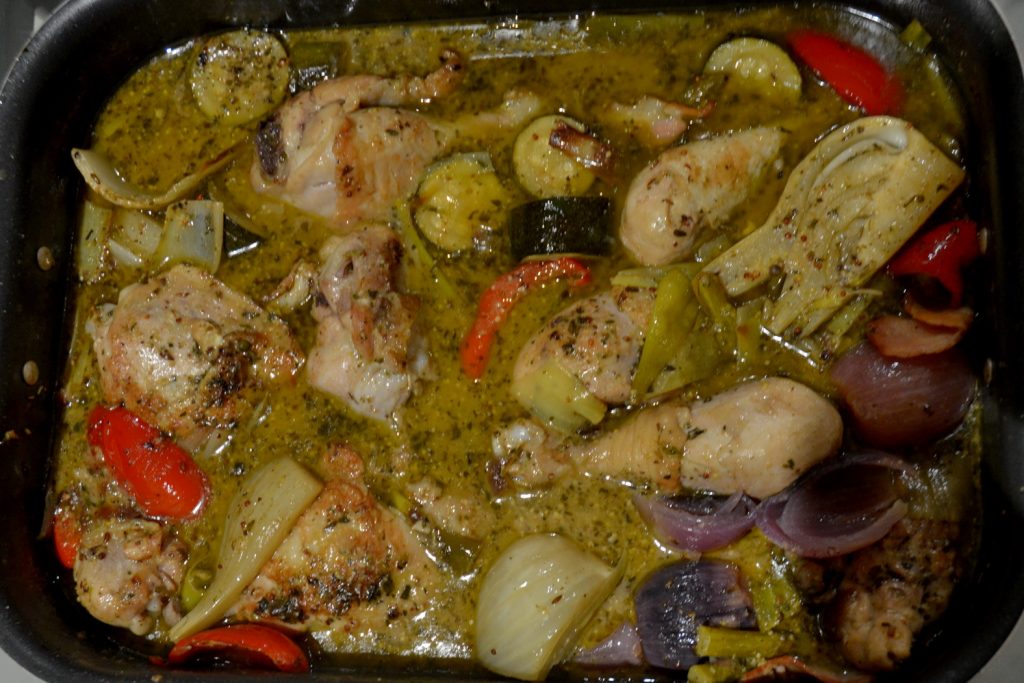 Stage 1
Put the onions in a casserole / baking dish, into the over at 170 – 180 degrees.
Sprinkle the chicken pieces with flower and fry on both sides in a mix of olive oil & butter, smash the garlic cloves, brown them and then set the chicken and garlic aside
Deglaze the pan with some white wine
Put the casserole dish on the stove, and add the chicken pieces, the chunks of fennel and capsicum, add the wine from the fry pan, add some more and some of the stock, bring to the boil and put back in the oven.
Stage 2
Pour yourself a glass of wine, have a rest, watch the news on TV … I use the timer on my iPhone to make sure I get the timing right. You have half an hour, give or take. You might want to peak in the oven and check that all is OK, or spoon some of the liquid over the ingredients, or turn the chicken pieces over.
Stage 3
Add the zucchinis to the casserole now if you like them soft or wait a little longer.
Check the seasoning, turn over the chicken pieces, adjust wine and stock levels
Add the peppercorns, the herbs and the lemon
Add the pesto, the caramelized onion and the mustard
Fold everything together and return to the oven
Stage 4
Have some more wine, then chop up the leak, the mushrooms and bacon, chuck it all into a fry pan with some butter and olive oil, add a little wine if things dry up too much. Add some seasoning and more tarragon, and stir-fry for about 6-7 minutes, then add to the casserole. Fold in the new goodies and taste. Add more seasoning or wine if needed.
If there's too much liquid in the dish, spoon some out into a small fry pan and reduce slowly on the stove. By now you should be 20 minutes from the finish, so you can add the reduced liquid back when you add and mix in the sour cream just before you serve.
Ingredients
9 – 12 chicken pieces, thighs and drumsticks are best, skin on, bones in
6 slices of thick-cut bacon or speck
2-3 tablespoons of flower (I use whole meal but white works too)
3 cups of White wine
2 cups of Chicken stock
3 – 4 small red onions or spring onions
1 or 2 fennel bulbs, depending on size
2 zucchinis
1 red capsicum
Half a decent size leek
mushrooms
2 -4 cloves of garlic
3 teaspoons green Pesto (from a jar)
3 teaspoons caramelized onion (also comes in a jar)
2 tablespoons Masterfoods Australian mustard or similar
4 tablespoons sour cream
A pinch of lemon zest or squeeze of lemon juice
Small tin of green peppercorns
Seasoning
Fresh or dried tarragon, to taste – a fair whack is needed for this big dish
Teaspoon caraway seeds
Teaspoon oregano
Teaspoon crushed fennel seeds