The Set-Up
The SIWC is the only international wine show I know of, where judges are given food to go with the wines in the final round. This is how most of us drink wine, so it should produce more user-friendly results. You can even get the recipes for the meals served, such as this Panacotta.
Brett and Michaela Ling took over the competition from Warren and Jacqui Mason a couple of years ago, but haven't changed the basic format. That's good, because the public tastings that follow this competition are not the usual push-and-shove affairs, with no room to move and overflowing spit buckets. It's much more civilized, and the attentive staff keep everything neat and tidy.
The other thing I like is the catalog of wines assembled for the tasting, which has ample room for notes next to each of the 241 winners of various awards – Top 100, Blue Gold and Gold medals, and trophies. The majority of wines come from Australia and New Zealand, with a sprinkling of wines from France, Italy, Portugal and America broadening the horizon. More Here.  
The Wines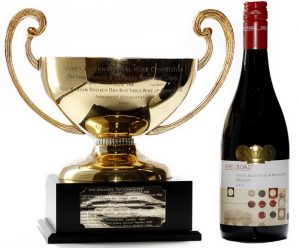 The giant killer this year was the $7 One Road Shiraz 2017 from ALDI, which won a trophy. I'd bought a bottle of this wine a couple of months ago when the results were announced, and shook my head in disbelief: This is a robust, rustic red that offers a lot of obvious flavour for the money, and some fairly rough edges.
Andrew Graham who runs the Australian Wine Review site agrees: 'Soft and syrupy commercial red with some cheap chippy oak. How this got a trophy is beyond me.'
This is a typical medal winner in the sense that it pushes less brash competitors aside and leaps out at the judges from a big line-up. Heathcote is good at that, so is Langhorne Creek as Wolf Blass proved. The wine is a blend of both. A gold medal at the 2018 Great Australian Shiraz Challenge showed that it wasn't fluke, which either proves my point about judges falling for the obvious charms of the wines in front of them, or that I don't have a clue.
I had also seen a glowing review from Huon Hooke of the Blackstone Paddock Limited Release Margaret River Chardonnay 2017, but couldn't get hold of a sample from ALDI. My enquiries proved fruitless since ALDI staff are much the same as staff in other supermarkets: utterly clueless. After tasting the wine at the SIWC, I agree with Huon: it's a beauty, the opposite of  the trophy-winning Shiraz in many ways: restrained, refined, elegant and classy. Good value for $15 should you stumble across it.
Winners and Grinners
A few wines stood out for me:
Peter Lehmann Margaret Semillon 2012 – more generous than usual
Hahndorf Hill White Mischief Grüner Veltliner 2018 – intense, almost like a Gewürztraminer
Rockburn Pinot Noir 2016 – one of the few Pinots with real Burgundian character
Rob Dolan White Label Shiraz 2017 – Yarra Valley, perfect balance between cool climate elegance & flavour
Hentley Farm Old Legend Shiraz 2017 – Seductive
Serafino Black Label Cabernet Sauvignon 2016 – adds grist to my mill that Cabernet makes better wines in the Vale than Shiraz
De Bortoli Dean Vat 5 Botrytis Semillon 2016 – my giant killer: a perfect sticky for $11! Much better balance than the super-sweet, cloying $35 Lillypilly Noble Blend 2017 that won the trophy.
There were 6 fortified wines, and they showed once again that these rare old Muscats and Tokays are among the great wines of the world. They're around $100, which makes them enormous value.
For detailed notes, check Andrew Graham's blow-by-blow rundown on the wines.