I love casseroles. Why? Because they are powerhouses of flavour if you know what you're doing, and they largely cook themselves. The other day I felt like doing something different, so I went for sausages rather than chuck steak, chicken or pork belly.
Our local butcher has a good selection of sausages, from chicken to pork to lamb and beef, from mild to hot, from thin to thick. I was also thinking about caramelized onions, which I used tom buy in a jar, so I looked up making them from scratch. I wondered if you could caramelize fennel, which I often add to casseroles instead of boring veggies like celery.
It's really simple, it turns out: you cut up some Spanish onions and fennel bulbs into pieces about the size of those lemon slices they serve with fish in restaurants. You chuck them in a fry pan and add generous quantities of olive oil and butter.
If you're on the side of those who believe that fat is evil, this will not appeal to you. You can add a little white wine, but the process relies on a fair amount of oil. I add some balsamic reduction as well, just to steer the outcome in the right direction.
The rest is straightforward.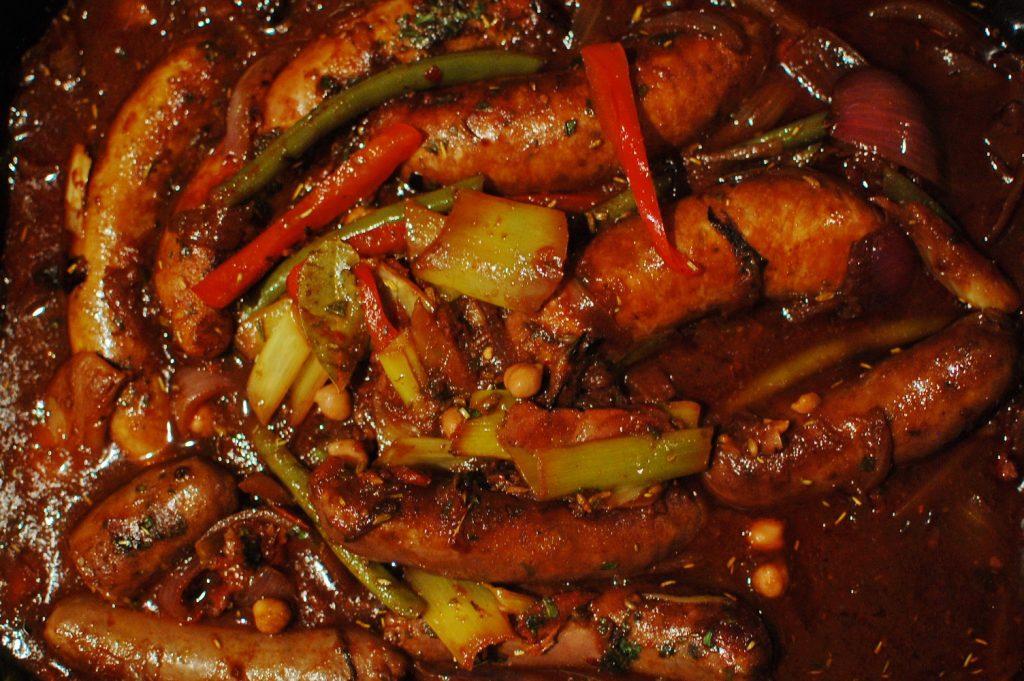 Ingredients
Assorted sausages
Bacon pieces
2- 3 cloves of garlic
A few small onions or eschalots
Caramelised onions and fennel
Green beans
Leeks
Mushrooms
Chickpeas (tin)
Olive oil, butter
Sweet paprika
Crushed tomatoes (tin)
Passata
Red or white wine
Worcester sauce
2 – 3 Bay leaves
Chicken or veggie stock
chili flakes
tarragon
oregano
Process
Brown the sausages and bacon in a big pan with some olive oil
add the small onions and garlic, then the crushed tomatoes and beans
Add the trimmed beans with some passata and stock, enough to just cover the sausages
Add a pinch or 2 of paprika, dash of Worcestershire sauce and seasoning
Put the casserole dish in the oven at about 170
Get the onions and fennel going in a fry pan – caramelizing takes about 30 mins
Keep them coated with the sauce – olive oil, butter, balsamic, small amount of white wine
Stir every few minutes to prevent burning any bits
When they're done, add them to the casserole, along with chopped leeks and button mushrooms
Make the final adjustments for seasoning and herbs, add the chickpeas 10 minutes before serving (drained and washed) – they don't need cooking, just warming.
Serve on its own or with some boiled or mashed potatoes