Will the Barbarians stop at nothing?
March 2017 Update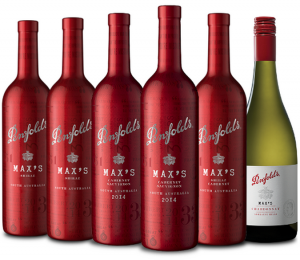 I'm almost afraid to look these days, in case Max's collection has grown more garish. Sadly, it has. The range has grown more numerous as well. The wines must be a hit with the punters, perhaps because they leap out from the shelves with their awful packaging. I can't help wondering how Max Schubert would feel about having his name stuck on these ghastly bottles of ordinary reds. I reckon he'd turn over in his grave and avert his eyes. Peter Gago, hang your head in shame.
Yes, the reds are ordinary. I haven't tasted them because I refuse to touch these offensive wares or pay money for them, but the guys at Winestate have reviewed a few of them. Their scores are in the high 80s, and this is for $35 reds from Penfolds. I can't find any other reviews of these wines, which is curious for Penfolds wines with national distribution.
Only the lifestyle magazines write about these wines these days, Executive Style and heygents, magazines where advertorial is hard to tell from infomercial. I  suspect Penfolds stopped sending these wines out to serious reviewers because they're too embarrassed.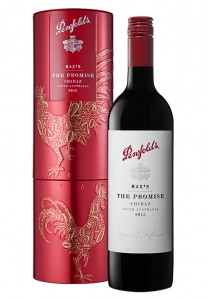 The Chinese New Year Edition
Max's range is not about wine after all, it's about using a great man's name to flog cheap grog in fancy clothing to the masses who think they're getting something special. It's a cynical exercise.  The exercise in bad taste is made more cynical by adding a Shiraz called The Promise to the range. Yes, it's obvious isn't it? Flog it to the Chinese: they think they're getting something special, and they don't mind the in-your-face package. Penfolds has even provided Chinese New Year Tasting Notes.
I can only repeat the question I asked last time: Why doesn't Penfolds make a Promise to Max? To let him rest in Peace with Dignity.
Just when you think it couldn't, the story gets worse
March 2016
Penfolds keeps adding more wines to 'Max's Collection'. Cheap wines by Penfolds standards, $35 wines. Adding insult to injury. Now they've even engaged an artist to give us a picture of the young Max. How come Max looks like a young Sean Connery? When will they stop insulting one of our greatest winemakers?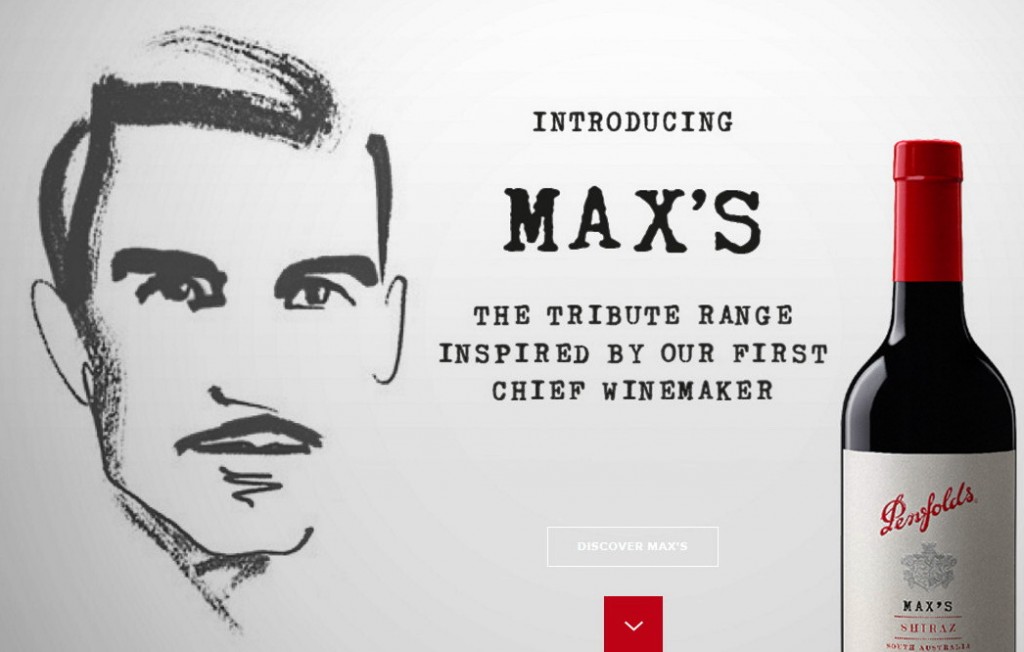 Max Schubert was a true pioneer, and he wasn't afraid to back his own ideas. He did more for Penfolds and Australian wine than most people will ever know. More here: Max Schubert, Ray Beckwith and the Making of Penfolds.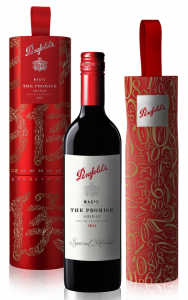 Max was born in 2015 and died in 1994. His wife Thellie died just last year – July 2015. With her no longer able to protest, someone at Treasury Wine Estates decided this was a good time to squeeze more profits out of a man Penfolds had treated so shabbily when he was alive.
In February, Penfolds added a new Max's The Promise Shiraz 2014 to the Max's range, which sells for $50. 'A compelling Shiraz gifting offer,' says Peter Gago, Penfolds chief winemaker. The insults to the great man continue, say I. Look at the gift package and ask yourselves: what would Max say to that? Hell, it's the Chinese New Year Edition, a brazen grab by Penfolds for a dragon's share of the celebrations.
Why doesn't this outfit make a Promise to Max? To let him rest in Peace with Dignity.
Stealth Marketing
Here's a brand new $500 Penfolds red, but where are the fanfares? Why is Peter Gago not dancing in the streets announcing the birth of a new great $450 wine made in Max Schubert's honour? 'I hadn't heard a whisper about this new wine,' writes Campbell Mattinson at the Winefront, 'and then it landed on the doorstep. Penfolds' wines never arrive on the doorstep.'
Mike Bennie was stumped as well. 'As this bottle landed, I thought something is missing here,' he writes. 'I didn't know anything about the wine at hand. It came in a heavy, inlaid cardboard box. It had a nice, albeit not particularly fancy-looking label. It came with two A4 sheets of PR material and no recommended retail price in sight … A double take. No press, no hype (yet).'
So what happened? Has Treasury Wine Estates sacked its PR agency? Has it lost so much money it can't afford a new one? Has it given the release of this important new range to an office junior? Philip White is close to Penfolds and Peter Gago, but he has none of the usual insights for us. All he offers is a review of the The Max Schubert Cabernet Shiraz 2012, a review that suggests this wine is sweeter than angel's tears. 95++ points. Messrs Mattinson and Bennie score it at 94 and 92 points, hardly exciting at the price.
Penfolds website tells us: 'This inaugural release honours Max in the year he would have turned 100 years old (February 9, 2015) were he still with us today.' Sadly, honour soon turns to greed.
One for the collectors, another for the masses
There's a second wine that appears to be part of this release: Max's Shiraz Cabernet 2013. It's clearly made for a different market, as it sells for $35 a bottle ex winery. Yet this cheapie has a picture of the great man on the label, the $450 bottle does not.
And next to it, we read the words: 'Max Schubert A.M. Winemaker. Penfolds constant pursuit of excellence is underpinned by time-honoured values established by the legendary Max Schubert, Penfolds Chief Winemaker from 1948 to 1975.'
There you go, and these fancy words grace a bottle of cheap red – cheap in Penfolds' rarified world anyhow.

Growing like Mushrooms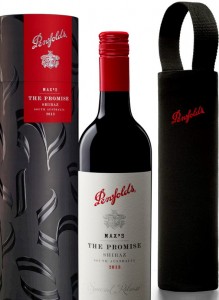 This morning I found just these two wines on Penfolds' website. Another search this evening produced a third wine, believe it or not: Max's The Promise Shiraz 2013.
The website blurb tells us that 'Max Schubert, one of Penfolds winemaking legends (sic), would gift his favourite wines to family and friends. A gesture that acknowledged the quality of a wine befitting of life's special occasions. This generosity of spirit continues today and is celebrated with this special release of South Australian Shiraz.'
This wine turns out to be another 'cheapish' Pennies red at $50 ex winery. Max's Promise? I try to imagine what the great man would've thought of the garish package. Cheap and nasty, like the packaged spirits you find in duty free stores at airports.
October 4, 2015 update
Penfolds don't invite me to their launch dinners, and I don't buy Penfolds samples because value isn't part of the Penfolds ethos these days. It's not just me saying that, I discovered in my regular check of the Winefront's reviews. Here's what Campbell Mattinson makes of these 2 cheapies with Max's name on their labels:
Max's Shiraz Cabernet 2013 – This is a nice wine. Not a $35 nice wine, but a good wine nonetheless. It's all blackcurrant and blackberry with saltbush and dusty herb notes. The "modern" bit is that it's very low in oak influence. It's just all dark berried fruit, up-front, solid, with a decent sense of dimension. 89 points. CM, the Winefront.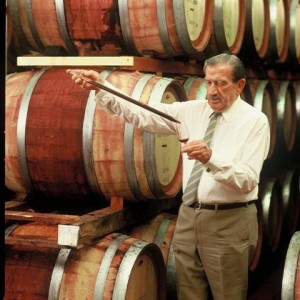 Max's The Promise Shiraz 2013 – Good colour. There will be no complaints over the intensity of depth of fruit here. It's ripe, rich-ish and awash with blackberry and saltbush flavours. It smells good and tastes it too; it's all up-front and ready to rumble. Whispers of both vanilla and violets add to the overall attractiveness of the flavour profile. It becomes warm and a little thin on the finish, but there's certainly a good amount of mid-palate flavour to tuck into here. Simple, straightforward and with hearty fruit. 89 points. CM, The Winefront.
Are you surprised at the low point scores given the positive reviews? I was. Is Campbell being diplomatic? More to the point: Is Penfolds just being stupid, releasing such ordinary wines with Max Schubert's name on the labels? No, this is an insult to one of Australia's greatest winemakers. Why couldn't Peter Gago just produce one top notch wine for Max's 100th birthday? Was TWE leaning hard on the team at Penfolds to make more wines they can flog on the back of Max Schubert's name? Why doesn't this outfit make a Promise to Max? To let him rest in Peace with Dignity.
Kim