That's what they call it on Wall Street when stocks rise to dizzy heights. Wine has been going that way for years now. The expensive labels have become luxury goods, status symbols you can impress friends and colleagues with. As you would with a Rolex watch.
People don't buy a Rolex because it tells the time better than a Citizen, and people don't buy Grange or Hill of Grace for their drinking pleasure. These wines are hardly ever drunk. No, they lie in temperature-controlled display cabinets, ready to be admired; they're investments to be bought and sold like works of art or shares.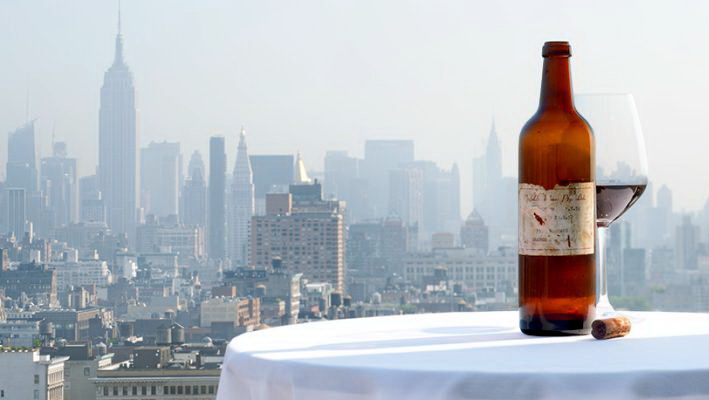 Image credit: Milton Worldley
The levitation zone tends to pull lesser wines up the dollar scale: the once affordable Hensckke Mount Edelstone now costs over $200, and Penfolds Bin 389 Cabernet Shiraz has climbed over the $100 mark. This wine used to be known as 'the poor man's Grange' in the old days.
At Best Wines Under $20, we clearly have a different focus: great wines we can afford and enjoy. Yet once in a while, I like to ask a simple question: what wines would I buy if I'd saved up $800 for the latest, greatest Penfolds Grange, and changed my mind?
I started to put together a dozen top wines to spend the $800 on, but ended up with 16 wines for the same money. You'll see that there are some outstanding wines in our collection that rival the wines in the Penfolds 2019 collection, and offer far better value. Brilliant wines like Leeuwin Art Series Chardonnay, Tyrrells Vat 1 Semillon, Ata Rangi Pinot Noir and Chateau Rieussec Sauternes
So if you're looking for a special bottle to open on a special occasion, you don't have to spend $800. You can buy outstanding wines for a fraction of that.
If you were thinking of buying and laying down a few bottles of the latest Grange, you should read this post: Penfolds Grange – rich wine, poor investment. Yes, TWE has pushed the price so high you'll never get your money back. Did you know that almost every vintage of Grange going back to 1966 sells at auction for between $300 and $500?
THE DOWN-TO-EARTH LIST
McNicol Riesling 2010 – $45 at the winery. Made by Andrew Mitchell in the Clare Valley, this wine is in the same lofty level as the Rosacker Grand Cru below. You rarely see intensity of flavour like this, especially at this age, and the wine will last another 10 years easily.
Jean-Luc Mader Riesling Rosacker Grand Cru, Alsace – $55 at Winesquare. Rosacker is to Alsace as Montrachet is to Burgundy. Made from a tiny Grand Cru vineyard next to the famous Clos St Hune Riesling from Trimbach. Another wine of great intensity from a low yield vintage. The rich ripe citrus fruit is balanced by a long line of fine acid and minerals on the finish.
Stella Bella Suckfizzle Sauvignon Blanc Semillon 2015 – $35 at Kemenys. Fermented in French oak (60% new), and aged in the barrels for 14 months, with regular bâtonnage applied to provide serious texture. Great Work!
Cape Mentelle Wallcliffe Sauvignon Blanc Semillon 2015 – $40 at Kemenys. The Stella Bella is a hard act to follow, but the Wallcliffe is up to. Great to see two Sauvignon Blanc Semillons of this complexity, which can take on the world's best from France.
Tyrrells Vat 1 Semillon 2013 – $63 at Kemenys. The most decorated Hunter Semillon, from a great Semillon vintage. Terrific concentration of flavour, built for a long life. A classic.
La Chablisienne 1er Cru Cote de Lechet 2016 – $30 at 1st Choice. The website says 2-13, but you'll find the 2016 on the shelves. This Chablis from a highly regarded coop is made from 25 year old vines, and offers cool but ripe fruit against a background of wet stones, flint and minerals. Serious bargain.
Leeuwin Art Series Chardonnay 2016 – $100 at MyCellar. This has long been our top Chardonnay IMHO, and the 2016 promises to be one of the best of this line. It's still a pup, so please show some restraint.
Wynns Museum Release Coonawarra Black Label Cabernet Sauvignon 2012 – $40.00 at Winestar. I grabbed a few of these for $30 six months ago. Classic Black label: profound dark fruit, velvet glove with backbone, sleek but firm. 98 from Huon Hooke – reviews at the link.
Woodlands Clementine Cabernets 2016 – $40 at Nicks. One of my favourite wineries. The 2015 was Ray Jordan's top pick a year ago, and the 2016 is a great follow-up from one of the top vintages in Margaret River's history. Bargain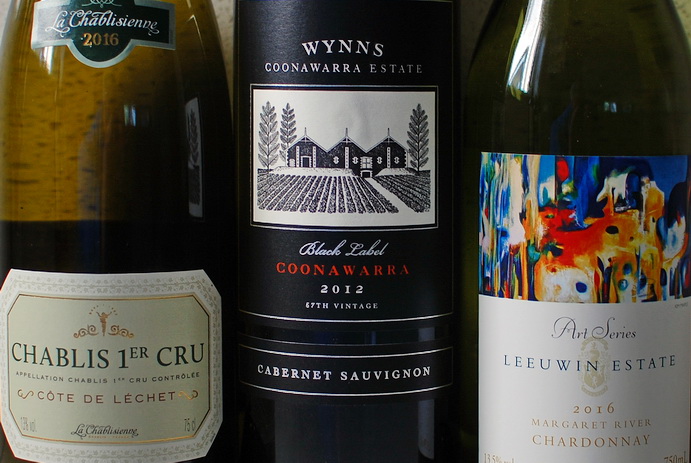 Domaine du Grand Montmirail Gigondas Cuvee Vieilles Vignes 2016 – $47 at Nicks. Gigondas is a small appellation near Chateauneuf-du-Pape. The wines are as good but less-well known and thus better value.
Shaw + Smith Shiraz 2016 – $45 at MyCellars, where the freight is free for subscribers (promo code BWU20). That means you can order 2 or 3 of these gorgeous wines at sharp prices with freight paid.
This is one of my favourite reds regardless of price. I can't improve on Jane Faulkner's review: 'Vibrant purple-black; seduces with swathes of dark cherries dipped in kirsch, florals, ferrous and woodsy spices, with toasty oak sewn to the shape of the fuller-bodied palate. Everything is in its place, creating an immaculate whole – the fine-grained tannins, the length, the freshness and detail. It's polished and totally convincing – 97 Points.'
Kellermeister Black Sash Shiraz 2016 – $60 at MyCellars. Won the 2019 Syrah du Monde and competition, and 98 points from our main man downunder. Made from 100yo old vines grown in Ebenezer (Barossa), matured in 65% new French hogsheads. JH says it will live forever.
Dawson & James Pinot Noir 2015 – $65 at MyCellars. Made by a couple of seasoned winemakers from their vineyard near dingabledinga in southern Tassie. 98 points from James Haliday and Ned Goodwin.
Ata Rangi Pinot Noir 2016 $80 at MyCellars. Has been pointing the way for NZ Pinots for years, and still sits at the top of the tree. Reviews at the link.
Chateau Rieussec Sauternes 2013 (375ml) – $65 at Nicks. One of the top handful of Sauternes nibbling at the heels of Yquem.
Bodega Jose De La Cuesta Pedro Ximenez Sherry – $30 at Nicks. These sherries are misunderstood, I suspect, and therefore great value. The best ones rival our best Rutherglen Tokays. 99 points from Nicks – I've always found their scores reliable.