Australian Plonky – the colourful life of an inventive mind

Ian says the title of his autobiography reflects the derision and disdain qualified winemakers were treated with in the fifties. He adds that the word plonk comes from the 1st World War diggers in France who would ask for (vin) Blanc when ordering a drink.
The book is a fascinating story, but the structure and flow resembles a series of notes, thoughts or recollections, often in random order. It's sometimes hard to read and other times harder to follow, and all the photos look like they were taken with a Box Brownie.
That said, Australian Plonky is the story of a brilliant man, an inventive mind like few others in the history of Australian wine. A child prodigy whom David Wynn put in charge of the company's Coonawarra Estate at the age of 22, in 1951. Ian was only the 35th qualified winemaker to come out of Roseworthy, where his father Alan had created Australia's first oenology degree course.
A few highlights of Ian's Invention
The floating lid in wine storage tanks
The bag in the box (Chateau Cardboard)
Limited pasteurization (63⁰) process for stabilising sparkling wines
The first Spumante
The Amos crusher, the Mono pump, the Coq press
The hermetic centrifuge and the transfer machine (a first in the world for preventing oxidation during the making of sparkling wine)
Stelvin capped miniature bottles for airlines
Individual vineyard labels (Kaiserstuhl)
Ian Hickinbotham worked at Penfolds in the mid-sixties, where he perfected the bag-in-the-box package. Hard to believe, he couldn't get anyone there to see the potential of the idea. Apparently, all the management of Penfolds was concerned about at the time were the dwindling sales of its bestselling Royal Reserve Port.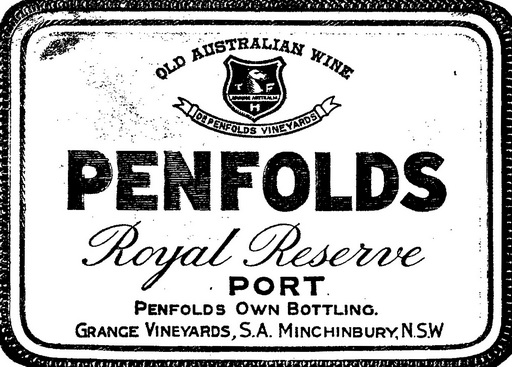 The Crucible: ph
Ian's father Alan was one of the few scientists to grasp the importance of a low ph for the quality of table wines, along with Ray Beckwith of Penfolds. Ray was the scientific brain behind the brilliant Max Schubert, and his contribution to the quality of Penfolds' reds was never fully acknowledged until he was close to 100 years old. [More HERE and HERE]
Until then, sulphur dioxide was added to wines in order to keep the bacteria under control, when the yeast ferment was complete. Some microbiologists of the time even suggested pasteurising wines to prevent bacterial spoilage, while chemists like Alan Hickinbotham and Ray Beckwith said: all you have to do is make sure that you keep the ph of the wines low (by adding tartaric acid, the natural acid in wine), and the bacteria will be under control.
Secondary fermentation
The importance of this becomes clear when Ian tells us that few reds in Australia went through a malolactic fermentation, as did the fine reds of Bordeaux and Burgundy. The 'malo' is a natural event in Europe in the spring, as the weather warms and the bacteria come back to life. They convert the hard malic acid (apple acid) into the softer lactic acid, making the wine softer and more complex at the same time.
In the early fifties, our top wine scientists John Fornachon and Bryce Rankin believed that Australia's warm climate prevented malolactic ferments from occurring. Ian says it was the practice of adding too much sulphur dioxide, eight times more than is added these days. He adds that the Redmans never added sulphur since they weren't trained in winemaking, and their wines went through the malo every year.
Coonawarra
David Wynn had bought the run-down winery and vineyards from Chateau Comaum – paying far too much for it, his father Sam thought – and expected the young Ian Hickinbotham to sort the place out. Coonawarra was 400 miles from Adelaide or Melbourne, and the winery had no electricity, no living quarters and no access to grape pickers. The only township of little significance was Penola, the place where Mary McKillop was said to have performed miracles.
Ian was expected to do the same against insurmountable odds. He talks about the 'squatters' who ran sheep and grew wealthy because of the strong demand for wool from the Korean War. The squatters employed all the available labour, and Ian ended up playing football for Penola in order to recruit grape pickers. Eventually he hired 40 migrants straight off the migrant boats from Italy.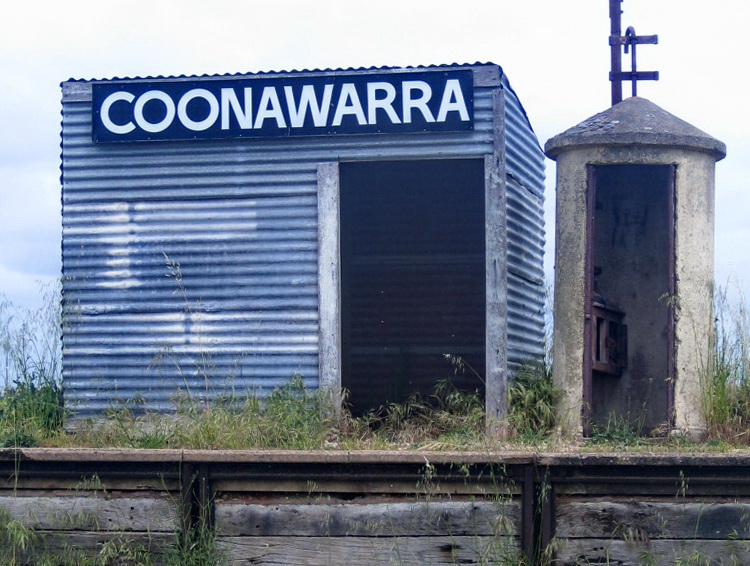 Kaiserstuhl
Two vintages in this tough place were enough for young Ian to resign and move on. His next major gig at the South Australian Grape Growers' Co-op would be even tougher. David Farmer recalls that 50% of the co-op's sales came from selling bulk sweet sherry to Lindemans and Penfolds, a shrinking market. Sales of bulk table wines were being eroded by cheaper wines from the Riverland, and stocks of unsold wine were filling the cellars.  
'Into this tottering company walked Ian Hickinbotham,' writes David Farmer. 'Over the next eight years he engineered a company turn-around of epic proportions, and it makes a great business story. It combines management skills, amazing technical achievements, brilliant winemaking, audacious marketing and an uncanny ability to select the right people. The greatest skill though was to revive a company that had no cash to spare.'
Almost the first thing young Ian did was to give the co-op of 635 winegrowers a new name, but the most urgent job was finding ways to shift the unsold wine in the cellars that was still sound. At a time when co-ops sold bulk wine to the big family wineries, Ian decided to sell bottled red and white table wine under Kaiserstuhl's own label. He even introduced individual vineyard wines long before anyone else thought of the idea.
Ian said Kaiserstuhl made more dry red table wine than anyone else in the valley, but the market for table wine was still in its infancy. The market for pearl wine was booming, on the other hand, but there was no money to buy the expensive equipment needed to make it. Colin Gramp at Orlando imported the equipment and the winemaker to operate it: Guenther Prass who later became chief winemaker for Orlando [more HERE].
Wolf Blass
Ian reengineered, reused, repurposed or made the equipment he needed. He had a lot of help from Roger Blake, another Roseworthy graduate who'd worked with sparkling wine at McWilliams at Yenda and at Seaview before joining Kaiserstuhl in the late fifties.
Blake did the work required to establish the right temperature and time to hold bottled sparkling wine at (63ºC for 45 minutes) to ensure sterility. Blake also devised a technique of testing bottled sparkling wine for the presence of live yeast cells (disastrous in the finished product). In 1961, Blake was sent to Sydney to pick up a young Wolf Blass when he arrived from Germany.
'They bought a soft drink aerator,' David Farmer picks up the story, 'pasteurising equipment and a semi-automatic filling machine (for $260) plus other bits and pieces from a bankrupt cannery and a mineral water company. Sample wines were fermented in beer barrels and the bank was shown a prototype in a local soft drink bottle.' [The Twenty Golden Years of Kaiser Stuhl]
Ian made a deal with Leo Buring to supply a sparkling version of its Rhinegolde white, which was a big hit. Apparently Leo disapproved of Sparkling Rhinegolde but made a lot of money out of it. Kaiserstuhl soon made pearl wines for other companies: Pearlette for Yalumba, Asti Spumante for Stock Distillerie, Mardi Gras and Tiffany for Penfolds, Viva for Wynns and Sparkling Est for Woodleys. In 1963, Ian released Kaiserstuhl Pearl in a waist-shaped bottle, which became known as Mae West.
The pearl wine business became such a success that a winemaker was needed to run that business, and Ian ended up hiring Wolf Blass. He despatches Blass with few words and, when I asked him to confirm Wolf's claim that he had several offers to chose from, he said he hired him because no self-respecting Australian winemaker would work for a humble co-op in those days.
However, Ian notes Wolf's genius as a red wine blender (an art Wolf learned at Avery's in Britain presumably). He also points out that Blass used high ph values (3.8-3.9) to soften his reds for early enjoyment. Still, I suspect Wolfie would have a fit being treated with so little reverence, given his Galactic-sized ego and his version of history (he showed Australians how to make wine). [More details HERE].
Shady Characters
It would've been interesting to get Ian's view of Wolf, along with some anecdotes, but the characters in this story are faintly drawn and rarely coloured in. His protégé George Kolarovich who took over from Ian in 1964 is another example. George was the creator of Kaiserstuhl Rose, which became a roaring success for the company.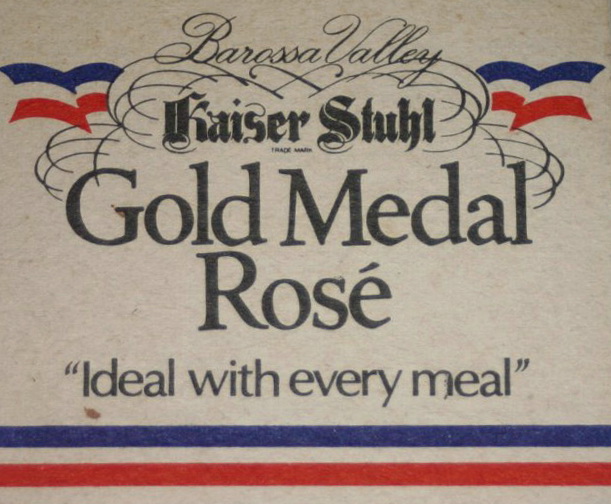 I grumbled about this in my book reviews of Evans' and Halliday's memoirs: Australian wine was full of real characters in the fifties and sixties, and these authors fail to bring to life the guys they worked with, joked with, and wined and dined with. Surely that is what stories like these should do.
Even Max Schubert, a friend of Ian Hickinbotham's and the man who persuaded him to join Penfolds as Victorian manager in 1965, doesn't get a close-up. Yes, we learn about some of Max's winemaking tricks – his fondness for giving Grange a lift with a touch of volatility, for example – but we learn little of the man.
It's surprising to read that Max wanted Penfolds to do more to promote his bin reds (Bin 28, 389, 707 etc.). Len Evans was doing his bit in his Cellarmaster column in the Bulletin in the early sixties, but few other people were writing about wine at the time. Friends and I were lucky to buy some of the 1964 – 67 Penfolds Bin reds from a private cellar in the early eighties, and every bottle was a wonderful treat.
Restless
Ian and his family stayed in Melbourne, where they bought and ran Gini's restaurant in South Yarra for a number of years. In the seventies, Ian wrote wine columns for publications as diverse as the Financial Review and the Epicurean. He also worked as a consultant to wineries like the Myer family's Elgee Park on the Mornington Peninsula. Once again, Ian saw the potential of the Mornington Peninsula for making Pinot Noir and Chardonnay long before others did. Years later, his family would build a winery at Dromana.
In the early eighties, Ian started a business venture around the Stelvin cap that graces almost all Australian wines today. AGM introduced the new seal in the late seventies, but the market was resistent. One area where the cap got a foothold were the airlines, when Ian introduced the 200 ml bottle for service in economy class.
The smaller the container, the faster the wine ages, so the screwcap won the day not just for reasons of convenience but because it preserved the wine better. Ian sold wine in these small bottles not just to QANTAS and Ansett, but also to international airlines like BA.
The next generation
Ian Hickinbotham's sons, Stephen and Andrew, followed in their father's footsteps. Sadly, Stephen was just 30 when he and his partner Jenny Regan and five close friends died in a plane crash at Cairns. Stephen had packed a lot into his short life, Philip White tells us: '… he'd studied at Bordeaux University, made wine for the Rothschilds, worked in a government wine research laboratory in Alsace, then at Bollinger and Mumm, and had completed vintages at Rutherglen, Barossa, Mildura, the Hunter Valley and Great Western … His were amongst the first great modern Tasmanian reds, and he'd made some of the earliest Adelaide Hills wines, [and that is] not to overlook the ravishing reds he made at his family's vineyard on a volcano at Anakie, near Geelong.' [More HERE]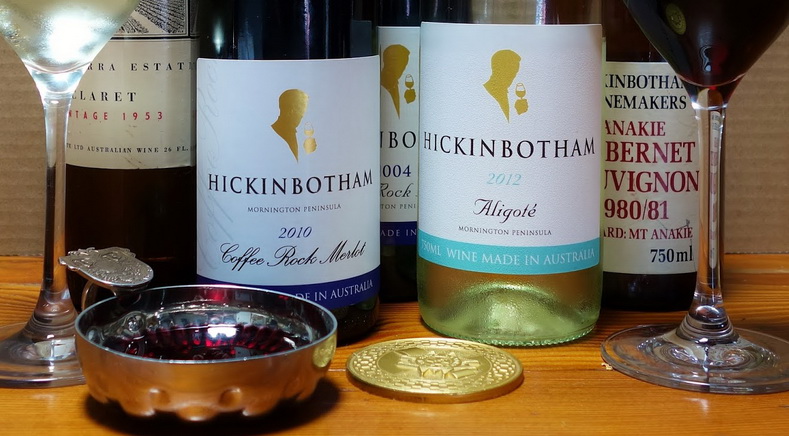 Ian doesn't say much about Anakie or his son Stephen who was another innovator. He'd made dry reds infected with some botrytis, because he'd learnt that the folks in Bordeaux and Burgundy made wines that way. His best-known innovation was a Beaujolais style called Cab-Mac, made from grapes treated with the carbonic maceration process. There was no Gamay in Australia, so Stephen used Cabernet.
Brother Andrew Hickinbotham and his wife Terryn helped plant many of the vineyards on the Mornington Peninsula with Pinot Noir and Chardonnay, and eventually established their own vineyard at Dromana in 1995. Andrew's latest invention is the fermenter bag, a system that optimises skin contact with the juice to maximise flavour and colour. Ian must be delighted that the spirit of innovation is so strong in his family.
Unsung Heroes
There are many great actors on the Australian wine stage who've never been given full credit for their work. Ray Beckwith was one of them, but his achievements are much more limited than Ian Hickinbotham's. Ray's recognition didn't eventuate until he was in his nineties, which prompted him to say: 'It's a good thing I didn't conk out earlier, otherwise I wouldn't have known!'
Ian is still waiting for his just rewards, and it comes as a shock to read in a recent piece by Max Allen that Richard Smart called him a 'Jack of all Trades, and Master of none,' when Ian offered his services as a lecturer at Roseworthy a few years ago. The Americans seem to be much smarter, and made Ian an honorary life member of the American Society of Enology and Viticulture.
Somewhere along the line, Ian must've been awarded an OAM but the internet has resisted my best efforts to tease more details out of the annals. I struck a similar dead end with the ROCA Award nomination of 2009: Ian was nominated, but there's no record of the outcome. Australia's great Riesling Meister  John Vickery said Ian's contribution to the wine industry had been as a 'thinker, innovator, educator and instigator of technological change … he should be proud of his achievements and the legacy he leaves for both his family and the wine industry. He is an industry icon.'
Ian deserves more credit for his many achievements, and I can only hope that this small piece might prompt other wine writers to work a bit harder on restoring the balance. In an ironic twist, I received an email from Ian out of the blue recently, saying that I was the only wine writer to his knowledge to have given John Glaetzer – the genius behind Wolf Blass – the credit he deserved. I was pretty chuffed.
Kim
PS: Ian Hickinbotham, known as Hick to his friends, died late in 2017.