It's a super flexible recipe: you can use prawns or chicken or tofu
There are many variations of Laksa: some are mild, some are curry-fiery; some use coconut milk, some do not; some are soups, others resemble casseroles. That gives us a pretty free hand.
THE PRAWNS
I used prawns for this, those frozen Ocean Chef Argentine reds form Patagonia I bought a while back. Woolworths no longer carry these. ALDI is now the only source I know of, and the packet simply says 'Ocean Royale Frozen Wild Raw Peeled Prawns 500g.' You need to read the fine print to discover that these are Pleoticus Muelleri: Argentine Red Prawns. $17 for 500g. Smaller than Ocean Chef's.
I've tried Ocean Chef's Extra Large Raw Prawns, now sourced from the Gulf of Carpentaria. They're good, firm, flavoursome prawns. $22 for 500g deveined and shelled but they're often on special. There is a smaller option for $18. You can of course use prawns of your choice, including fresh ones; these are just my picks for price, quality and convenience.
THE NOODLES
Laksas rely on rice vermicelli or Hokkien noodles, but I don't like either and prefer to use Italian style vermicelli. As long as you're not fussed about authenticity, you can choose the noodles you like.
THE LAKSA
This is the easy part, as long as you're happy to use packed products off the shelf. The quality is very good these days, so that's the dead simple way to cook Thai food. Like most Asian dishes, you can cook this in batches and then combine the ingredients in the last step.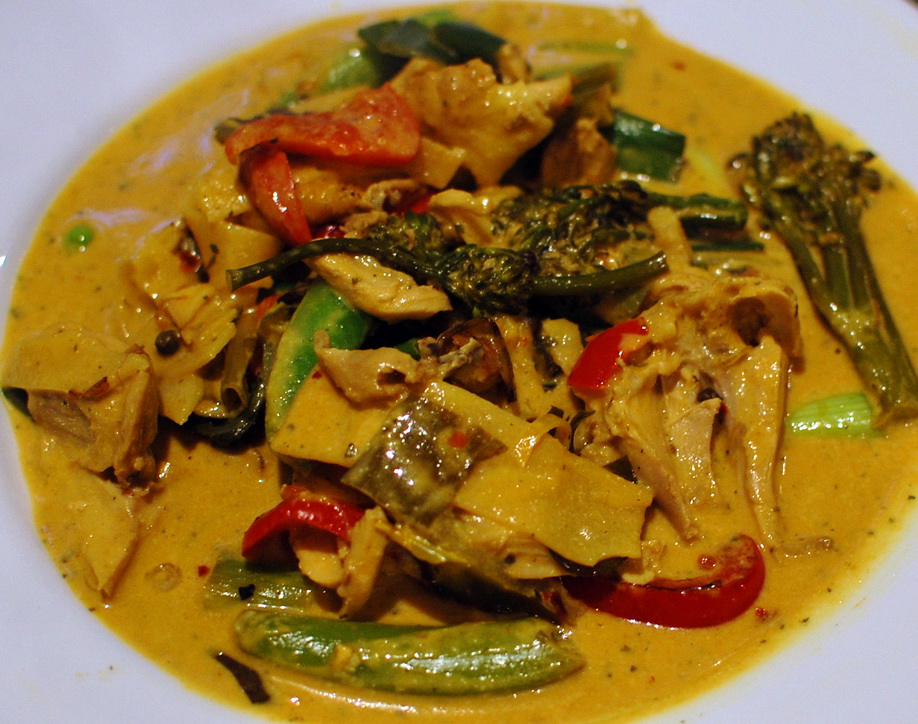 The photo is of the chicken version
Ingredients
Prawns, 300 – 400g for 2
2 – 3 tbspoons Laksa paste
1 tbspoon chopped lemongrass (from a jar is easiest)
1 tbspoon Tamarind paste
Can of coconut milk
2 tbspoons sour cream
3 – 4 Shallots
Half a small leek
Handful of sweet peas
A few pieces of Asian greens like bok choy
2 limes leaves
Juice of half a lime
2 cloves garlic chopped
tbspoon grated ginger
1 tbspoon fish sauce, or soy sauce with a couple of anchovies
Balsamic Reduction (I prefer it to sugar)
white wine
coriander seeds and leaves
chili flakes
seasoning
THE PROCESS
I always have some pasta in the fridge, cooked and ready to go. I just add it at the end. If you're using rice vermicelli, it will cook quickly when added to the final assembly
Warm up the laksa paste mixed with half a glass of wine, then add garlic, ginger, lemongrass and tamarind paste. Set aside after a few minutes, when you can smell the aromas
Stir-fry the veggies in a decent size wok or pan,  for about 5 mins
Add the prawns
Add herbs and seasoning, lime juice and more wine or broth as needed
Add the set-aside laksa paste with the add-ins
Add more than half the coconut milk, add the sour cream, add fish sauce/ soy sauce, Balsamic reduction, throw the noodles into the mix
STEPS 4 TO 7 SHOULD ONLY TAKE A FEW MINUTES
Keep stirring. Test the taste, adjust seasoning, add more coconut milk if too strong, add some chili flakes if you want more heat
If you want more flavour, add a little more laksa paste. Stir well and serve.
It looks like a lot of work, but it's not really, and it's easy to divide it up into manageable tasks; and you can take a breaks before the final assembly.