I've never liked Spaghetti Bolognese. The texture of the mince put me off, and the shape of the pasta. The other day I found some good quality minced lamb and, as it was a freezing cold day, my mind come up with meatballs in a serious sauce.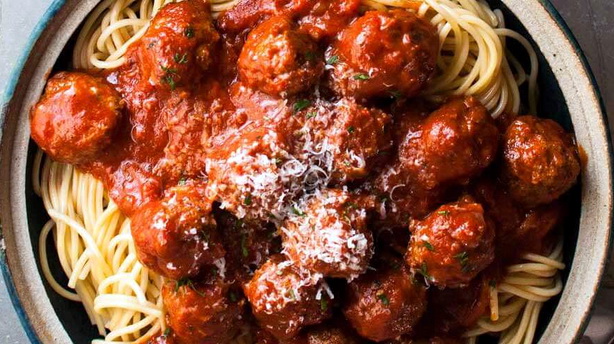 Image source: recipetineats
Ingredients, meatballs
Lamb mince (or beef if you prefer)
Shallots or onion finely chopped
Dried rosemary
seasoning
Optional: One slice of multigrain bread and one egg
Ingredients for the Sauce
2 -3 cloves of garlic
3-4 eschalots or spring onions
1 Leek, chopped up
1 Green pepper, chopped into big pieces
1 red pepper, chopped into big pieces
Mushrooms, chopped as you wish
Can of crushed tomatoes
Glass or two of red wine
3-4 anchovies
2 tbspoons Balsamic reduction
1 Tbl spoon of caramelized onion
4 – 5 tbspoons of Sacla sundried tomato tapenade (IGA)
Seasoning
Bay leaf
Half a teaspoon of chili flakes
Oregano
Basil
Cumin
Fresh mint, chopped up
Putting it together
Roast the eschalots and peppers in the oven for 20 mins – half an hour to soften them up.  While that's happening, make the meatballs, about an inch in diameter, fry them in olive oil until they're browned on the outside.
Set the meatballs aside and fry the eschalots and peppers with the leeks and mushrooms for 5 – 10 mins, then add the meatballs, crushed tomatoes, wine and anchovies (they'll disappear), then add the seasoning, the Balsamic, the tapenade and the herbs.
Cook slowly for 20 minutes while you keep tasting the sauce and do the fine-tuning of flavours. It should taste rich and multi-layered with an exotic twist. Serve with your favourite pasta or on its own.