You can substitute fish or chicken or pork or tofu if you like
It's easy as long as you've nailed down the process. Takes about 20 – 30 minutes, less once you've done it a few times. What I've learned about Asian dishes is the importance of 4 things:
Quality ingredients
Thorough preparation
A process that works under pressure
A decent size wok or fry pan that you can take high heat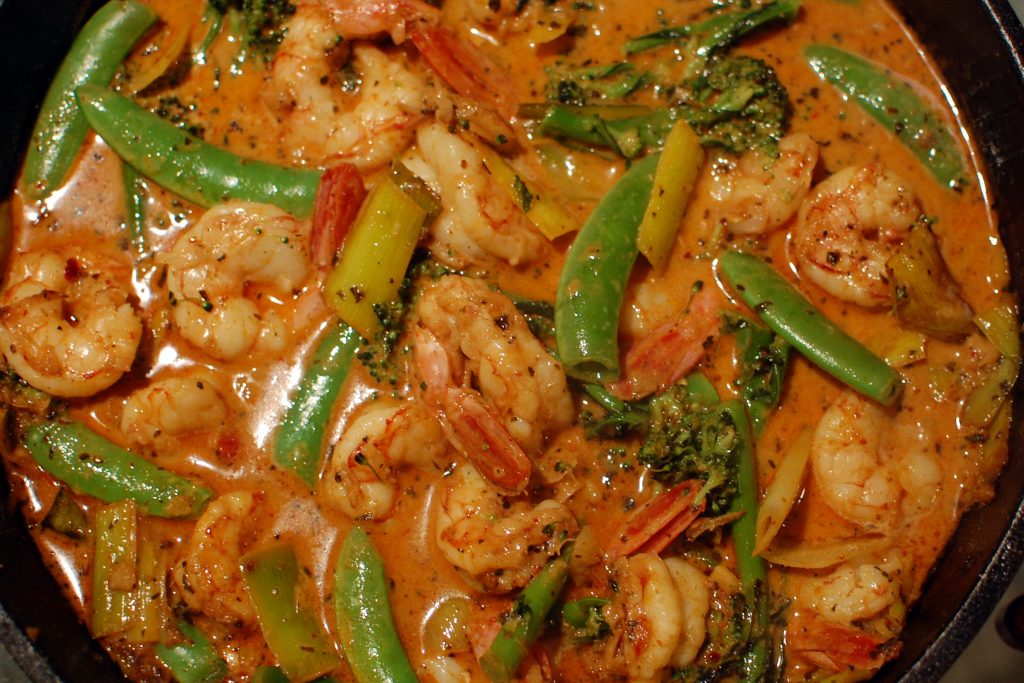 Let's start with the ingredients:
Prawns – I use Ocean Chef Extra Large Raw Prawns Tail On, from Woolworths. They come around every 2-3 weeks at half price, $10 for half a kilo. As I've said before, these are firm, fleshy, tasty prawns from the cold waters off Patagonia in Argentina.
Leek, 1/3 of a decent sized leek; or spring onions if you prefer
Bunch of broccolini
Handful or sweet peas (sugar snaps)
Grated ginger to taste
2 cloves of Garlic
Juice of 1 lime
3 kaffir lime leaves, chopped up
2 tbsp sweet chili ginger and soy sauce (Kikoman is good)
5 tbsps of Ayam red curry paste
2/3 can of coconut milk
White wine
Teaspoon Chili flakes
Coriander, fresh or dried
Basil, fresh or dried
seasoning
Prep and Process
As usual with Asian cooking, it's best to have all the bits and pieces ready to go before you start cooking
Thaw the prawns, ideally put them in the fridge on a plate covered in cling wrap for a few hours or just let them thaw in the open air for an hour or two, make sure you pour water off once in a while
Parboil or steam the broccolini – 5 minutes depending on thickness, set aside
Grate the ginger, smash and chop the garlic, cover in lime juice – set aside
Chop the leek and cut the strings off the sweet peas
Fry the garlic, ginger, chopped leek and lime leaves in sesame oil in a wok or hot pan for 3 – 4 minutes, add the broccolini, the soy sauce, and 1/3 or a glass of white wine or thereabouts
in a small pan. fry red curry paste for a couple of minutes with about 3 times the quantity of white wine or sherry, set side
Add the prawns, add seasoning, fry and toss for 3 minutes
Add the red curry paste mix, then the lime juice, the chili flakes, basil and coriander
Stir well, then add the coconut milk and the sweet peas.
The last 3 steps shouldn't take longer than 6 – 7 minutes. Serve on its own or with some rice (I use rice I've left over from the day before.