Our Top List – Hand-Picked

Wolf Blass Red Label Chardonnay Pinot Noir Premium Cuvee NV – $6 at Dan M's. A clever blend that is surprisingly drinkable; crisp, lively, soft and well balanced. This was bubbles champ Tyson Stelzer's Sparkling Wine of the Year under $20 in recent years. Check his review at the link. I don't think it's quite that good, but at this price you can splash it around with gay abandon. 89 points.
Azahara Chardonnay Pinot Noir Sparkling – $10 at Nicks This is a wine that breaks stereotypes. There's not only nothing cheap and nasty about it but it's actually smooth, creamy and enjoyable. I recommended this wine to friends looking for a $10 bubbly for a big party, and they were over the moon. Five years later they shared one of the leftover bottles with me, and it was even better. 90 points.
Redbank Emily Chardonnay Pinot Noir Brut Cuvee NV – $11 at Kemenys. This is a label from the Hill Smith Family Vineyards stable, the fruit from the King Valley in the Victorian Alps. A cool bubbly from a cool climate, the crisp crunch balanced by some faint toasty notes. 91 points
De Bortoli Rococo Premium Cuvée – $12 at Winestar. This is a good cool climate bubbly (Yarra Valley) with an outrageous label, and I have no idea why it's so cheap. Grab some while it lasts – check the raves at the link.
Jacob's Creek Prosecco Spritz – $14 at Dan M's (today). Prosecco infused with blood orange, botanicals and a twist of bitters. These additions sure lift the flavour and add interest, while the package makes a statement of its own. It's a very smart blend that would please large crowds. 92 points.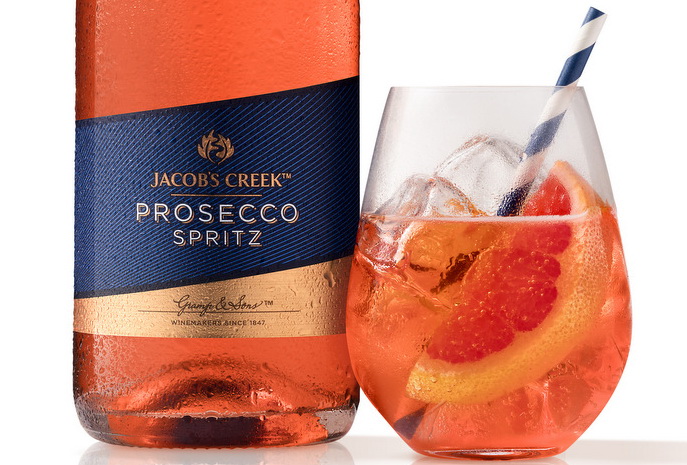 Cave de Lugne Cremant Blanc de Blancs NV – $15 at 1st Choice. That co-op strikes again. Cremant styles have fewer bubbles. 100% Chardonnay Hints of lemon and flowers on the nose, crisp, creamy and round, biscuity characters add interest. 92 points.
Santa Margherita Prosecco Di Valdobbiadene – $16 at Dan M's (member special – today) A great  Prosecco for the money, and I have no idea why they're cutting the price. It's perfectly balanced and not too sweet at 9 grams of sugar. Great mousse, fresh & zippy, perfect spritz for summer lunches. 93 points.
Deutz Marlborough Cuvee Nv – $18 at Kemenys. This has been one my favourite under $20 bubblies for years, but it's become really hard to find. Here's Huon Hooke's take on it: 'It's creamy-textured and silky-soft in the mouth, with a clean finish. Drinkability is very good. Great intensity, richness and extra length. It's deceptively easygoing and soft. Excellent wine and very, very drinkable. And it doesn't taste like Marlborough. 95 points.'
Brown Brothers Pinot Noir Chardonnay Pinot Meunier – $20 at Nicks. It's made from King Valley grapes these days, but the style hasn't changed much. It's always been an understated bubbly, a harmonious blend with no rough edges, the kind of wine that doesn't make a splash but by the second glass it makes you think: hey, this is a pretty decent bubbly. 93 points.
Aubert Et Fils Brut Champagne – $22 at Dan M's. Champagne for $20? Yes, but don't get too excited. It's OK for the money, and useful for impressing guests (who are not champagne aficionados). There's nothing wrong with the wine, but it's fruit-driven and simple, and the bubbles aren't super fine. That said, it's a decent glass of bubbly. 91 points.
A by Arras Premium Cuvée NV – $22 at Dan M's. Even the entry level bubbly from the House of Arras is close to the champagne style. It's obviously spent some time on yeast lees. The fruit is in the apple and citrus spectrum, but it's not green. 94 points.
Pirie Sparkling NV – $27 at MyCellars where the freight is free for subscribers on any quantity (promo code BWU20). This has long been a favourite of ours, in such a classy package.Check the raves at the link.
Georg Jensen Hallmark Cuvee NV – $27.50 at First Choice. Gorgeous, elegant bottle with a GJ designed reusable metal stopper that sits on a crown seal – great gift idea. The wine is made by Heemskerk in Tassie, and is cool-climate elegant, fresh and crisp with a twist of grapefruit, but it's not about the wine here. 93 points.
Quartz Reef Methode Traditionnelle NV – $30 at Kemenys. 'Insanely good drinking,' says Mike Bennie whose score is 95 points; his review is at the link.
Pink Bubbles
Taltarni Brut Taché – $14 at Dan M's (member special – today). Taltarni established this label almost 25 years ago, and has built up a loyal following. It's a serious bubbly this, dry and savoury with just the right touch of blush and red berry fruit.
Chandon Brut Rosé – $21 at Dan M's. Salmon pink color. Biscuits and lemons on the nose. Palaate is gently fruity with a dry, mellow finish. Classy drinking. 93 points
Ninth Island Sparkling Rosé NV – $22 at Gasworks Cellar Door. Pale, beautiful salmon-pink hue; the aromas fresh and attractive with strawberry and red-fruit scents. The palate is rich and fruity, with balanced sweetness and a trace of grip. Icing sugar; almond icing. Lovely wine with poise and grace. 93 points.

Sparkling Reds
The Black Chook Sparkling Shiraz – $16 at Nicks. Mc:aren Vale Shiraz at its best. Sumptuous, seductive, irresistible. Christmas pudding in a bottle. 93 points.
Seppelt Original Sparkling Shiraz NV – $19 at Dan M's. Top Gold at the Sydney Wine Show last year
(95 Points) – Royal Sydney Wine Show 2018, and Tyson Stelzer's Sparkling Wine of the Year Under $30. Plums, cherries, Christmas spices and pepper in a vibrant, creamy envelope. 94 Points. No serious competition at this price.