The Best Buys, Hand-picked
This list is getting away from our usual price range and, for most of us, these are special occasion wines. For Christmas or birthdays, to share or to give to special people, rewards for special favours and so on.
The entry price into this club is about $40 – that's the kind of money you have to spend to get a champagne which shows the character of this area in France, and some of the style these wines are admired for.  Differences in style reflect the site the grapes come from, and the house styles of the major champagne producers.
There are grand old houses, small estates, and grower co-ops. In Australia, we mostly see the wines from the big houses: Veuve Cliquot, Pol Roger, Laurent Perrier, Moet, Lanson, Mumm and so on.  Most of us don't buy these wines very often, so we tend to gravitate toward the safe, well-known brands.
Non Vintage champagnes are blends of different vineyards and vintages; champagne blending is an art form in a sphere of its own. Vintage champagnes are from a single year, still blended from many different parcels. Only about 5% of champagne production is vintage champagne, and only 3 – 4 vintages a decade are good enough.
Vintage champagne is not always better than NV, since the vintage year can turn out less grand than expected, while the Non Vintage offers the blenders more options to smooth the wrinkles and maintain the house style. Vintage champagne tends to be 8 to 12 years old, since these wines spend 6 – 8 years on lees. The result is more complexity.
Prices for champagnes vary enormously in Australia, but as usual we've dug up the best wines at the best prices.  As a rule, vintage wines, blanc de blancs (made from Chardonnay) and Rosés sell at a premium. The next level up above $200 is the home of fancy labels such as Dom Perignon and Krug, and special bottling like Roederer Crystal, Cuvee Winston Churchill and so on.
I don't drink champagne every week, so I've consulted the wine reviewers who focus on these wine styles to get the latest insights.
Non Vintage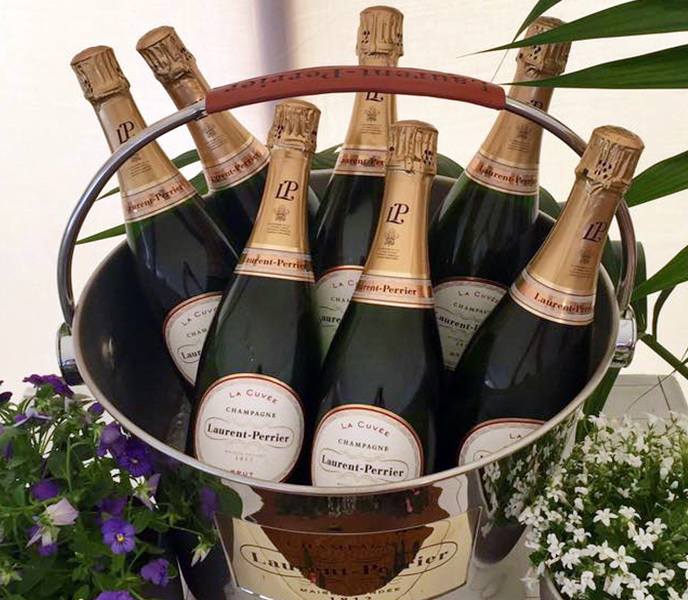 Louis Auger Champagne Brut – $30 at Dan M's. Sharp price for a champagne, and Huon Hooke's take is pretty positive: 'Light yellow hue. A discreet, fresh style with aromas of iced pastries and a delicate but quite rich flavour. It has a generous dosage (sugar), but is balanced, soft and fluffy textured. Very good wine. 92 points.
Piper Heidsieck NV  – $40 at Kemenys. Tyson Stelzer says this is too good to hand over to friends or family as a Chrissie gift. Under the guidance of Regis Camus, this house has really lifted its game, and its champagnes are excellent value as a result. Even their humble NV stands out.
Veuve Fourny Grande Reserve Brut Vertus Premier Cru NV – $55 at Kemenys. A lesser known, smaller house that is highly regarded by both C Mattinson and Huon Hooke. Check their reviews at the link. Sharp price.
Laurent-Perrier La Cuvee Champagne NV – $60 at Dan M's. This is one of the largest houses, still family-owned and run by two sisters (women seem to feature large in champagne). Huon Hooke scores the wine 94 points, and says: 'This replaces the old Brut LP. It had 4 years on lees instead of 3, has more chardonnay – 55% – and lower dosage. No taille, only cuvée, hence the name. A superb wine, outstanding for such a large maker and for the 'workhorse' wine of such a big house. Very creamy. Hints of peach and toast. A lovely soft, rich, full-flavoured but also refined wine.'
Alfred Gratien Brut NV – $68 at Jim's Cellars. Alfred Gratien is a small producer, making about 300,000 bottles a year. Huon Hooke describes a 'complex bouquet revealing some barrel-fermentation as well as age development. Very attractive and very nutty. The palate is intense and dry, an incisive, penetrating flavour powered by good acidity (non-malo). It's rich, powerful and dramatic, really fills the mouth and lasts long on the aftertaste. Seldom does one see such concentration in an NV Champagne! Superb wine, dry but not austere – the finish is tremendous. This is an example of how oak can be used in a positive way. 97 points.
Blancs de Blanc, Vintage and Rosé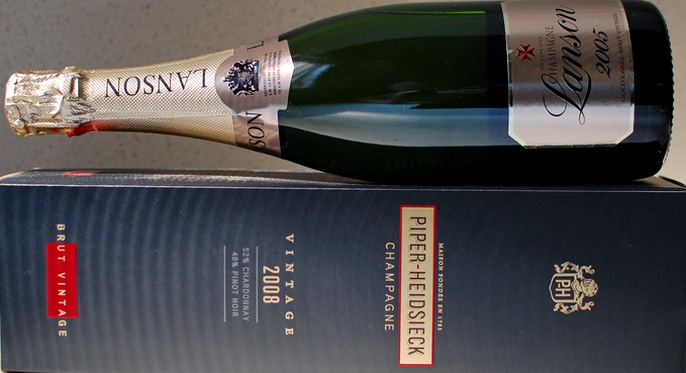 Lanson Gold Label Vintage Brut 2005 – $70 at Dan M's (today). Huon Hooke's review says: 'Quite youthful colour. Lovely toasty bouquet, bready, bakery aromas abounding. Rich, complex and lip-smacking dry finish. Excellent wine, very long, the acidity cleansing the finish superbly. This is bright, fresh and youthful and has a way to go. 95 points
Piper Heidsieck Rosé Sauvage NV  – $63 at First Choice. I thought we'd better have one of these on the list, even though I'm not a great fan of Rosé in this style. You often pay a lot extra for the added blush and the fancy box. That's not the case here: Pinot Noir does most of the talking in this full-bodied, full-flavoured pink champagne. It's almost a sparkling red Burgundy with raspberries and forest notes,  a great food wine that will stand up to salmon in soy marinade and even Peking duck. 94 points.
Piper Heidsieck Vintage 2008 – $70 at Kemenys. I managed to get a few bottles of this at Dan M's for $63, would you believe? A good friend who really knows his champagnes tells me that 2008 is the vintage of this century so far. Under the guidance of cellarmaster Régis Camus, who has won the International Wine Challenge Sparkling Winemaker of the Year award 8 times, this house has found new form and vitality. This is a rich, generous champagne, toasty and full-bodied with great line and length, that will last and improve for years. 96 points.
Pierre Gimonnet & Fils Cuvee Cuis 1er Cru Blanc de Blancs Champagne – $70 at Nicks. Tyson Stelzer calls this wine 'one of the most pristine champagnes for its price. Impeccable phenolic maturity … it sings with crystalline purity of lemon blossom, lemon juice and grapefruit, and an almond nut maturity providing a sense of dimension. Gentle chalk minerality and beautifully integrated dosage linger with outstanding persistence. 93 points.'
AR Lenoble Grand Cru Blanc de Blancs Brut 2008 – $80 at Kemenys. 100% Chardonnay from a single vineyard near the Grand Cru village of Chouilly. Tyson Stelzer calls this 'an elegant and complex champagne with yellow apples, honey melon, toast and brioche. A rich mouthfeel, tiny persistent mousse with a smooth and long finish. This is a champagne that will work well with lobsters and crab. 95 points.' It sells for $120 and more at other merchants.
Veuve Clicquot Vintage Champagne 2008 –$99 at Nicks. 'The clear bargain of all the champagnes tasted this year,' says James Halliday, 'reflecting the great vintage and the vinification revolution by chief winemaker Dominique Demarville. Brioche, nutty oak and peach blossom all whisper in the spring breeze of the bouquet before the stone and citrus fruits of the vibrant palate rise to a crescendo on the finish. 96 points.