The reason is simple: people drink it with the wrong foods
March 2015 update
I used to wonder why Aussie Riesling isn't more popular, until I realised that it was the work of our wine and food writers. Yes, the same people who shake their heads and lament that Riesling isn't more popular. The answer is dead simple: they match it up with the wrong foods.
I'm talking dry Aussie Rieslings here, typically 12 – 13%, fine-boned but flavoursome, packed with fruit but dry on the long fine acid finish. In this style, I reckon Australia makes among the best Rieslings in the world. NZ and Alsace are our main competitors, but their Rieslings tend to be dearer than ours. The better Rieslings from Germany and Austria come at a higher price again, but are made in a different style: more delicate, and off-dry.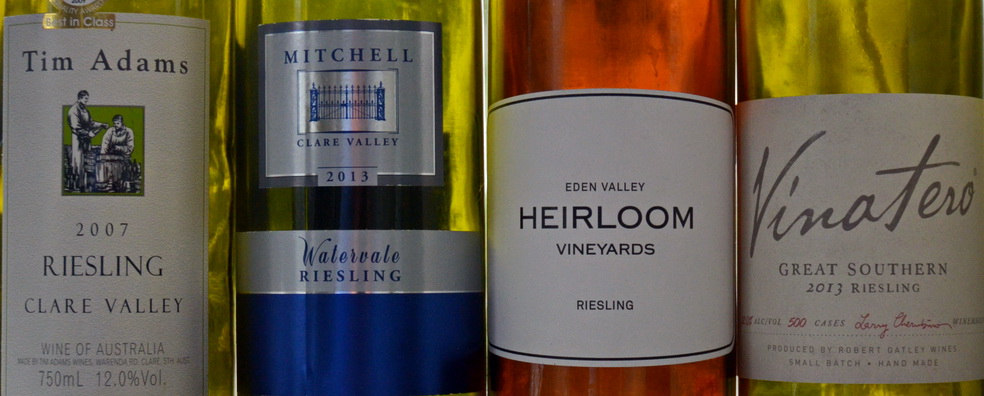 Riesling loves chicken and pork
I discovered a long time ago that Aussie Rieslings are a perfect match with roast chicken (skin on), sprinkled liberally with lemon juice, seasoning and dried Thyme. I use Maryland pieces and wings from tasty Barossa chooks that my butcher sells, and roast them on a tray in the oven. Roast veggies are the usual side dish, or a salad on hot days.
An Aussie Riesling is almost always the wine we choose, from one to 10 years old. With a chicken casserole or a tasty pork recipe, I'd opt for a Riesling that's 5 years old or more. With highly spiced Asian, Indian or Moroccan chicken or pork dishes, I'd probably opt for a younger one, or a Pinot Gris or Viognier.
The Australian gets it all wrong
Here's a list of suggestions from an article in the Australian on what to drink with various chicken dishes. I've no idea who wrote this, but it shows right away why Riesling isn't more popular: it's mentioned just once.
Roast Chicken – Chardonnay, Viognier and Pinot Noir are classic choices for this dish.
Chicken with a cream sauce – look no further than Pinot Gris and Chenin Blanc.
Fried chicken – an oak-aged Chardonnay works well. Reds made from Merlot and Shiraz are also great options.
Barbecued chicken – an oak-aged Chardonnay works well. Reds made from Merlot and Shiraz are also great options.
Thai chicken curry – Riesling, Pinot Gris, Sauvignon Blanc and Semillon blends work well with Thai food.
Chicken and Mushroom Risotto – elegant Mornington Chardonnay or earthy Pinot Noir.
Chicken Korma – divine with rich, Western Australia Chardonnay.
Chardonnay gets plenty of mentions here but Chardy is best with veal dishes, not chicken. Merlot and Shiraz are just too big for most chicken dishes.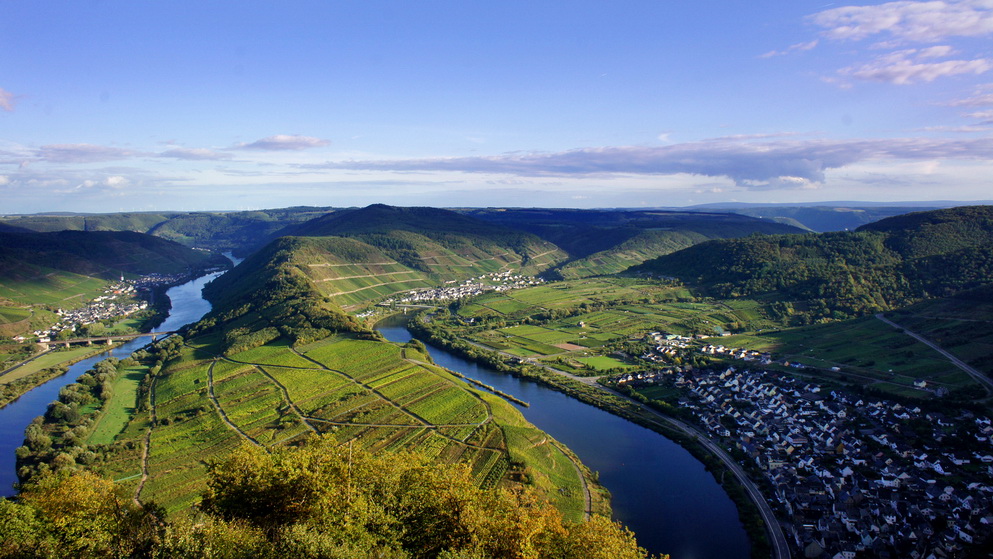 Mosel Valley in Germany. Photo credit: The Wine Folly
Halliday's Wine Companion gets it wrong too. Here is its Take:
Young Riesling – Cold salads, sashimi
Young Off-dry Riesling – Prosciutto & melon/pear
2-3-year-old Riesling – Seared tuna
10-year-old Semillon or Riesling – Braised pork neck
Fully Aged Riesling – Chargrilled eggplant, stuffed capsicum
We were served the chicken without the Riesling above, and now we get the Riesling without the chicken – not a bit of chook in sight, not even a wing.
Is it just us isolated colonials?
No, it's not. The Yanks get it wrong too, just check this list from Wine & Food:
Sautéed Chicken with Olives, Capers and Roasted Lemons – Rosato
Herb-and-Lemon-Roasted Chicken – a crisp, citrusy Sauvignon Blanc
Chicken and Cheese Enchiladas Verdes – a spicy, dark-fruited Malbec
Chicken Breasts with Potatoes and Mashed Peas – a dry white sparkling wine
Basque Chicken with Sweet Peppers and Tomatoes – a red with bright flavors and soft tannins
Updated Chicken Chow Mein – a fruity sparking wine, like a Prosecco
Pan-Seared Chicken Breasts with Jamaican Curry – a low-alcohol, off-dry Riesling
Chicken Sofrito, a rosé sparkling wine
Chicken with Slow-Roasted Tomatoes and Cheesy Grits – a rosé sparkling wine
Mexican Chicken Pozole Verde – a rich but unoaked white wine such as an Alsace Pinot Gris
Thai Chicken Stew with Potato-Chive Dumplings – a lemon appley Chardonnay
You see what I mean? Herb and Lemon roasted chicken and crisp Sauvignon Blanc? Chicken and Cheese Enchiladas Verdes with a dark-fruited Malbec? Thai Chicken Stew with Potato-Chive Dumplings with a lemon appley Chardonnay? And the only time Riesling gets a look-in is with a Jamaican curry. I rest my case.
Riesling and Seafood?
Wine and food writers often suggest this pairing, and I have no idea why. Unless it's a very young, steely, high acid/low fruit style, it won't work as well as a dry, tangy Sauvignon Blanc – unless the seafood is poached in a fruity sauce or served with a tropical fruit salsa. Old Riesling might go with pork but Pinot Gris goes better, and old Semillon goes best with crumbly old cheeses as the late Max Lake discovered long ago.
Riesling does go well with salad as long as there's some hot or cold chicken on the same plate. When it comes to off-dry Riesling, I'd drink it by itself. In fact, I often drink dry Riesling by itself as an aperitif.
The Unpopularity of Riesling – The Upside
These are my views, and I concede that your tastes and preferences may differ, but chicken is a very common food in most households down under – roast chicken especially. Given the obvious and wonderful affinity Aussie Riesling has with chicken, it's hard to believe that wine and food writers rarely mention the two in the same breath.
There you go, makers of all those great Aussie Rieslings, I've done my bit. In the meantime, let's enjoy them. That's easy done since even our best Rieslings are bargains. These are some of the great Aussie Rieslings we've tasted at BWU$20 in recent months, and all but one cost less than $20:
Jim Barry Watervale Riesling 2013
Leo Buring Clare Valley Drt Riesling 2013
Claymore The Joshua Tree Riesling 2013 (Clare)
Pewsey Vale Riesling 2013 (Eden Valley)
Heirloom Riesling 2012 (Eden Valley)
Sons of Eden Freya Riesling 2013 (Eden Valley)
Mitchell Riesling 2013 (Clare Valley)
Ravensworth Riesling 2013 (Canberra)
Castle Rock Estate Riesling 2013 (Great Southern, W.A.)
Frogmore Creek Riesling 2013 (Tassie)
Yes, you can pay more for Grosset and Howard Park and Henschke and Sepplet Drumbourg and other fancy names, but you don't have to. We've bought Jim Barry, Pewsey Vale Leo Buring Clare Valley and Claymore for $14 on various occasions. This is the lucky country as I keep telling everyone who will listen.
More Reading: Riesling is the victim of poor Marketing
KIM